Pop icon Beyonce and her rap mogul husband Jay Z attended a Halloween party at Charlie Bird dressed as dead artists. Beyonce was dressed as Mexican artist Frida Khalo. Kahlo died of a suspected pulmonary embolism at age 47 in Mexico in 1954.
Photos: Splash News
Jay Z was dressed as NY artist Jean Michel Basquiat, who died of a drug overdose at age 27 in 1988. It isn't clear who their daughter Blue Ivy is dressed up as. But for once she looks like a little girl. The American royal family had a front row view of the NYC Halloween Parade.
Photos: Splash News
The original Queen Bee, Lil Kim, and her infant daughter wore matching honey bee outfits for Halloween on Friday.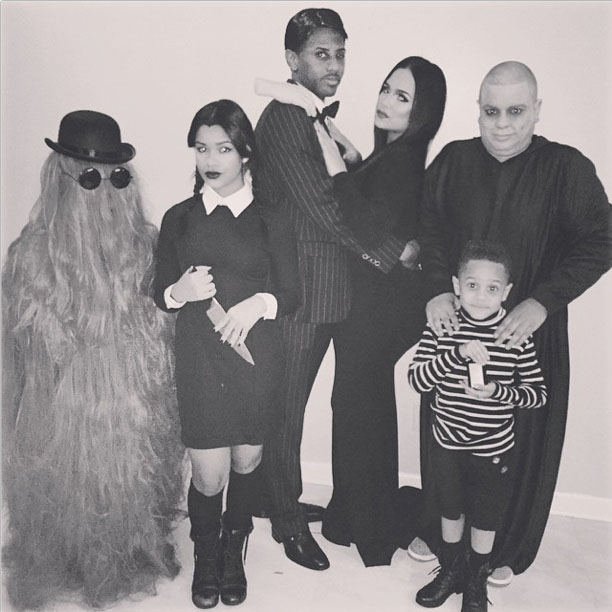 Rapper Fabolous and his family's costumes were inspired by TV's The Adam's Family.
Friend of the blog Monica Brown just tweeted this ghoulish photo of herself and her sons Romelo, left, and Rocko before they head out trick or treating tonight. If you plan to take the little ones trick or treating, don't forget to examine their goodies for razor blades or signs of tampering. Throw out all fruit and unwrapped candy. Have fun!
Singer Beyonce and daughter Blue Ivy went to a party dressed as Michael and Janet Jackson on Thursday. It's so obvious Beyonce wanted to give Jay Z a boy, since the rapper already has a son with a video model.
Photos: Instagram.com