Pop singer Beyonce Knowles had her twins on Monday, according to gossip tabloid TMZ. A woman was spotted arriving at UCLA Medical Center in Los Angeles on Saturday, carrying 2 balloons welcoming a girl and a boy, along with flowers, a gift bag, and a card that reads "B & J". As you know, the 36-year-old mother-of-3 was hospitalized last week with unknown complications related to her high risk pregnancy. She reportedly begged her doctor to delay inducing labor until after the president's birthday, which was June 14.
Photo by SL/Terma/Backgrid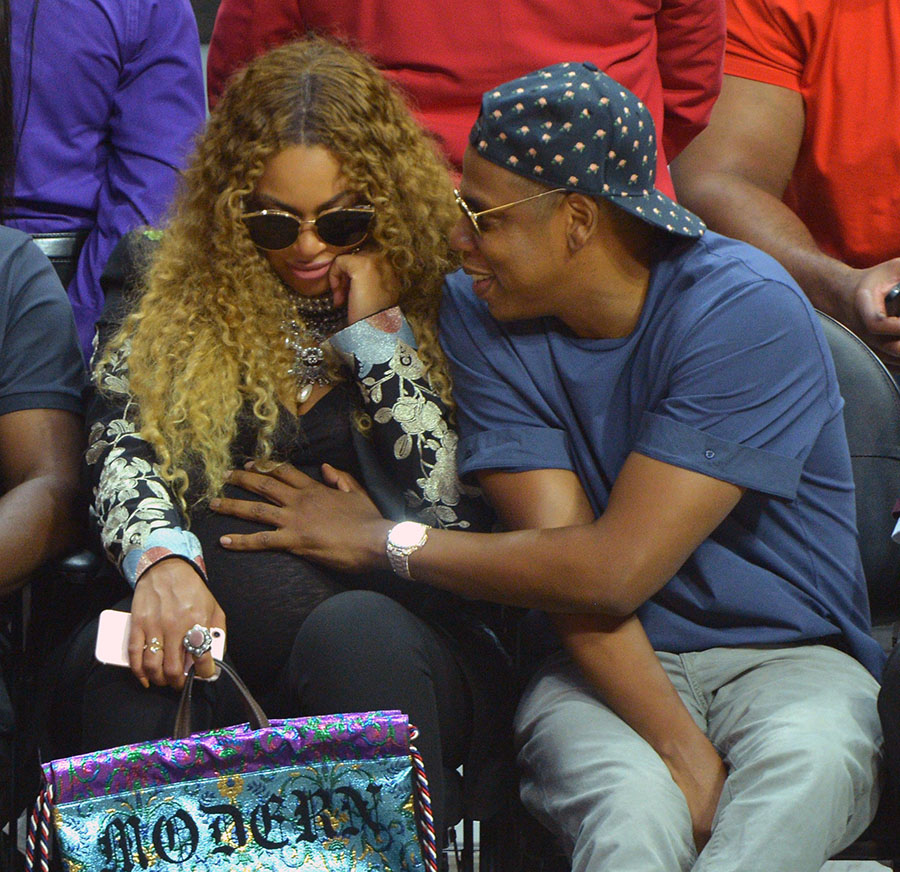 Beyonce and Jay Z's designer babies were conceived separately via In Vitro Fertilization (IVF), a process by which two eggs are fertilized independently so the parents can choose a boy and a girl. The twins are not identical, but that won't stop attention-starved Beyonce from dressing them as if they are identical twins. Bey and Jay paid serious money for their designer babies. One estimate puts the total cost at over $1 million. The birth of Beyonce's twins barely caused a ripple in news rooms over the weekend. The story didn't appear on Drudgereport.com or on Foxnews.com. Is this a sign that people have reached peak Beyonce levels, and they are no longer interested in reading stories about her?
Photo by Backgrid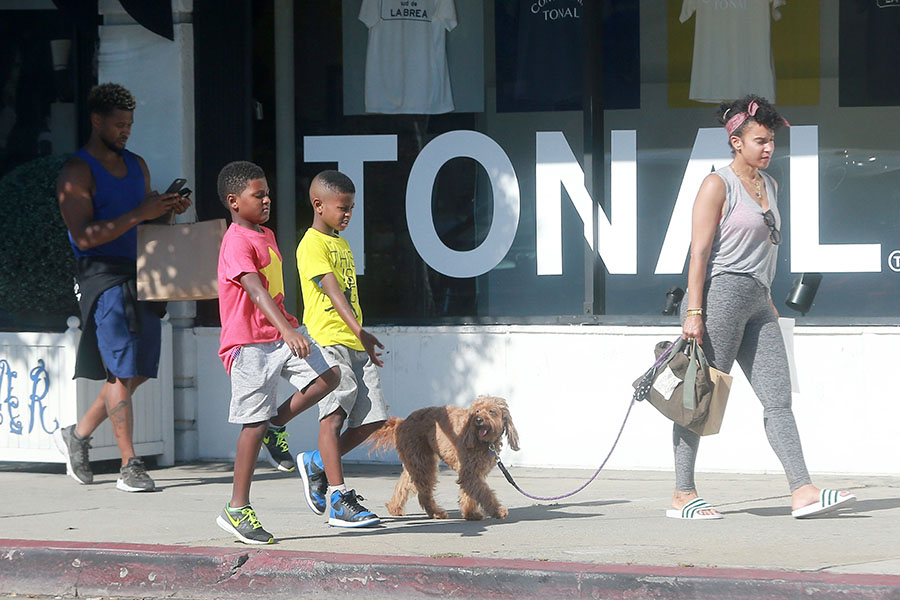 Pop star Usher Raymond, his wife, Grace Raymond, and his sons Naviyd, 8, and Usher Raymond V, 9, spent Father's Day shopping and grabbing lunch with friends in New York City. After lunch, the couple took home doggy bags for their pet pooch.
Photo by Backgrid
Comedian Kevin Hart was spotted enjoying date night with his pregnant wife Eniko Parrish at Catch LA. Kevin smiled as he escorted Eniko past the paparazzi into the restaurant. The pair is expecting their first child as man and wife.
Photos by Photographer Group / Splash News, Dave L / Backgrid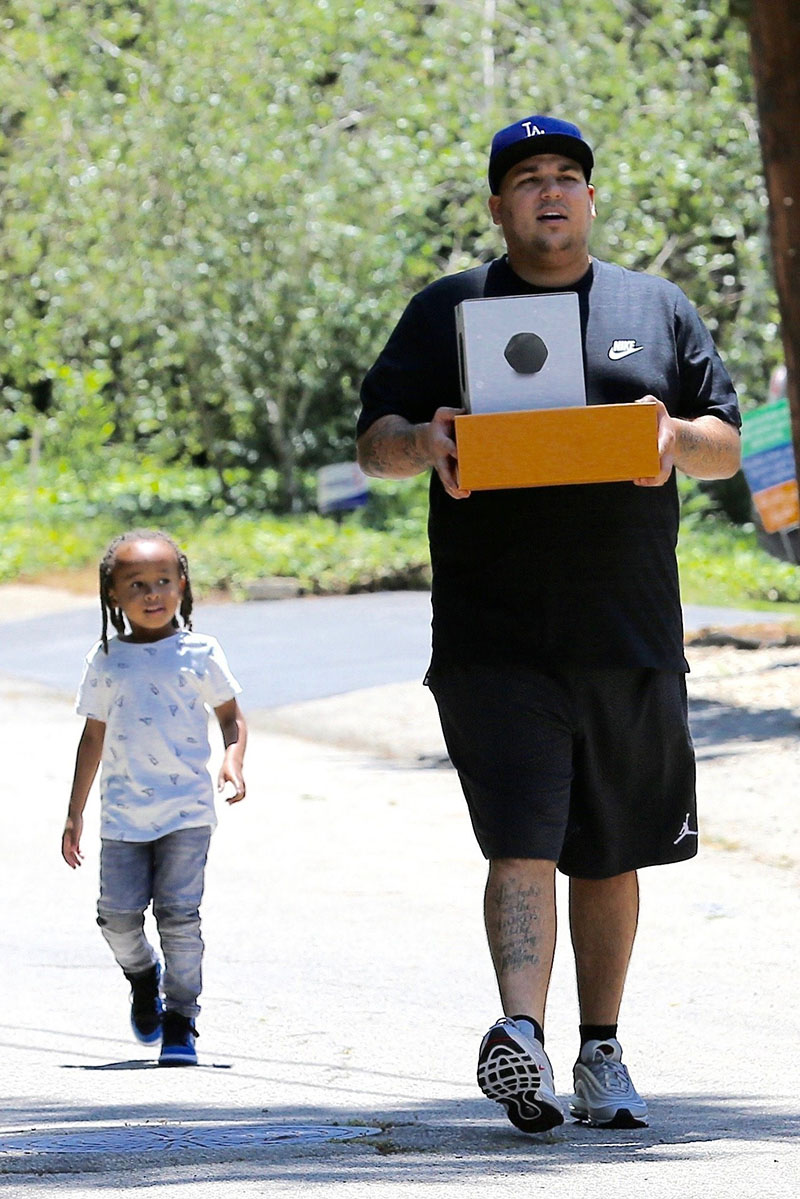 Rob Kardashian spent his first Father's Day as a dad with his baby daughter, Dream, and Blac Chyna's son, King Cairo. 4-year-old King Cairo followed behind Rob as he carried some boxes to his SUV. The reality TV star was seen carrying Dream's car seat with a smile on his face.
Photo by VM / Backgrid
Comedian Byron Allen, his wife, Jennifer Lucas (pushing stroller), their daughter, Olivia Rose Allen, 7, and their son, Lucas Byron Allen, 4, enjoyed a fun Father's Day weekend at Universal Studios in Los Angeles. Allen's Entertainment Studios produced the film 47 Meters Down, which opened everywhere on Friday, June 16. The Allens also have a daughter, Chloe Ava Allen, 8.
Photo by Mr Photoman / Splash News
Bruce "Caitlyn" Jenner spent part of Father's Day morning with his daughters, reality TV stars Kendall Jenner, 21, and Kylie Jenner, 19, in Beverly Hills, where the former 67-year-old Olympian showed off his classic sports car in the Concours D'elegance car show.
Photo by Vasquez-Max Lopes / Backgrid