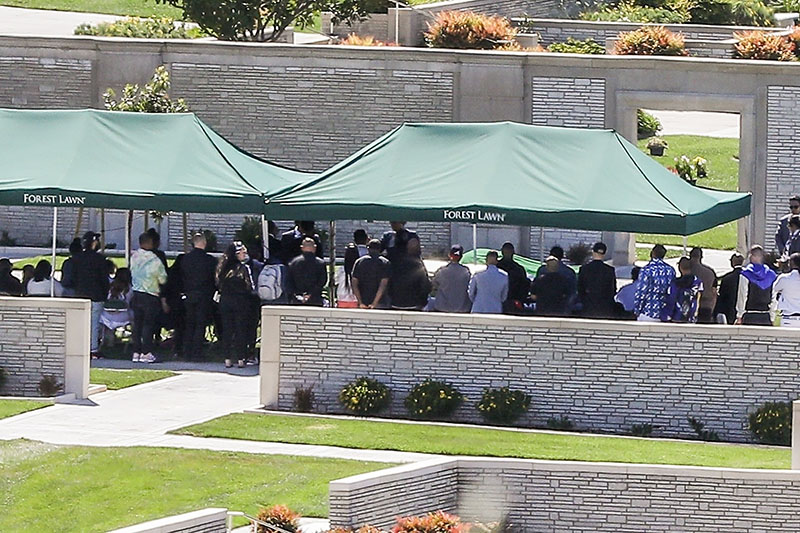 Rapper Ermias "Nipsey Hussle" Asghedom was laid to rest during a private funeral service at Forest Lawn in Los Angeles on Friday. Minutes after his memorial service ended on Thursday, fans began profiting by listing his memorial book on eBay.com.
Copies of the book, which features 100 pages of photos documenting the rapper's life, can be found listed on eBay and Craigslist for as much as $1,500.
In related news, the 17-year-old brother of Nipsey's killer, Eric Holder, reportedly committed suicide on Thursday. According to MTO, Holder's teenage brother shot himself in the head - twice.
MTO is the only outlet reporting the news. So far, the teen's death has not been confirmed by other media outlets.
Holder is currently on lockdown in solitary confinement. He is being held on $7 million bail in the isolation ward of the Men's Central Jail in Los Angeles.
TMZ obtained video of Holder gunning down Nipsey and two other men outside the rapper's clothing store in March. Nipsey died at the scene.
One of the victims, Kerry Lathan, was shot in the back and is reportedly paralyzed from the waist down. Despite being in a wheelchair, Lathan was arrested Friday and charged with violating the terms of his probation by associating with a known gang member, Nipsey.
TMZ reports that Lathan was taken into custody at a halfway house. He was recently released from prison after serving 20 years for murder. As a condition of his parole, Lathan could not associate with known gang members. Now authorities want to revoke his bond and send him back to prison.
Ironically, Lathan is in the same jail as the man who shot him.
Nipsey was a devout member of the Rolling 60s Crips street gang. He joined the gang as a teenager, and he often glorified the gang lifestyle in his rap songs.
Also in related news, rumors are sweeping South Los Angeles that authorities allowed Nipsey's family to hold his funeral at the Staple's Center at no charge.
The streets say the FBI and members of the LAPD went undercover inside the Staples Center to conduct surveillance of rappers and gang members who attended Nipsey's "Celebration of Life" memorial service to pay their last respects.
According to Allhiphop.com, the feds flooded the memorial service to identify gang members.
Nipsey's family, including fiancée Lauren London, reportedly wanted the service held at a smaller, more private venue. They met with the LAPD and Staples officials last week to work out the logistics. Initially, Staples wanted to charge a fee to offset costs, but the feds reportedly agreed to cover all the costs in exchange for the opportunity to get all of L.A.'s gang members in one spot.
Photos by Getty Images, Prince Williams/ATLPics.net, WENN.com, Splash News, BACKGRID