LeBron James and his family were forced to evacuate their California home and drive around all night looking for shelter due to wildfires, according to his rep. LeBron finally found shelter for his family in a hotel after hours of driving. If that sounds a little far fetched to you, it probably is.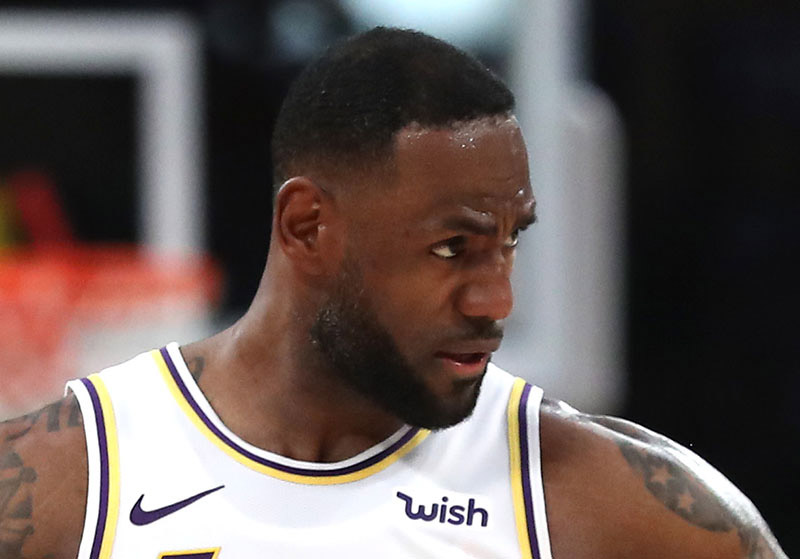 There was an even bigger crisis for LeBron over the weekend when many headlines and social media posts focused on his hair "falling out" during the Lakers win over the Utah Jazz.
Everyone who follows the NBA knows how sensitive and vain the 34-year-old Capricorn is about his hairline. It wouldn't be such a big issue for his fans if he didn't bring such attention to his thinning hair every season.
Every year LeBron returns to the NBA with a new hairline that is thicker and fuller than it was the previous season. And every year his fans and trolls notice it and mock him for it.
https://www.youtube.com/watch?v=KJ4HKWGCt68

LeBron is so vain about his hairline that he uploads cell phone videos showing his barber and stylists carefully grooming and primping what appears to be a male hair unit. That hair unit rolled up during the Utah game, and his teammate, Anthony Davis, pointed it out on national television.
LeBron's hairline began receding prematurely while he was still a teenager. He had many hair plugs that apparently failed over the years. LeBron tried concoctions of hair dyes and spray on fibers – none of which seems to work for him.
LeBron is a three-time NBA Finals MVP and a 4-time NBA MVP. He won NBA Championships with the Miami Heat in 2012 and 2013 and the Cleveland Cavaliers in 2016.
He has a loving wife, Savannah James, and three beautiful children, LeBron James Jr., 15, Bryce Maximus James, 12, and daughter Zhuri James, 5.
With so much to be thankful for, why does LeBron let his receding hairline be the bane of his existence?
Many of LeBron's colleagues and associates have encouraged him to "come home" and join the elite NBA bald head gang, which includes NBA greats Michael Jordan, Charles Barkley, and Shaquille O'Neal. Will 2020 be the year when LeBron finally goes home to join his contemporaries by shaving his head?
Click the gallery below to see the evolution of LeBron's hairline during his meteoric NBA career from 2003 through 2019.
This is an open post where you can discuss any subject matter. This post will not be censored or moderated. Disqus may automatically moderate certain words considered offensive. There are no rules in Open Posts. So enter at your own risk.