Back in the day, rappers took pride in their gold dookie rope and Cuban link chains. Gold was cheaper by the ounce then, so wannabe rappers had no trouble keeping up with their weekly payments to the trunk jewelry dealers.
Then along came rap tycoon Sean Combs, aka Puff Daddy, who changed the game with his diamond baguette bracelets, iced out pendant necklaces, and Rolex watches. Puffy made diamond bling a perquisite to baller status.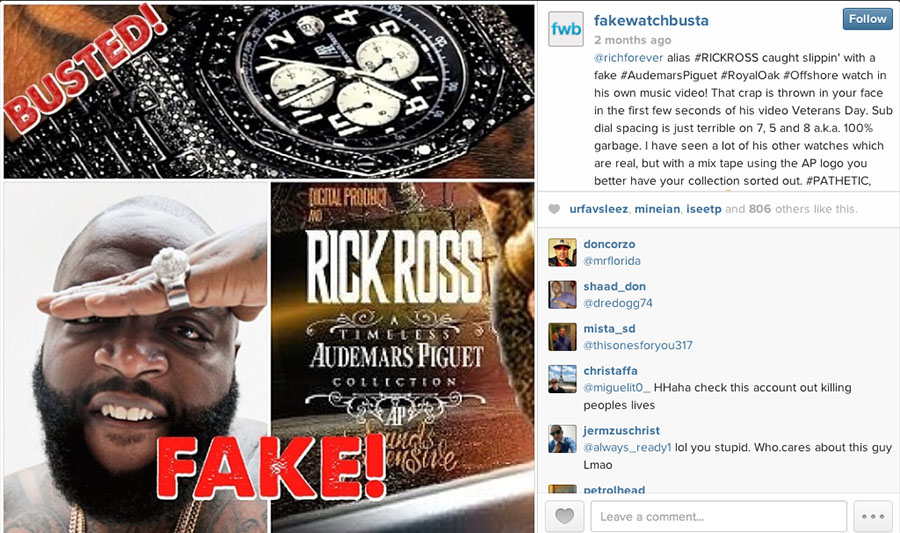 Fake wannabe rappers had to sell more weight on the corners just to keep up with Puffy and his crew. They couldn't afford to purchase their luxury goods from authorized dealers.
The rappers found their answer in a friend of a friend who was a dealer of cheap knock off timepieces. They could pay $3,000 for a $30,000 watch.
For a while hip hop was flooded with fake Audemars Piguet, Rolex and Hublot watches that ran on batteries. But now an anonymous Instagram user is exposing celebrities with fake watches, such as Future, Ciara, Carmelo Anthony, Rick Ross, Waka Flocka Flame, and Lil Scrappy.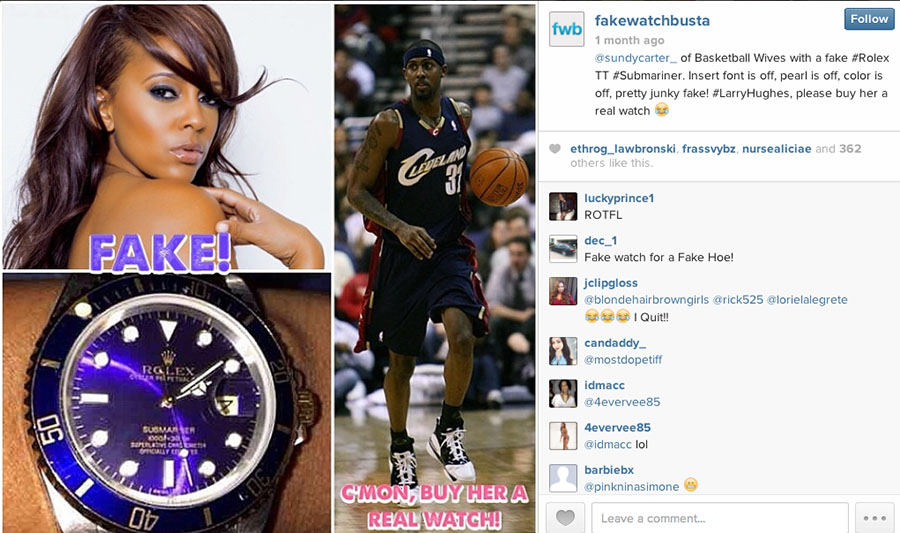 From Allhiphop.com:

After first exposing non-celebrities with fake watches on Instagram, the European who goes by "The Horological Batman" started pointing out celebrities that attempted to pass off knock-offs as real. THB talked about busting Carmelo Anthony and receiving threats of legal action against him.

"I get a cease and desist letter almost once a week. Instagram shut down my first account after I busted Carmelo Anthony with a fake Audemars Piguet and a fake Panerai," said the self-described "watch geek". "He is clean now but there was a lot of drama with his sponsors after I exposed his replicas."

FakeWatchBusta got back up on the site and started targeting rappers.