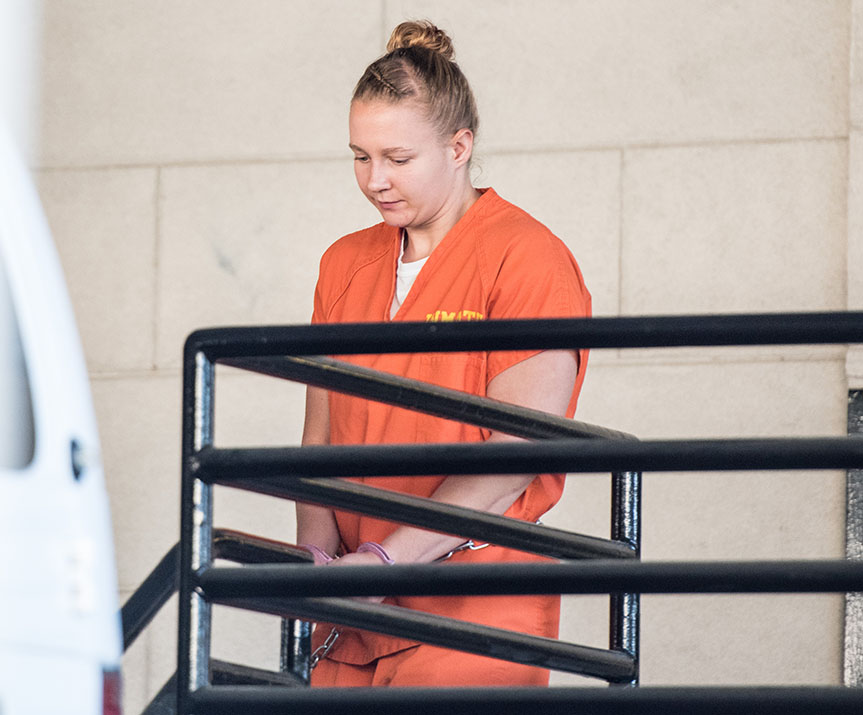 The federal contract worker who leaked highly classified NSA documents to a newspaper pleaded not guilty during a bail hearing at the Augusta, GA. Courthouse on Thursday.
Reality Winner, 25, shuffled into the courtroom wearing an orange jumpsuit and shackles on her hands and feet.
Winner was ordered held without bond after she pled not guilty. She faces federal Espionage Act charges for leaking top secret documents about Russia's alleged hacking attempts on the 2016 election.
Despite her dangerous posts on social media, the Air Force veteran was hired as a contract worker at the NSA because she speaks 5 languages.
Winner's lawyer Titus Thomas Nichols asked the judge to release his client because she is not likely to reoffend. But the judge disagreed, citing her sometimes violent antisocial online statements that suggest she may be a possible flight risk.
Prosecutors entered into evidence a notebook found in Winner's Augusta home indicating Winner wanted to "burn the White House down," according to the Atlanta Journal.
In Twitter posts Winner called President Trump an "orange fascist" and she said white people were terrorists.
Winner's mother Billie Winner-Davis appeared in court to support her daughter. She told the NY Daily News she was "stunned" by her daughter's arrest.
She told the Daily News "they're going to try to make an example out of her because of the political climate right now."
Winner faces 10 years in prison if she is convicted on all charges.
Photo by Sean Rayford/Getty Images