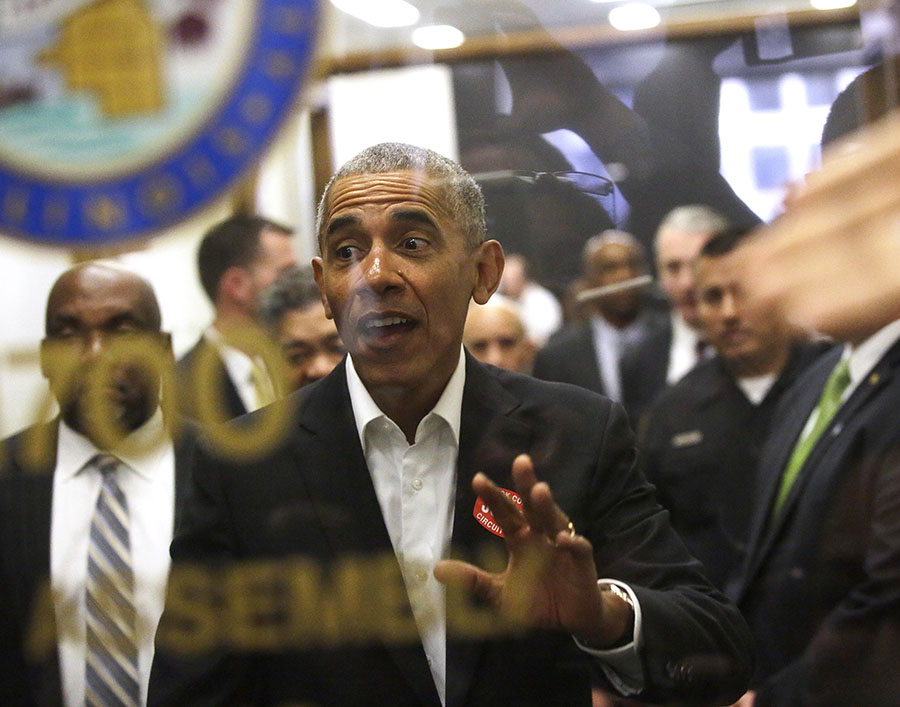 Former president Barack Obama fulfilled his civic duty by reporting for jury duty in Cook County, Illinois on Wednesday.
According to the NY Daily News, the 56-year-old Hawaiian native was seen leaving his home in the Kenwood neighborhood of Chicago around 9:30 a.m., followed by half a dozen Secret Service agents.
The courthouses was scouted by Secret Service prior to Obama's arrival.
The caravan arrived at the downtown Daley Center just after 10 a.m.
He was whisked into the courthouse where he joined a pool of prospective jurors.
Obama earned $17.20 for the day — mere pennies compared to the $450,000 he earns for one speaking gig.
Cook County Chief Judge Timothy Evans appreciated the 44th president for not using his clout to duck jury duty.
"Although it's not a place where the public can earn a lot of money, it is highly appreciated," Evans told The Chicago Tribune.
As Obama departed around 1 p.m. Wednesday afternoon, courthouse workers abandoned their posts and crowded in a hallway with their cellphones held high.
Reporters, who were not allowed inside the courthouse, camped outside the building hoping for a glimpse of the grey haired father-of-2.
The News reports that potential jurors were allowed to take pics of Obama with their cell phones.
Photos by Joshua Lott /Getty Images