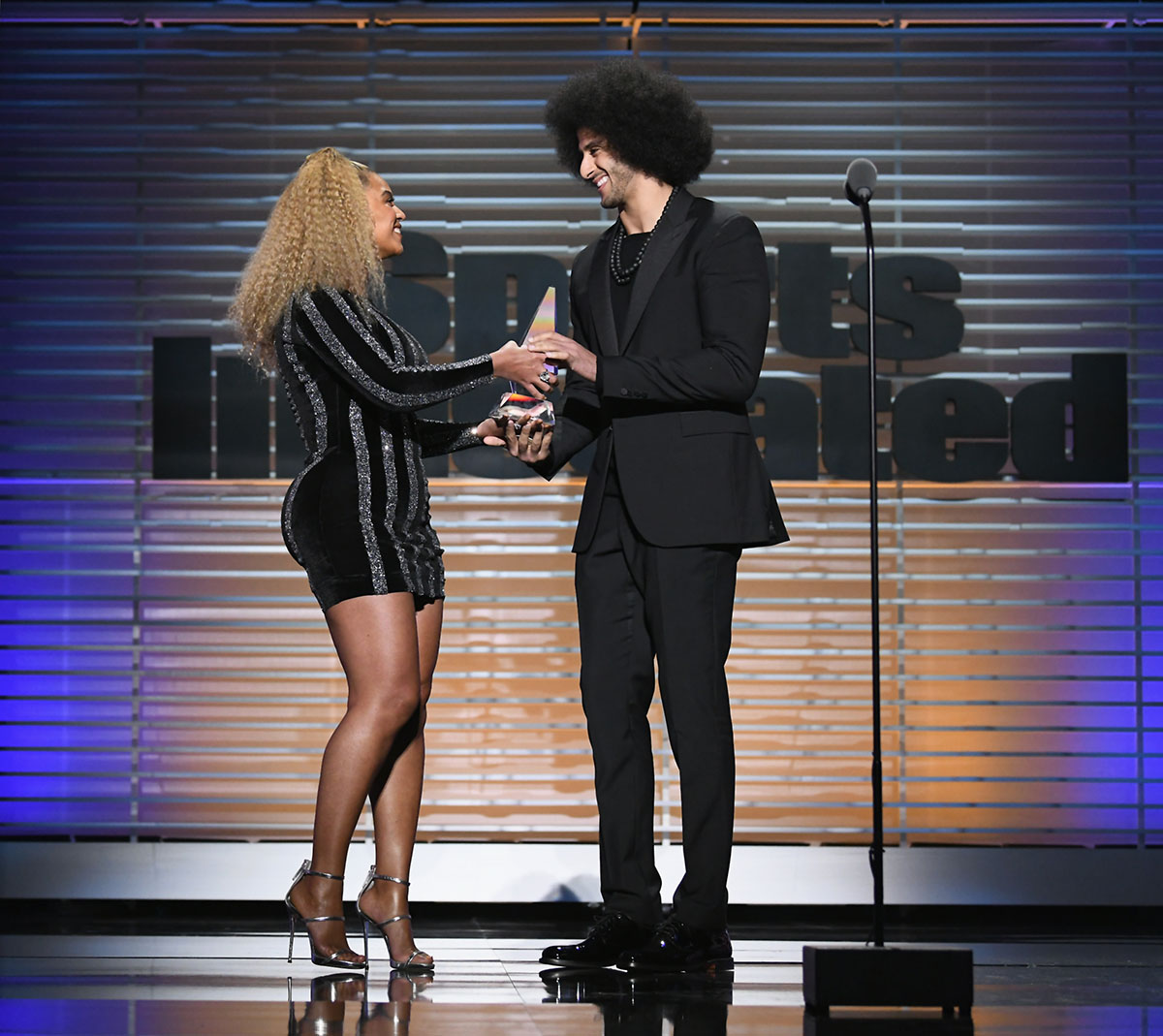 Colin Kaepernick was presented with the SI Muhammad Ali Legacy Award during Sports Illustrated's 2017 Sportsperson of the Year Awards at the Barclays Center on Tuesday, Dec. 5.
Beyonce Knowles, 38, surprised everyone when she sauntered onstage wearing a barely-there sequined black mini dress which showed off her thick shimmering thighs.
Beyonce wore a sequined dress from LaQuan Smith Spring 2018 collection. The dress is based on the Bill Whitten designed sparkly jumpsuit originally worn by Michael Jackson in his "Rock With You" music video.
"Hello everyone! It feels so good to be here on such a special night of appreciation," Beyonce said as she struggled to read from a teleprompter.
"Thank you, Colin Kaepernick. Thank you for your selfless heart and your conviction. Thank you for your personal sacrifice. Colin took action with no fear of consequences or repercussions, only hope to change the world for the better. To change perception, to change the way we treat each other — especially people of color. We're still waiting for the world to catch up. It's been said that racism is so American that when we protest racism, some assume we're protesting America."
Beyonce made a point to note that Colin has respect for the soldiers who died so he and NFL millionaires could be free to kneel during the National Anthem.
"So let's be very clear," she continued. Colin has always been very respectful of the individuals who selflessly serve and protect our country and our communities and our families. His message is solely focused on social injustice for historically disenfranchised people. Let's not get that mistaken."
After accepting the award, Kaepernick said, "With or without the NFL's platform, I will continue to work for the people because my platform is the people."
But not everyone was impressed. Some bloggers criticized Kaepernick and compared him to disgraced actor Jesse Williams, who also pretended to be down "for the people", only to abandon his faithful black wife for a Caucasian woman.
Photos by Slaven Vlasic/Getty Images