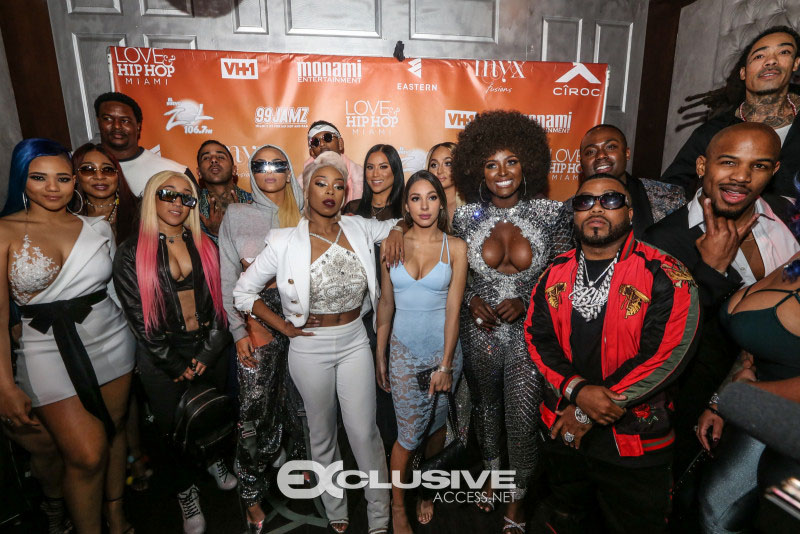 Season 1 of Mona Scott Young's new reality TV series Love & Hip Hop: Miami premiered on Monday, Jan. 1, on VH1. The series follows Mona's usual reality show formula: washed up rappers, fake fights, fake women, scripted drama, drag queens, gays, etc.
The only recognizable names in the cast are former rappers Trick Daddy, Trina, old skool singer Pleasure P (of Pretty Ricky), and reality TV veteran Shay Johnson.
Cast member Shay Johnson doing her best Monica Brown impression at the LHH: Miami screening. I'm surprised Keyshia Ka'Oir isn't in the cast after she convinced her husband Gucci Mane to leave Atlanta and move to Miami permanently.
Jo Jo Zarur, Amara La Negra, Felisha Monet, and Shay Johnson at the screening party.
99JAMZ radio host Felisha Monet, 3rd from left, wrote the screening recap:
"The stars came out to play last night at the premiere of VH1's Love & Hip Hop Miami. CEO of Monami Ent, Mona Scott Young, welcomed guests to the super private invite only showing that took place at Studio23 on South Beach. It was packed with the entire cast of Love & HipHop Miami, including Trick Daddy, Trina, Pretty Ricky, Gun Play, Amara Le Negra and Shay Johnson. Special celebrity guests also included legendary rapper Busta Rhymes, Drinking-Champs Podcast host and former rapper Nore plus mega-producers Timbaland and Polo Da Don were spotted in the mix. Attendees sipped MYX Fusions and Ciroc was flowing. Also in attendance Love & Hip Hop New York star JuJu along with Britney Taylor offered up words of advice to the newly casted Miami crew. And of course Love & Hip Hop ATL was in the 305 as well, with Karlie Red and Tommie supporting. Immediately following the premiere radio hosts Felisha Monet and Stefi Chacon hosted the Q&A, which got too real just like this season of Love & Hip Hop Miami Co-Executive Produced by Miami native Maricarmen Lopez. Make sure you are tuned in to watch how it unfolds! Monday nights 9pm only on VH1."
In case you missed it. Video provided by Ddotomen.co.
Photos by Thad McAdams/ExclusiveAccess.net