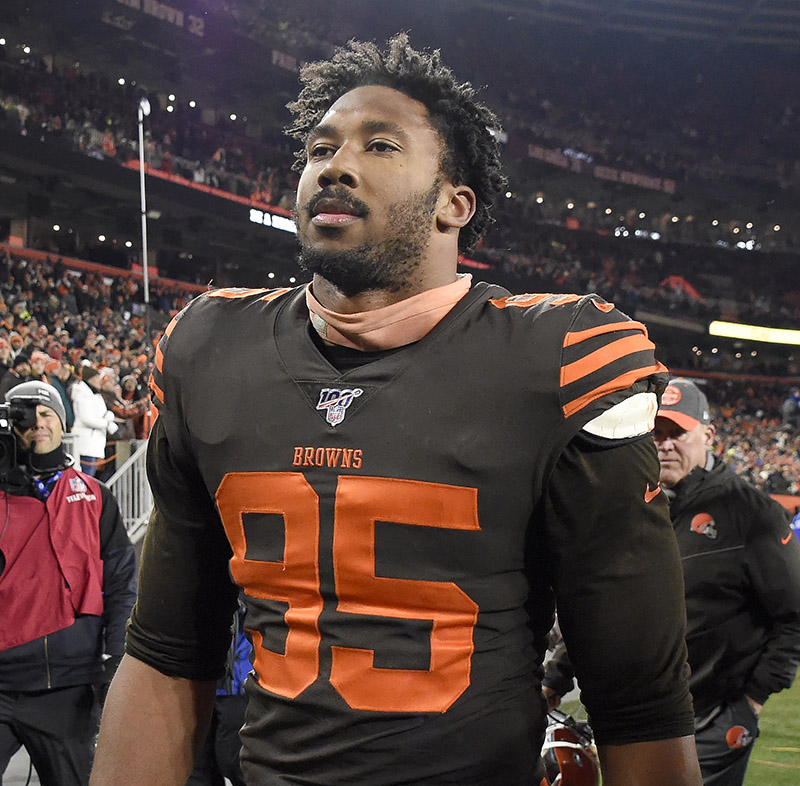 Myles Garrett is suspended indefinitely and will not suit up in a Cleveland Browns uniform for the rest of the season.
Maurkice Pouncey and Larry Ogunjobi were also suspended for their roles in the ugly brawl at the end of Thursday night's Browns vs Steelers game.
The sports world was shocked and saddened by the violent act committed by Garrett, who bashed Steelers quarterback Mason Rudolph on the head with his own helmet.
NFL spokesman Michael Signora tweeted the league's decision. Garrett is suspended indefinitely. Steelers center Pouncey has been suspended for three games for kicking Garrett, and Browns defensive tackle Ogunjobi has been suspended for one game for shoving Rudolph to the ground.
All three players are suspended without pay, Yahoo Sports reports. Each franchise has been fined $250,000.
ESPN's "First Take" host Stephen A. Smith agreed with the NFL's disciplinary action. "It's unfortunate, Myles Garrett has to be suspended for the rest of the season… as a Black man, we're going to be judged as a societal issue."
Garrett, a 23-year-old No. 1 overall NFL draft pick, tackled Rudolph, who no longer had the ball. Rudolph took exception to the late hit and began tussling with Garrett on the ground.
Garrett, not wanting to injure his fist on Rudulph's helmet, ripped the 10-pound helmet off Rudolph's head and beat him with it.
Sports analyst Adam Schefter did not mince words on ESPN's "Get Up", saying, "What we saw Thursday night was the closest thing to an on-field criminal act that there's ever been in NFL history."
Fans sitting at home were horrified to see a player rip a quarterback's helmet off and swing the helmet at his head. Such a criminal act was never seen before in the annals of NFL history.
One Twitter user wrote, "The disrespect of hitting a QB with his own helmet. I'm flabbergasted. I don't watch football like that, but that's crazy."
Another tweeted: "@PopeyesChicken, if you're looking for a store manager, it looks like @MylesLGarrett will be free the rest of the year."
And a third user tweeted: "Bye Myles Garrett!! You don't deserve the privilege to play this game at any level. I'm disgusted!"
It's being reported that Rudolph's agents are considering taking legal action against Garrett.