A week after globalist Bill Gates warned of "Smallpox terrorism", vials of smallpox were found in a Merck research facility in Pennsylvania.
The FBI seized 15 suspicious vials — 5 labeled "smallpox" — and sent them to the CDC for analysis.


What is Smallpox?
Smallpox is an extremely contagious and deadly virus for which there is no known cure. The virus was eradicated from earth in 1980. 15 million people were infected every year and 30% of those infected died.
Smallpox has proven to be one of the most devastating diseases to humankind.
In June, the Food & Drug Administration (FDA) approved a drug to treat smallpox — even though smallpox is eradicated.
Government and health agencies keep samples of smallpox virus for research purposes.


What Are the Symptoms of Smallpox?
Symptoms of smallpox usually appear about a week to 17 days after exposure to the virus (incubation period).
After the incubation period, the following flu-like symptoms occur:
high fever
chills
headache
severe back pain
abdominal pain
vomiting

The symptoms go away after three days and the patient feels better. Then a rash appears.
The rash starts on the face and spreads to the hands, forearms and the trunk of the body. Within two days, the rash develops into raised abscesses filled with fluid and pus.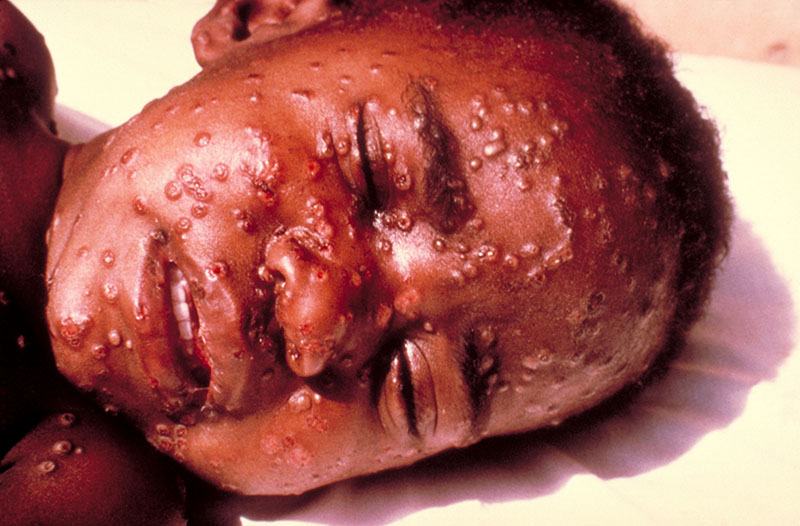 The abscesses break open and scab over. The scabs eventually fall off, leaving pit mark scars. The patient is contagious until the scabs fall off.


How Does Smallpox Spread?
Smallpox is an airborne disease that spreads via coughing, sneezing, or direct contact with bodily fluids. The virus can also be spread by touching contaminated clothes or bedding.


Is There a Treatment for Smallpox?
There is no known cure for smallpox. Vaccination within one to three days can keep the illness from becoming severe.
This has been your Medical Minute.

DISCLAIMER
Any medical information published on this blog is for your general information only and is not intended as a substitute for informed medical advice. You should not take any action before consulting with your personal physician or a health care provider. Sandrarose.com and its affiliates cannot be held liable for any damages incurred by following information found on this blog.