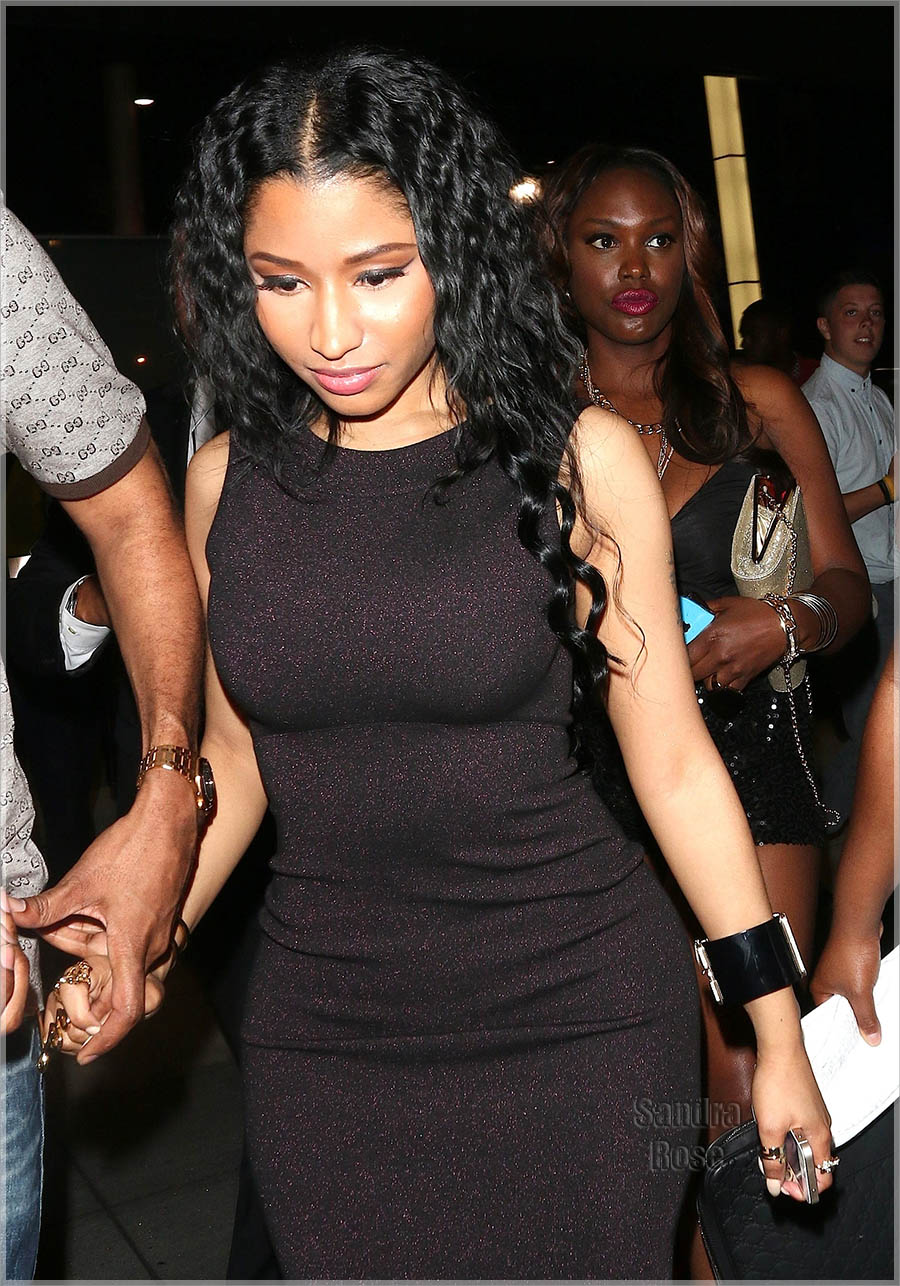 The weekend leading up to last night's BET Awards was marred by violence. 1 man is dead and 5 others were injured in separate incidents in Los Angeles. But the show must go on -- and on, and on... Most people (this writer included) didn't stay up for the almost 4 hourlong awards show. So we missed the part when rapper Nicki Minaj accepted her trophy for best female hip hop artist -- and dissed pseudo-rapper Iggy Azalea at the same time.
During her acceptance speech, Minaj made it clear that she is the realest there ever was -- not Azalea, who doesn't even write her own rhymes -- a felony in the world of hip hop.
"You guys this is always very, very emotional for me because this is my fifth year winning this award, and I don't take it for granted," Minaj said. "I really don't. I thank God that I've been placed in a position to represent women in a culture that is so male driven. And I want you to know this. I'm working on an album called the 'Pink Print,' but that's not a plug... but it's a plug. But my point is, what I want the world to know about Nicki Minaj is when you hear Nicki Minaj spit, Nicki Minaj wrote it."
Minaj also shared a very personal experience with the BET audience. Minaj, it seems, suffers from panic attacks.
She said she thought she was going to die during her latest panic attack, but she didn't call an ambulance because she was afraid she would end up on all the gossip blogs.
The best Tweets from my Twitter.com timeline are compiled below.
@SandraRose So, you mean to tell me that a white chick named Iggy is the queen of Hip Hop ? (meme) pic.twitter.com/CYBBpO7SBM #IggyAzalea

— Paul Scott (@truthminista) June 30, 2014
My eyelids are struggling over here. I'm so sheepy. #BETAwards

— Attorneymom (@PinkCottonMom) June 30, 2014
Go 'head Lil Mama! @TinyMajorMama is killing 'em at the red carpet at the #BETAwards pic.twitter.com/iEVuWOMc1N

— Sandra Rose (@SandraRose) June 30, 2014
Aww #augustalsina x #treysongz bromance re-up. #BETAwards pic.twitter.com/uwWbCZ3qJl

— Missinfo (@Missinfo) June 30, 2014
August made up with his boyfriend? (Trey Songz)

— Rich Homie Trey (@ThotsLoveTrey) June 30, 2014
RT @106th: Trey is another one I don't buy vocally. A damn romantic goat.

— Rich Homie Trey (@ThotsLoveTrey) June 30, 2014
DEATH ????????????????RT @clusterposts: Congratulations August Alsina! !! #BETAwards2014 pic.twitter.com/FsFt75OAJg

— Bianca(ConcreteRose) (@HollywdzgirlB) June 30, 2014
Nah. This Lionel. We don't slander him. RT @TaskForceLauren: HE LOOK LIKE DORA DAD pic.twitter.com/4YKjq6YdVk

— Rich Homie Trey (@ThotsLoveTrey) June 30, 2014
"@candyrayne_215: accurate RT @jsmith189: Oh na na na pic.twitter.com/hcAmiNL0Au"????????????????

— Mizz_Dallas (@Mizz_Dallas) June 30, 2014
LMAO! RT @ohitskee: "@DatThoedKING: Trey Songz still garbage..." pic.twitter.com/WG46RGcRnP

— Rich Homie Trey (@ThotsLoveTrey) June 30, 2014
Busta lookin like a Cheesecake Factory bag lol ???? pic.twitter.com/h9lMmChybj

— Young Picasso (@AirBourne_11) June 30, 2014
Yall caught that kiss from @AugustAlsina to @TreySongz right? Roll that back! #BETAwards

— TYVALENTINE (@lite_brite) June 30, 2014
This audience looks like they're thinking, "turn up for what?" #BETAwards

— Cocky McSwagsalot (@MoreAndAgain) June 30, 2014
LMAOOO RT @JaeJeter: Dude in the brown wanted that Roscoe's SO BAD LMAO YALL SAW HIM? #BETAwards pic.twitter.com/w2TEXUxLCq

— Rob Get-It (@RobGetIt) June 30, 2014
http://t.co/BfohOSQw0h << here's the gif of trey and that thang bruh @Hi_Sita

— J I ? (@missjia) June 30, 2014
That gif @missjia tweeted of Trey Songz dick swinging has all the women on her TL like pic.twitter.com/0uLaGYBtGX

— Petty White (@shaxis) June 30, 2014
LMAOOOO women are a mess RT @Hi_Sita: Trey Songz dick got me like.... (Thanks @missjia) pic.twitter.com/lzf6nPNnFI

— J I ? (@missjia) June 30, 2014
"@2ChainzLyrics: Must Seen His Parole Officer While Performing???????????????????????? pic.twitter.com/UUKXAjV4DF" I gotta go

— OMyItsHoney (@1_Honey) June 30, 2014
One of those things are using the other "@SandraRose: One of these things is not like the other pic.twitter.com/c9UGRbrb8F"

— ? Anna B ? (@Chocolat_Kay) June 30, 2014
#dead #BETAwards2014 pic.twitter.com/U0DNVZ6mQa

— CrownMeQueen† (@ChosenQueen7) June 30, 2014
The internet has no chill whatsoever!! ???????????????? http://t.co/aVDDbCPfGZ

— Elle_Ehrenberg (@BrooklynCreme) June 30, 2014
Lil Wayne Performs "Krazy" & "Believe Me" at the 2014 BET Awards http://t.co/5IHWthG7a9 pic.twitter.com/0l8qXcrrKX

— GOT (@GossipOnThis) June 30, 2014
Nicki Minaj is becoming the Lady Gaga of BET. Lol

— Simply Divine (@Nubian_QT) June 30, 2014
I am glad that Nicki left her cartoon wigs and makeup at home tho. Growing up or nah? #BETAwards

— Kori C.G. (@KoriCg) June 30, 2014
U ain't Shit Sandra! LolRT @SandraRose: I didn't know @KylaPratt was into butch lesbians? pic.twitter.com/FUI6O2pJd3

— Chrissy G (@ChrissyGsns) June 30, 2014
Photo: WENN.com