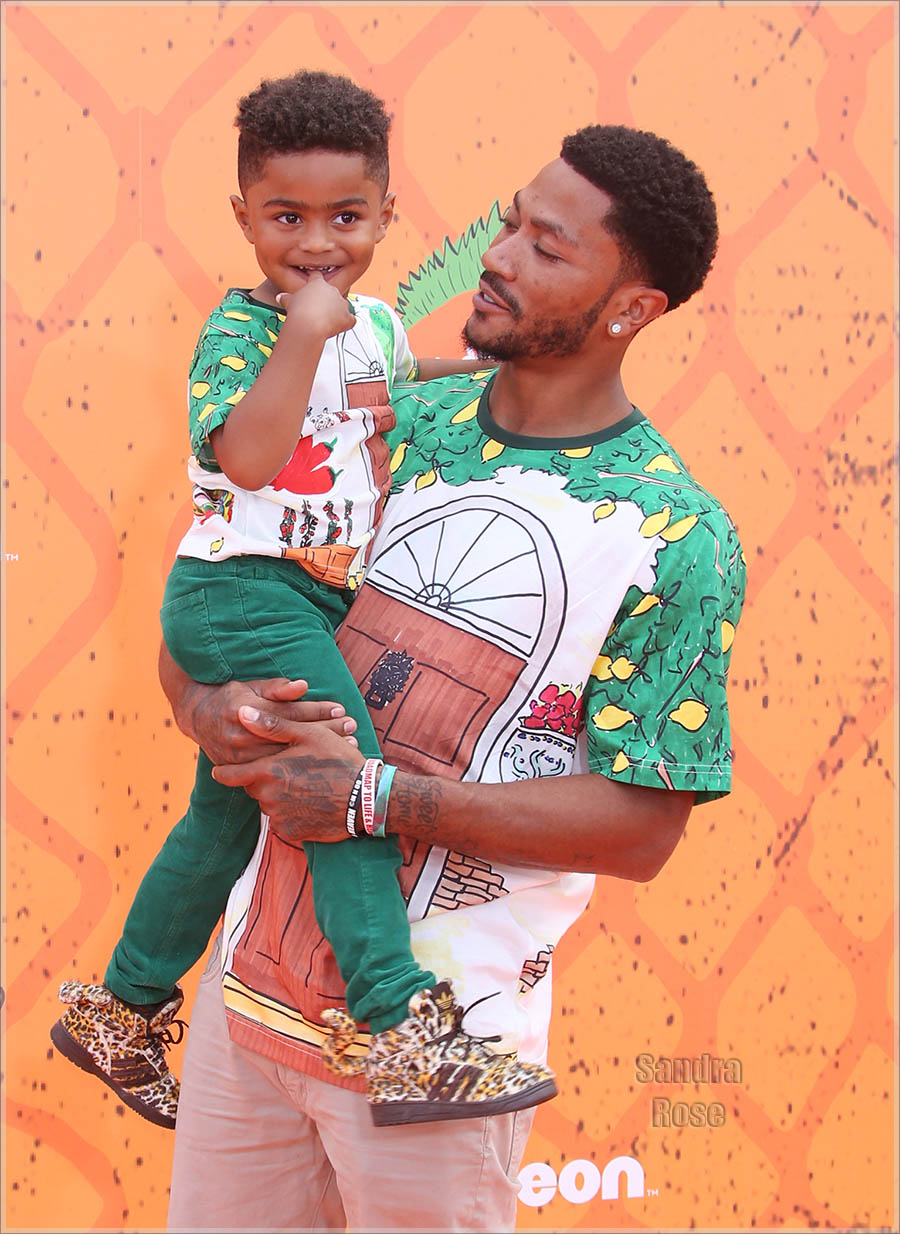 Superstar Derrick Rose and his son, Derrick "PJ" Rose, Jr, wore matching Dolce & Gabbana Drawing Print T-Shirts to the 2016 Nickelodeon Kids Choice Sports Awards on Thursday. The designer tees are on sale now for $212.50.
Derrick Rose responded to the rash of police shootings of black males by launching an anti-violence, anti-bullying campaign.
Rose, who recently signed with the NY Knicks NBA team, is spearheading the Bullies Brand t-shirt line, featuring his son.
PJ Rose modeled his popular "I MATTER" t-shirt backstage for the cameras.
From a press release:
With all of the unnecessary violence that has happened recently in our Country, The Bullies Brand has created an ensemble amount of influential unisex graphic tees emblazoned with positive messaging.

Their first release will be the, "I MATTER" t-shirt, which builds awareness and shows support of the change that Bullies Brand would like to help make in America.

"Racial profiling, the violence and not seeing the value in us has to stop," says Mieka Reese, mother of PJ Rose and Owner of Bullies Brand. "It's important for people to realize that WE MATTER, my son's life matters and we want to see a bright and successful future for our children."
A portion of the proceeds raised through the sales of the "I MATTER" t-shirts will go to support some of the victims families who have suffered from recent tragic events, such as Diamond Reynolds, girlfriend of Philando Castille, whose funeral was attended by over 1,000 mourners on Thursday in Minnesota.
Photos: FayesVision/WENN.com, Instagram.com