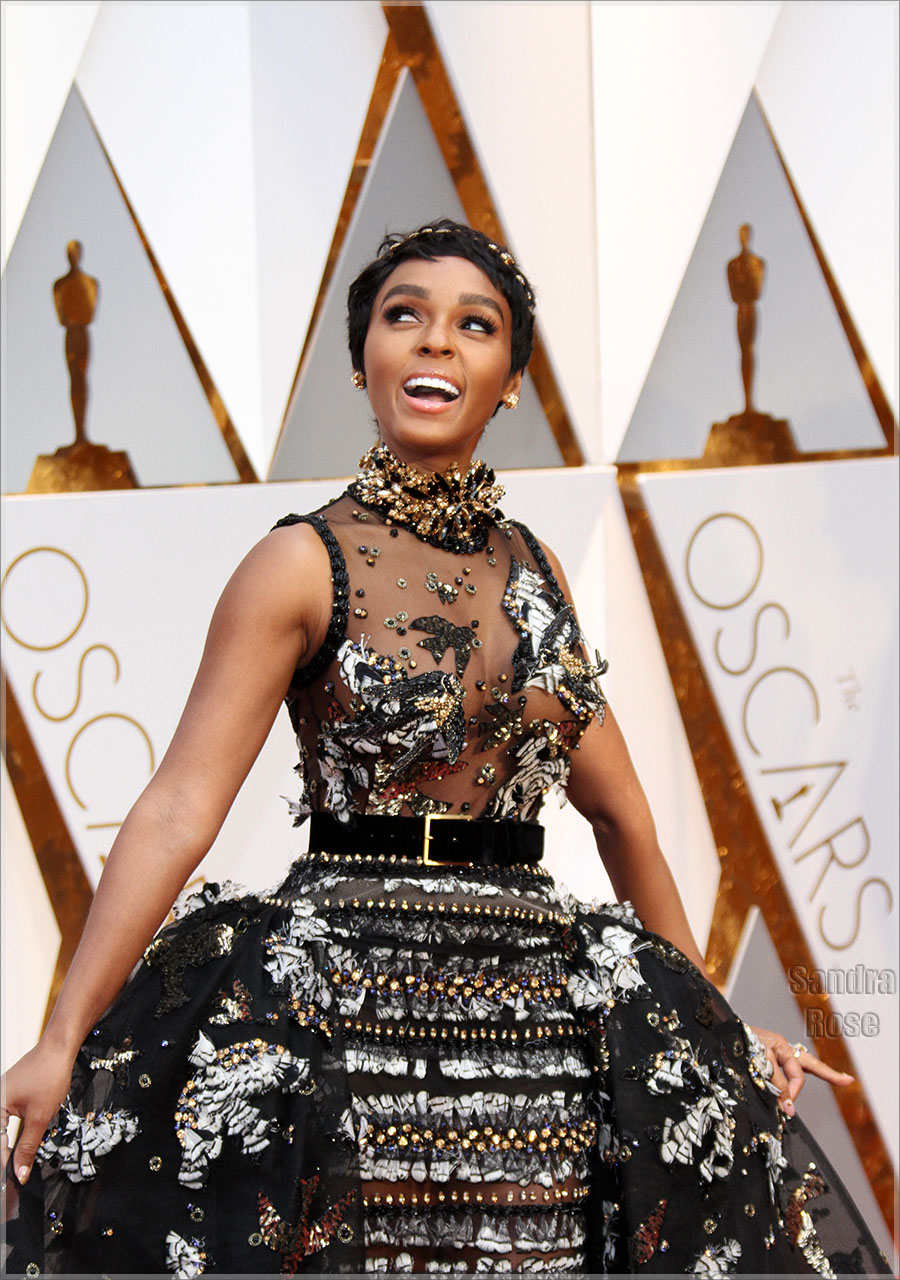 Janelle Monáe resembled a black Audrey Hepburn on the red carpet at the 89th Annual Oscar Awards. The 31-year-old singer/actress made her first Oscar Awards appearance after starring in the critically acclaimed movies Hidden Figures and Moonlight, which won Best Picture.
Janelle wore an Elie Saab Couture dress featuring layers of diamonds, embroidered appliqué, feathers and other fabric. She pulled it all together with a sheer bodice that exuded sensuality.
Janelle's stylist cried tears of joy upon seeing her muse wearing the custom frock. "I'd never seen anything so beautiful in my life," stylist Maeve Reilly told WWD magazine.
"It's one of those where it's stunning but it's very different for her," said Maeve, Janelle's stylist of four years. "So we got the dress in and there was actually a conflict; the brand had potentially promised it to somebody else through the designer. We (were making the decision) back in December if this was going to be our dress, and it was just sort of a moment where we saw her in the dress, and, I mean, I literally cried. I'd never seen anything so beautiful in my life. It really felt like the dress that you wear to your first Oscars, when you have two movies that are potentially going to win."
Janelle accessorized her dazzling ensemble with Forevermark diamond jewelry, including several rings, and a Jennifer Behr Artemisia Crystal Crown on her head.
But Janelle's ensemble befuddled her lesbian fans who look to her for style inspiration. Her fans who are used to seeing the star rock the androgynous look on the red carpet were taken aback with Janelle's sudden departure from her norm.
But Maeve said Janelle's fans were ready for a new look after wearing monochrome black and white for most of her career.
"I think as time went on, we realized that we were kind of falling into a dress pattern, and embracing a different side of Janelle," Maeve added. "But I think we've done a really good job of keeping it kind of quirky and young and interesting, as opposed to most actresses (who) are like 'throw on a dress and go.'"
Photos by Apega/WENN.com