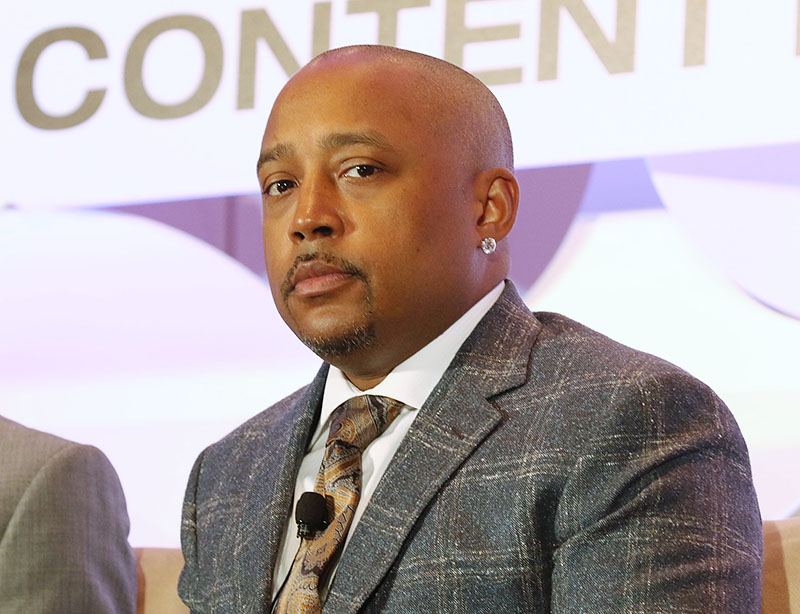 Shark Tank star Daymond John has stage 2 thyroid cancer. The 48-year-old businessman revealed his diagnosis to ABC anchor Robin Roberts on Good Morning America on Wednesday.
John said a growth was removed from his thyroid gland, and doctors determined the growth was stage 2 cancer.
Stage 2 cancer means the cancer has spread into nearby tissue and may invade the lymph system and enter the bloodstream. But it has not spread to nearby organs.
John said he was out "partying and dancing" two days after having the cancerous tumor was removed.
Joh told Roberts he wanted to go public with his diagnosis to help others.
"I'm good and I want to share this with people because that's what success is. It's staying in your family's lives; it's being around."
Cause of Thyroid Cancer
The cause of thyroid cancer is unknown, but doctors believe genetics and/or environmental factors (food, water, etc.) may play a role. The thyroid gland is a butterfly shaped organ at the base of the throat below the adam's apple.
What Does the Thyroid Do?
As part of the endocrine system, the thyroid gland secretes hormones that regulates the metabolic rate and controls how fast you burn calories and gain or lose weight. Diseaes of the thyroid includes hyperthyroidism, hypothyroidism, goiter, thyroiditis, and thyroid cancer.
Signs and Symptoms of Thyroid Cancer
Some people with thyroid cancer show no signs or symptoms of the disease. Others may feel pain, swelling of the lymph nodes, and/or a small, hard nodule at the base of their neck.
Other signs and symptoms include:
Hoarseness
Swollen glands in the neck
Difficulty swallowing
Difficulty breathing
Pain in the throat or neck
A cough that persists and is not caused by a cold
Always speak to your doctor if you experience any of these signs or symptoms.
Thyroid nodules usually occur in adults, but they can affect anyone at any age. Most thyroid nodules are not cancerous.
Treatment of Thyroid Cancer
Treatment includes radiation therapy, medications such as hormones, and surgery to remove the nodules or part or all of the thyroid and lymph glands nearby.
The prognosis for thyroid cancer is very good if caught early. People with papillary and follicular cancers have a more than 97% cure rate when treated early.
This has been your Medical Minute.
More Info On the Web
Thyroid Cancer - American Cancer Society
Thyroid Cancer - American Thyroid Association
Thyroid Cancer: Symptoms and Signs - Cancer.Net
DISCLAIMER
Any medical information published on this blog is for your general information only and is not intended as a substitute for informed medical advice. You should not take any action before consulting with your personal physician or a health care provider. Sandrarose.com and its affiliates cannot be held liable for any damages incurred by following information found on this blog.
Photo by Aaron Davidson/Getty Images