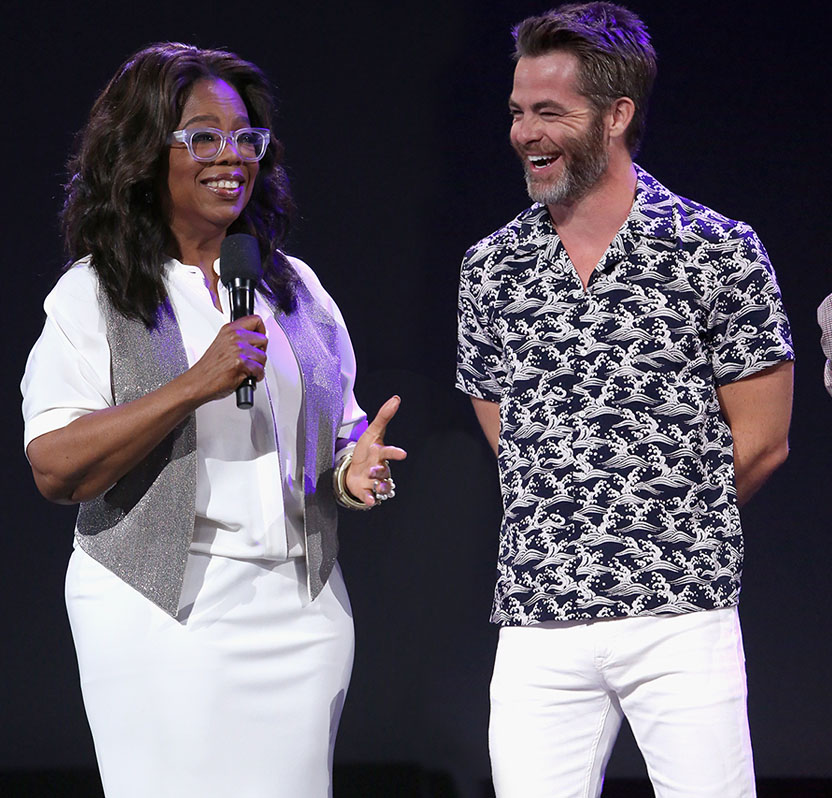 Actor Chris Pine gushed over Oprah Winfrey after working with her on Disney's space fantasy film A Wrinkle In Time.
"I loved working with Oprah," the 36-year-old actor told Entertainment Tonight at Disney's D23 Expo in Anaheim, California on Saturday, July 15.
In the film, Winfrey plays the wise and mysterious Mrs. Which, who helps a biracial girl travel through time and space to rescue her father.
Calling the 63-year-old media mogul "a force of nature", Pine said, "There's a lot to learn from a woman who has made this kind of impact, culturally and in the business, and you see why."

SEE ALSO: Oprah Reconsidering Running for President in 2020

A Wrinkle In Time also stars Reese Witherspoon, below right, Mindy Kaling, below left, and 14-year-old Storm Reid as Meg.
A Wrinkle In Time was adapted from a classic children's novel by Madeleine L'Engle, and features a script written by Frozen's Jennifer Lee. It was directed by Selma's Ava DuVernay.
Winfrey admitted she had never read the book before director DuVernay approached her about the role, adding, "But when Ava mentioned it to me and told me it was a character who is one of the wisest women in the universe and is an angelic celestial being who is going to get to wear amazing costumes and get to work with Reese and Mindy... who wouldn't say yes to that?"
A Wrinkle In Time opens everywhere on March 9, 2018. Watch the movie trailer below.
Photos by Jesse Grant/Getty Images