A total solar eclipse is a rare event that only occurs twice a year somewhere on earth.
A total eclipse occurs when the moon, which orbits the earth from west to east, passes in front of the sun, which moves from east to west.
On Monday, August 21, a total eclipse will be viewable over a narrow "path of totality". The path stretches from Oregon in the northwest through South Carolina in the southeast.
You must wear eye protection to view a solar eclipse!
The news media tends to overhype these solar events for TV ratings. But for the most part a solar eclipse is an overrated experience.
For most of us in the United States, Monday's solar eclipse won't be spectacular or memorable.
In Georgia, the show begins over the northeast corner of the state at 2:34 p.m. and it ends at 2:40 p.m.
Because the moon travels at a pretty fast clip, the show is over within 2 minutes in Blairsville, GA. Google the times in your area.
In 1979, your auntie viewed a partial solar eclipse through a DIY pinhole viewer in Miami. The experience was underwhelming and boring.
The sky did not go dark. No shadow passing over my street. It was a complete bore. Having never seen a total eclipse, I can't describe it. But I hear it's a breathtaking view.
Eclipse chasers can view the total eclipse along the path of totality somewhere in the remote corners of the following 12 states:
Oregon
Idaho
Wyoming
Nebraska
Kansas
Missouri
Illinois
Kentucky
Tennessee
Georgia
North Carolina
South Carolina
Make sure you wear eye protection!
The total eclipse will not be viewable in any other state. Residents outside of those 12 states will only see the underwhelming partial solar eclipse.
You must be within the path of totality to view a total eclipse. If you are near the path or outside the path you will miss the total solar eclipse.
For instance, if you live on the south side of St. Lous, you might be able to view the total eclipse. But if you live on the north side of St. Louis, you will only see a partial solar eclipse.
You can view a total eclipse in Blairsville, GA, but residents of Atlanta will only see a partial eclipse.
You can view the total eclipse in Greenville, SC, but only a partial eclipse can be seen in Charlotte, NC.
The rest of you around the country can only view a partial eclipse for a few minutes.
You will still need eye protection.
Hundreds of cities and towns in America are in the path of totality. The problem is most of those places are in remote rural areas or mountainous regions.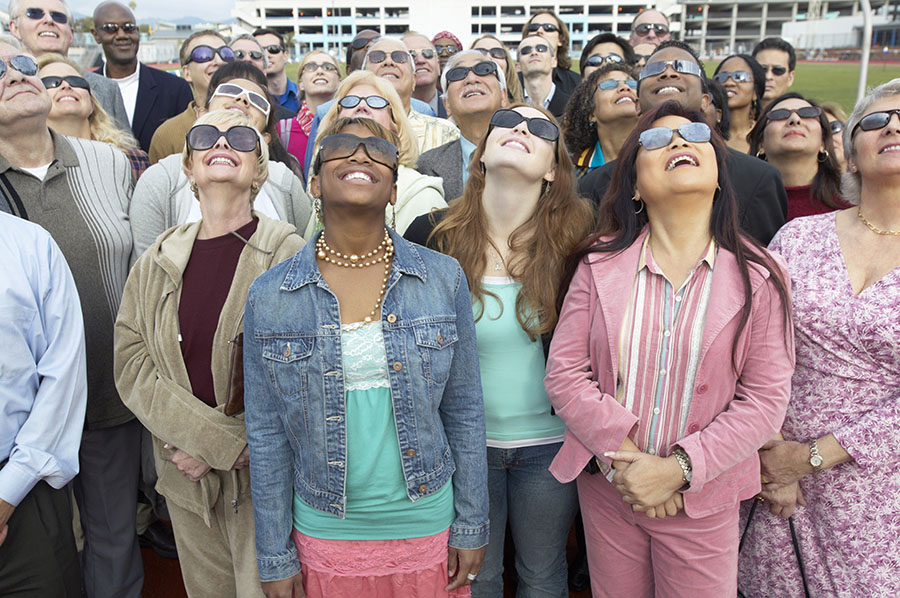 If you plan on viewing a partial or total eclipse in your area, make sure you protect your eyes with eclipse glasses. Most stores are sold out of eclipse glasses, even Amazon.com.
If you can't find eclipse glasses you can make your own pinhole viewer out of a cereal box (Google for easy instructions).
Remember, if you're not directly in the path of totality, you will not see a total solar eclipse on Monday.
Sorry to burst your bubble.
Photos by Digital Vision/Getty Images, KD Shutterman/Getty Images