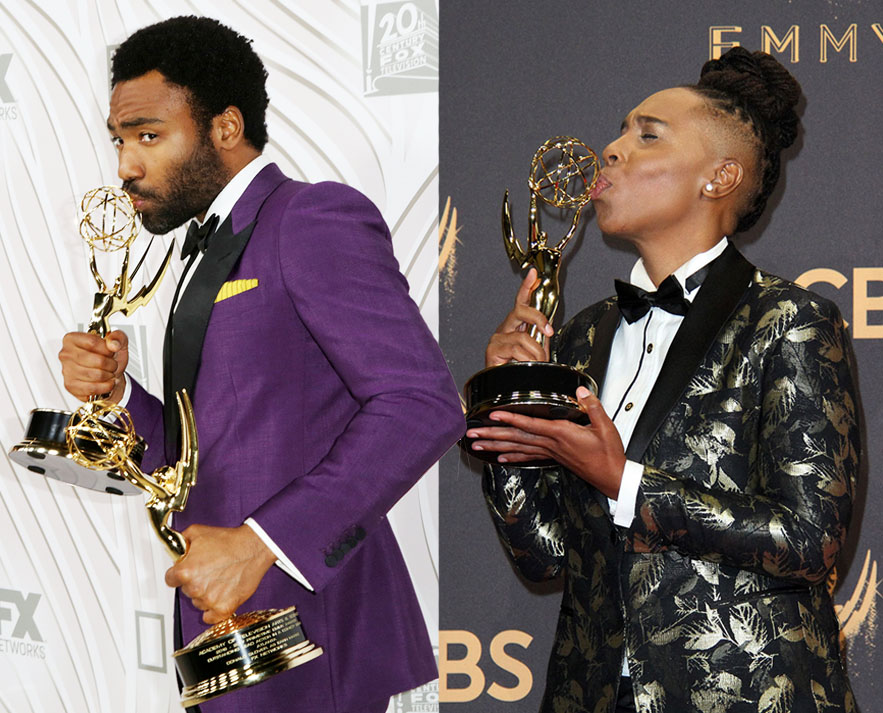 Last night's 69th annual Emmy Awards was the lowest-watched in Emmy history among the coveted 18-49 age demo group. Donald Glover, left, and Lena Waithe won their first ever Emmys for directing a comedy series.
But despite an evening of firsts for openly gay people of color, the big Emmy news on the morning after the telecast was the low TV ratings. Only 8.2 million viewers (out of 300 million) tuned in to watch.
It probably didn't help that the nominees and presenters spent all evening bashing President Donald Trump.
AWards shows have become a platform for Hollywood's spoiled elites to throw tantrums over their candidate losing the presidential election.
56 stations in Florida did not report Emmy numbers due to Hurricane Irma. Otherwise, the 2017 Emmy Awards would be the lowest watched in Emmy Awards history overall.
via Fox News — It turns out American viewers may not have been as into Trump bashing as Hollywood would like them to be, as the 8.2 overnight rating among metered market households is down 2.4 percent from the 2016 edition, which would make it the lowest rated Emmy telecast ever.

The reason it's hasn't been officially labeled the lowest-rated Emmys yet is because six of the 56 markets are in Florida have not reported, as Hurricane Irma is still holding up the process in areas that were severely impacted by the storm.
Photos by FayesVision/WENN.com, Brian To/WENN.com, Nicky Nelson/WENN.com, Adriana M. Barraza/WENN.com, Apega/WENN.com