North Korean leader Kim Jong-un, left, and South Korean President Moon Jae-in have agreed to end the war that separated the two Koreas and to denuclearize the peninsula. While the U.S. media continues to distract with stories of porn stars, the Korean leaders have ensured that nuclear bombs won't land in our backyards.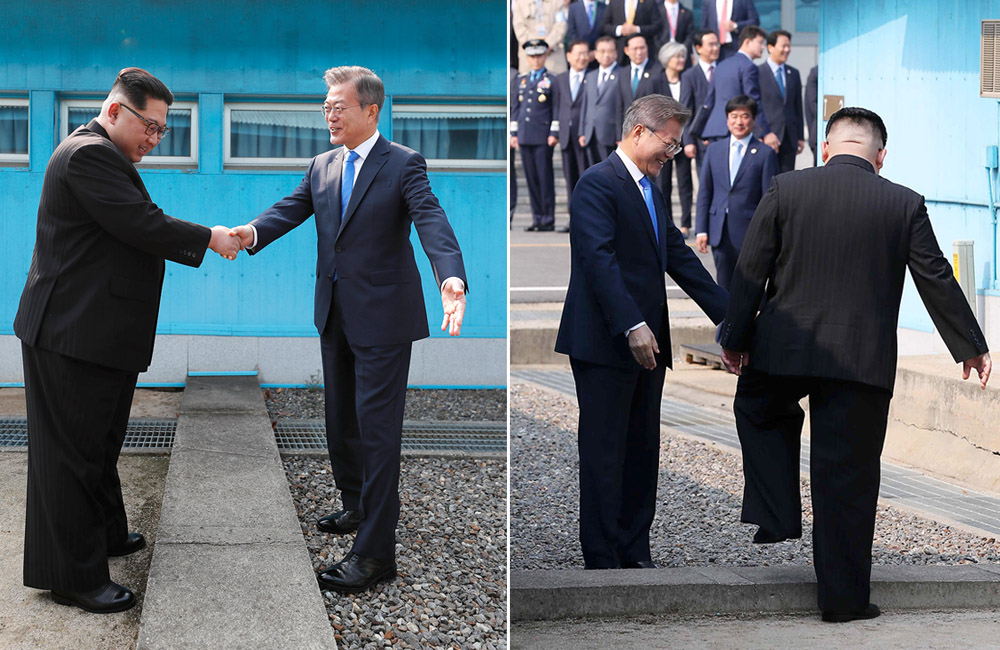 The historic summit meeting was the first time North Korean leader Kim Jong-un had ever set foot south of the border. And it was the third meeting of two Korean leaders since the peninsula was divided in 1945.
"We no longer need nuclear or missile tests," said Kim, as many credit U.S. President Donald Trump for the historic Korean peace treaty.
The historic meeting comes just days after U.S. Secretary of State Mike Pompeo met with Kim Jong-un in North Korea.
The Korean leaders agreed to remove all nuclear weapons from the Korean Peninsula, and to meet with U.S. officials to declare an end to the Korean War, which raged in the peninsula from 1950 to 1953.
The two Korean leaders met for the first time and shook hands at a historic summit at the Korean border, where a North Korean soldier nearly lost his life in a desperate dash for freedom months ago.
"South and North Korea confirmed the common goal of realizing, through complete denuclearization, a nuclear-free Korean Peninsula," Kim said via a statement on Friday.
Kim is set to meet with U.S. President Donald Trump as soon as next month.
It's hard to believe that just months ago, both men threatened nuclear war and World War III.
The White House is pushing for a quick deadline for North Korea to eliminate its nuclear weapons.
On Friday, President Trump tweeted, "Good things are happening, but only time will tell!"
In this photo, Kim's limo is surrounded by security as he heads to a luncheon with South Korean President Moon Jae-in during the summit in Penmunjom, South Korea on Friday, April 27.
Thousands of ecstatic South Koreans cheered along the route from the South Korean Peace House where Kim is staying.
In the above photo, a foreign tourist takes photos in front of the Korean border on Friday, April 27. Such photos would have been impossible just weeks ago.
Photos by Pool / Getty Images