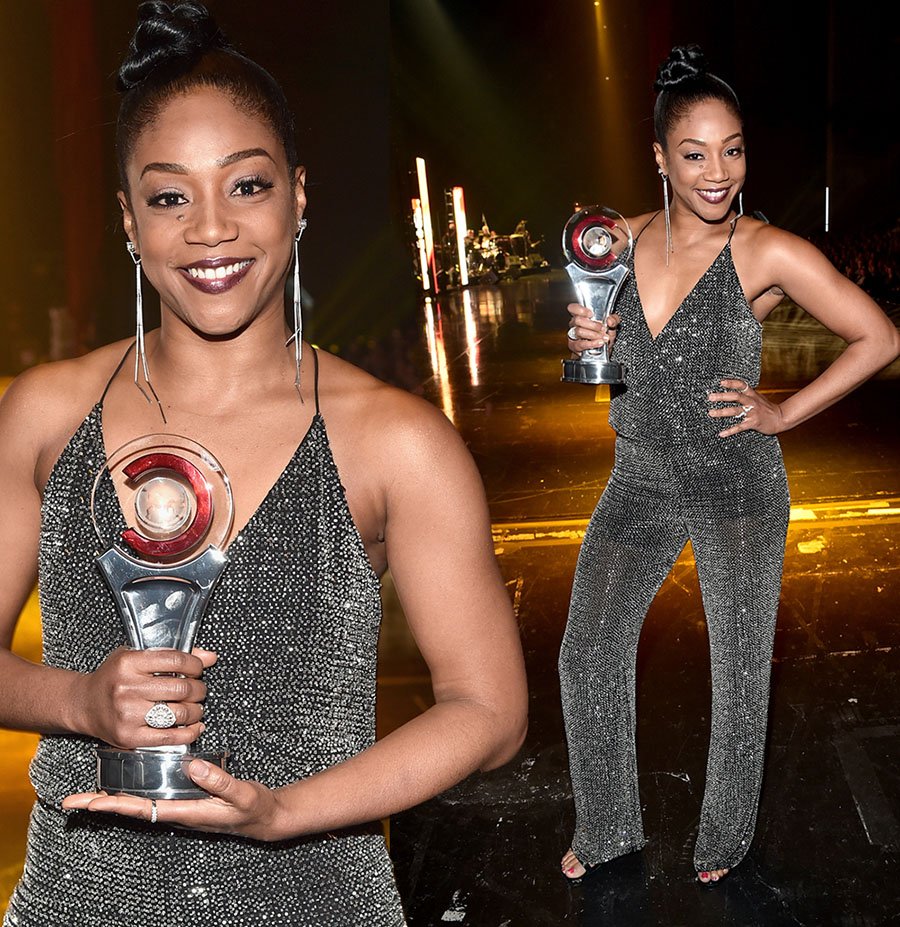 Tiffany Haddish went back on her promise to continue wearing the white Alexander McQueen dress she wore to the Girls Trip premiere and the Oscars, because the dress cost the same as a "down payment on a car".
The thrifty comedienne purchased the designer gown when a stylist she hired for her Girls Trip promotional tour last year advised her to spend "a little money" on her look to get to the next level in her career.
The actress and comedienne tells the new issue of W magazine she spent $4,122 on the dress and didn't care what the fashion police thought about her decision to continue wearing it to awards shows to get her money's worth.
"I hired a stylist for Girls Trip, and she said, 'Girl, if you're trying to make it to the next level in your career, you're going to have to spend a little money'," she recalls. "I said, 'I'm down to look my best. Whatever it takes'.
"I should've known – (there) wasn't no price tag on that dress. So I wear it for Girls Trip, and then they give me the receipt. When I saw the receipt, I cried. The dress was $4,122! So I'm wearing it multiple f–king times. I don't care what nobody say – that's a down payment on a car, that's a medical bill. So, even though everyone says I shouldn't wear the dress in public again, I'm wearing it."
She tells W magazine, "You will see that [dress] again! I gotta wear it multiple times because I gotta get my money's worth and I haven't been paid not one time that I wore the dress yet.
Haddish, who also wore the dress while hosting Saturday Night Live, said, "I been spending money every time so I need to like, get paid, so I'm probably gonna wear it to the MTV Movie & TV Awards when I host that."
But after all the hype, she didn't wear the dress to the 2018 CinemaCon Big Screen Achievement Awards on Thursday, where she was the recipient of the Female Star of Tomorrow award in Las Vegas.
Instead, she settled for an affordable yet chic grey sparkly sleeveless jumpsuit with open toe sandals.
What do you think of Tiffany's low budget look?
Photos by Alberto E. Rodriguez/Getty Images, Kevin Winter/Getty Images