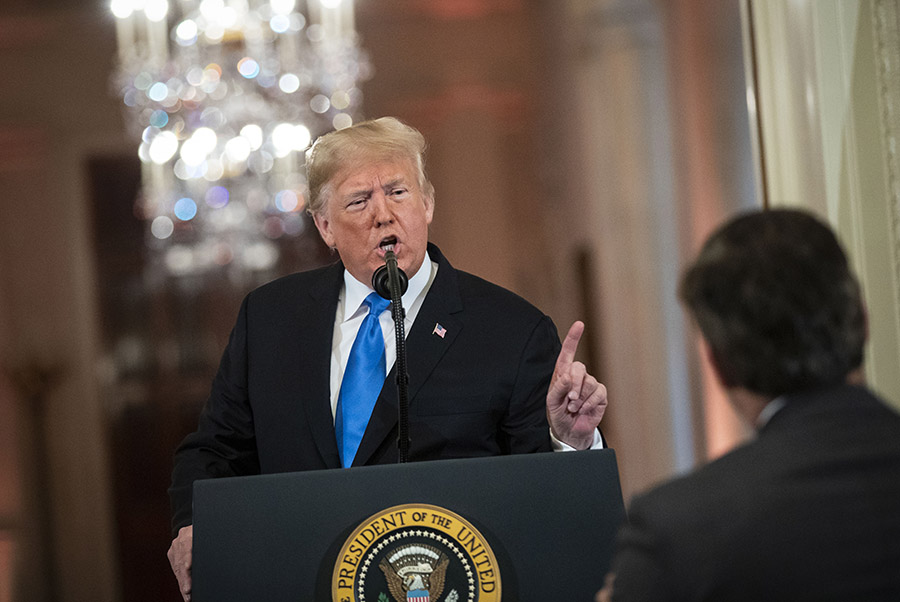 The White House finally pulled the press credentials of antagonistic CNN White House press corps reporter Jim Acosta on Wednesday.
Press secretary Sarah Huckabee Sanders announced Acosta was banned from the White House after he put his hand on a female intern who tried to wrestle the microphone from him during a tense exchange between Acosta and President Trump.
The incident occurred at President Trump's post-midterm elections press conference at the White House on Wednesday, when Acosta pressed Trump about rumors that Robert Mueller was preparing to hand down indictments.
Trump ordered Acosta to "put the mic down" so other reporters could get their turn to ask questions -- but Acosta refused.
Acosta rudely brushed aside a White House intern when she attempted to take the mic from him.
Video of the encounter between Acosta and the intern shows the reporter using his left hand to firmly chop at her arm when she reached for his microphone.
Sanders tweeted on Wednesday: "As a result of today's incident, the White House is suspending the hard pass of the reporter involved until further notice."
Sanders added:
"President Trump believes in a free press and expects and welcomes tough questions of him and his Administration. We will, however, never tolerate a reporter placing his hands on a young woman just trying to do her job as a White House intern..."
Acosta later said Sanders' allegation that he touched the intern was a "complete lie." But video from several angles support Sanders' claim.
Acosta also informed his Twitter followers that the Secret Service banned him from entering the White House at 8 p.m. on Wednesday.


Acosta frequently violated one of the core principles of journalism by becoming the news rather than reporting the news.
In a tersely-worded editorial, NY Post writer Michael Goodwin accused Acosta and other anti-Trump press corps reporters of being "narcissists chasing their own vanity."
"The conduct of a handful of so-called reporters during President Trump's news conference was disgraceful beyond measure," Goodwin wrote. "This is not journalism, this is narcissism."
Goodwin added: "As is his habit, Acosta doesn't ask questions -- he makes accusations and argues. Almost daily, he does it with the press secretary; Wednesday, he did it with the president. "
Goodwin suggested that CNN encourages Acosta's boorish behavior because it's good for ratings.
Acosta's cantankerous hostility toward the President peaked on Wednesday. He argued that the Honduran refugee caravan making its way toward the United States was not "an invasion."
He lectured to the President, saying the caravan was "hundreds and hundreds of miles away; that's not an invasion."
Trump responded: "Honestly, I think you should let me run the country, you run CNN."
But Acosta refused to sit down and allow other reporters to ask questions.
After more verbal sparring, Trump called Acosta "a rude, terrible person" and he said "CNN should be ashamed of itself" for hiring him.
The reaction on Twitter.com was mixed. Some journalists rushed to defend Acosta, saying he was only doing his job.
But many Twitter users said the White House didn't act quickly enough to ban Acosta after he bullied Sanders during previous press briefings.
Others said male reporters should be held accountable for their aggressive behavior toward women, particularly during the current #Metoo movement.
CNN repeatedly aired the video that showed Acosta shoving the intern.
The network asked viewers to judge for themselves whether Acosta put his hand on the intern.
"This unprecedented decision is a threat to our democracy and the country deserves better," CNN said in a statement. "Jim Acosta has our full support."
The NY Post said young journalists like Acosta are no longer being taught not to become the news themselves.
"But we are witnessing something more insidious here than media trash talk. Plain and simple, we are watching expressions of personal hatred," Goodwin writes.
"They hate Trump. They really, really hate him. There's nothing professional about it."
Question: does the video prove Acosta lay hands on the White House intern?

We stand by our decision to revoke this individual's hard pass. We will not tolerate the inappropriate behavior clearly documented in this video. pic.twitter.com/T8X1Ng912y

— Sarah Sanders (@PressSec) November 8, 2018
Photos by Al Drago - Pool/Getty Images, Mark Wilson/Getty Images