The fashion world is mourning the death of iconic Chanel couturier Karl Lagerfeld who passed away in Paris after a brief illness early Tuesday. He was 85. Lagerfeld was in poor health for several weeks before his death was announced Tuesday morning.
Lagerfeld (pictured with Lily Rose Depp) was born Karl Otto Lagerfeldt in Hamburg, Germany.
As a young man he made ends meet as an artist, photographer and caricaturist in Paris, France.
Lagerfeld made his initial foray into high fashion when he was hired as Pierre Balmain's assistant after winning a fashion designing contest in 1955.
Using the nom de guerre Roland Karl, his daring first collection was poorly received by the staid fashion press in 1958. The UPI noted that his "short black cocktail dresses were cut so wide open at the front that even some of the women reporters gasped."
His skirts in his collection in 1960 were the shortest of the season, and that collection was also not well received by the finicky Paris press.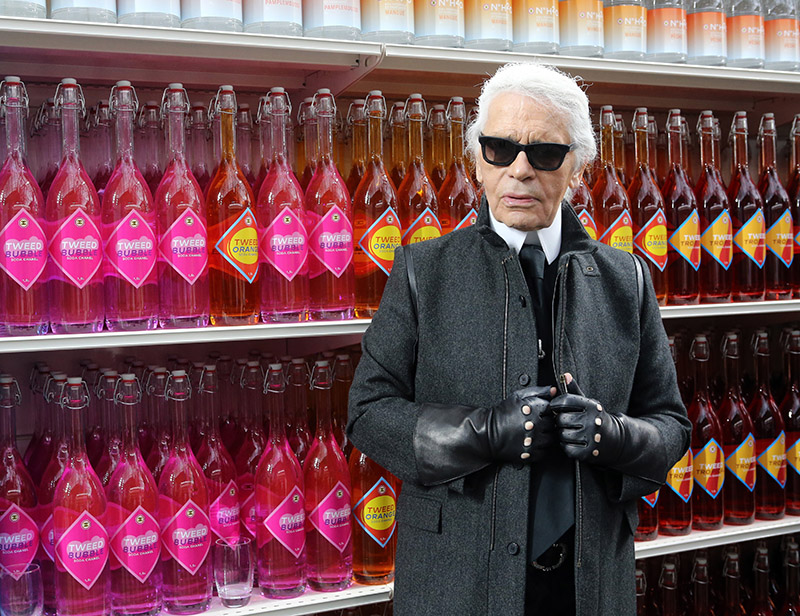 Along the journey to icon status Lagerfeld designed dresses for the superstar actresses of the era: Elizabeth Taylor, Gina Lollobrigida and Doris Duke. In 1964 he began to freelance for French fashion house Chloé.
His Chloé collection for spring 1973 earned him international fame for its "high fashion and high camp."
He took over the iconic fashion house Chanel in 1983, incorporating the interlocking C's for Coco Chanel. Over the years, he also took over Fendi and launched his own eponymous fashion house.
As Lagerfeld's legend grew over the next three decades, he constantly lied about his age. He made headlines when he celebrated his "70th birthday" in grand style on Sept. 10, 2008. He actually turned 75 that year.
Lagerfeld, who was openly homosexual, never married and had no children. In the 1970s, Lagerfeld became smitten with a 19-year-old socialite named Jacques de Bascher, who died of AIDS in 1989 at age 38.
Bascher, who was very promiscuous, had many affairs with men, including an affair with famed fashion designer Yves Saint Laurent.
"Of course I knew about the affair with Saint Laurent," Lagerfeld told In Style magazine. "I had been close friends with Yves for more than 20 years."
Although Lagerfeld and Bascher lived together for many years, Lagerfeld claimed they never had sex.
"I infinitely loved that boy but I had no physical contact with him. Of course, I was seduced by his physical charm," he told WWD.
The fashion designer was often photographed out & about with hunky young male models, including his muse Baptiste Giabiconi (pictured left and below), but he denied having a sex life.
"I don't know. I like freedom," he told The Cut in 2012. "Relationships happen for everybody, it can never be a problem. But it's not really my main thing."
Rumors began to swirl that Lagerfeld was seriously ill when he failed to show up to two of Chanel's haute couture shows in Paris last month.
French magazine Paris Match reported that Lagerfeld was hospitalized on Monday night and he passed away early Tuesday morning.
In a 2012 interview with The Cut, Lagerfeld had this to say about dying: "I think it's like a sleep where you don't wake up. You don't remember before, you don't remember after. The only thing is I don't want to be seen dead, huh?"
For that reason, there will be no public showing or funeral for the iconic designer.
Lagerfeld leaves behind his only heir, his beloved red point Birman cat named Choupette.
Tributes continue to pour in from around the world as the news spread on Tuesday. Celebrities of every stripe remember the legendary designer on social media.
Donatella Versace, who sold her late brother Gianni's namesake fashion house to Michael Kors for $2.12 billion in 2018, said this about Lagerfeld on Instagram:
"Karl your genius touched the lives of so many, especially Gianni and I. We will never forget your incredible talent and endless inspiration. We were always learning from you."
Photos by WENN.com