Iconic director Spike Lee finally won his first ever Oscar award after being nominated 5 times since 1990. Lee won the Oscar for Best Adapted Screenplay for BlacKkKlansman at the 91st annual Academy Awards in Los Angeles on Sunday.
During his acceptance speech, the famed actor/director leaped into actor Samuel L. Jackson's arms, as actress Brie Larson laughed.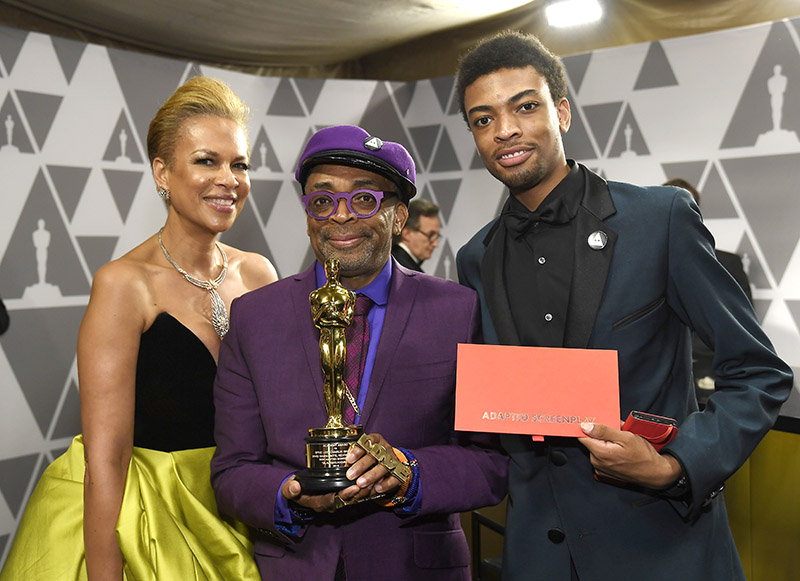 Lee, 61, shared his honor backstage with his wife, Tonya Lewis Lee, and their son, Jackson Lee. Lee paid tribute to the late pop icon Prince by wearing a head-to-toe purple suit designed by Oswald Boateng as a nod to Prince's hit movie Purple Reign. As well as a solid gold pendant inspired by Prince's unpronounceable symbol that the singer changed his name to in protest of his "slave contract" under Warner Bros. Records. Prince, who was then and forever known as TAFKAP – "The Artist Formerly Known As Prince" – later copyrighted the symbol as "Love symbol #2".
He added a dash of nostalgia to his wardrobe with the same "LOVE" and "HATE" knuckle rings worn by the character Radio Raheem (played by the late Bill Nunn) in his 1989 film Do the Right Thing.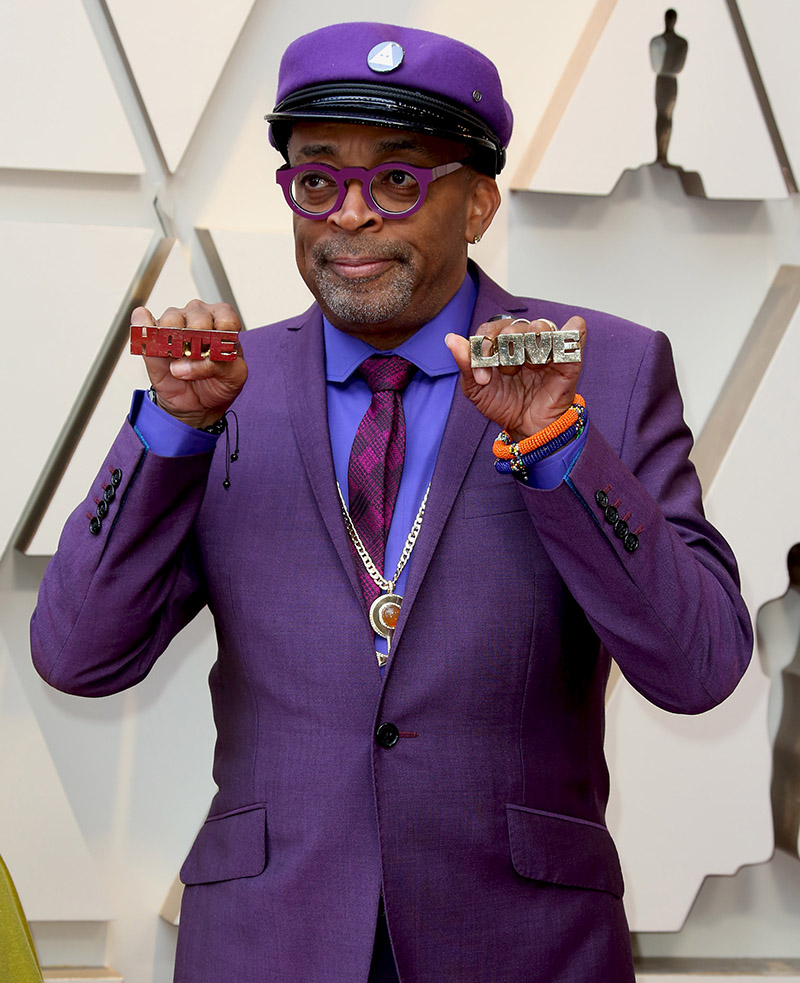 Lee completed his look with an exclusive pair of Oscars gold Air Jordan sneakers by Tinker Hatfield, commissioned by Michael Jordan for Lee's 40 Acres and a Mule Filmworks, which has produced 35 films since 1983.
Lee was reportedly furious when the movie Green Book won Best Picture over fan favorite Black Panther. He walked to the back of the Dolby Theater to let off steam after actress Julia Roberts announced Green Book had won Best Picture.
"Spike Lee Pulls A Kanye" wrote Deadline.com's Pete Hammond.
"He then turned back and appeared to get into an intense conversation with Jordan Peele, who was behind him. He was pacing the aisle and stormed to the back of the auditorium. When he came back, he turned his back to the stage during the speech."
"Spike Lee was visibly angry when 'Green Book' was announced as the winner of best picture at the Oscars, waving his arms in disgust and appearing to try to storm out of the Dolby Theatre before he was stopped at the doors," added Associated Press reporter Andrew Dalton. "He returned to his seat when the speeches were over."
Photos by Frazer Harrison/Getty Images, Kevin Winter/Getty Images, Kevork Djansezian/Getty Images