Firefighters extinguished a massive blaze nearly 15 hours after flames ripped through the historic 850-year-old Notre Dame Cathedral in Paris, France on Monday. Priceless art and religious artifacts were saved by heroic firefighters and priests.
An official said the majority of the fire damage was limited to the wooden structure supporting the roof. Most of the cathedral survived the blaze. That was good news to thousands of Parisians who prayed, cried together, and sang hymns throughout the night as firefighters fought the blaze.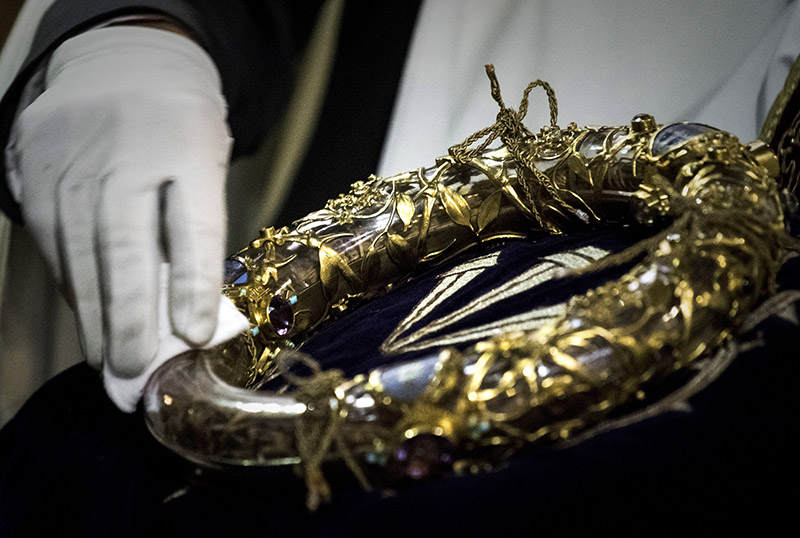 Priceless religious artifacts were saved from the fire, including the iconic Crown of Thorns, a circle of thorn fragments believed to be placed on Jesus' head during the crucifixion nearly 2,000 years ago.
Father Jean-Marc Fournier is credited with saving priceless holy relics from being destroyed. The chaplain and others were seen rushing into the burning church to recover art and relics . Priests formed a human chain to carry the items out of the church and into a nearby hotel.
The alter cross remained intact in the interior of the smoldering cathedral after the fire was extinguished. This picture shows the damage in the aftermath of a fire at Notre Dame Cathedral in central Paris.
The cathedral's 200-year-old spire was in the process of being restored when fire broke out about 6 minutes after the cathedral was closed to the public on Monday.
The Notre Dame Cathedral watched over Paris for 850 years and withstood two wars. Now the rebuilding begins.
Photos by Dan Kitwood/Getty Images, Philippe Wang/Getty Images, Philippe Wojazer/AFP/Getty Images, Philippe Lopez/AFP/Getty Images