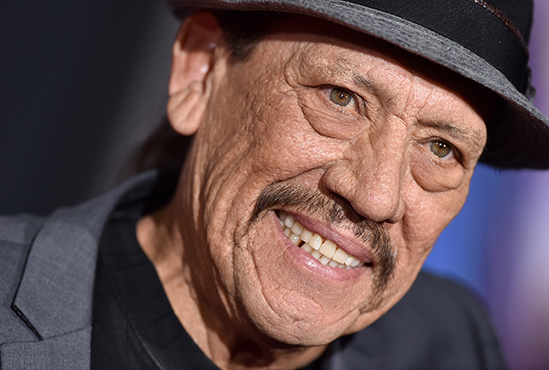 Actor Danny Trejo revealed he is suffering from erectile dysfunction. The "Desperado" actor told London's The Sun that every man should go public about their experience with erectile dysfunction.
"Every man on earth has experienced this, and if you say no, you're lying and I'm calling you a liar," Trejo told the newspaper. He said even a macho 25-year-old man can experience erectile dysfunction.
The 75-year-old actor said that cultural norms keep men from discussing their unfortunate circumstance.
"Especially in the Latino community where I'm from, men don't talk about these things — because we're supposed to be the hunter-gatherer or some sh–," Trejo said. "Well I hate hunting."
What is Erectile Dysfunction?
Erectile Dysfunction (ED), also known as impotence, occurs when a man can't maintain an erection before or during sexual intercourse.
Men can experience temporary ED during times of stress, medical illness, depression, anxiety, or while under the influence of drugs or alcohol.
A diagnosis of ED is made when males experience an inability to develop or maintain an erection for 3 months.
What Causes Erectile Dysfunction?
In 80% of the cases there is a physical cause such as diabetes, hypertension, heart problems, neurological problems after surgery, smoking or drug and alcohol abuse.
Age is a factor in erectile dysfunction. Ed affects 5 percent of men over 40; 12 percent of men younger than 60; 22 percent of men in their 60s, and 30% of men 70 and older.
About 75% of men fail to seek treatment when they experience ED due to feelings of embarrassment or pride.
What Causes An Erection?
An erection occurs when the blood flow to the penis is increased in response to sexual arousal or direct stimulation. When a man is aroused, muscles in the penis relax and blood flow is increased through the arteries. Blood fills two chambers inside the penis and the penis grows rigid. After ejaculation, the muscles contract and the blood flows back into the body via the penile veins.
Treatment
Treatment for erectile dysfunction depends on the underlying cause. Doctors suggest exercising regularly and lifestyle changes such as eating a balanced diet and no smoking or using drugs or alcohol.
Medications such as Viagra and Cialis can be prescribed. Handheld vacuum erection devices are first-line treatments followed by injections of drugs to increase blood flow. Penile implants and vascular reconstructive surgeries are also beneficial in some cases.
This has been your Medical Minute.

More Info On the Web
Everything You Need to Know About Erectile Dysfunction | Healthline
Erectile Dysfunction | Mayo Clinic
Erectile Dysfunction (ED) | Medline Plus

DISCLAIMER
Any medical information published on this blog is for your general information only and is not intended as a substitute for informed medical advice. You should not take any action before consulting with your personal physician or a health care provider. Sandrarose.com and its affiliates cannot be held liable for any damages incurred by following information found on this blog.
Photos by Jeff Kravitz/FilmMagic, Axelle/Bauer-Griffin/FilmMagic