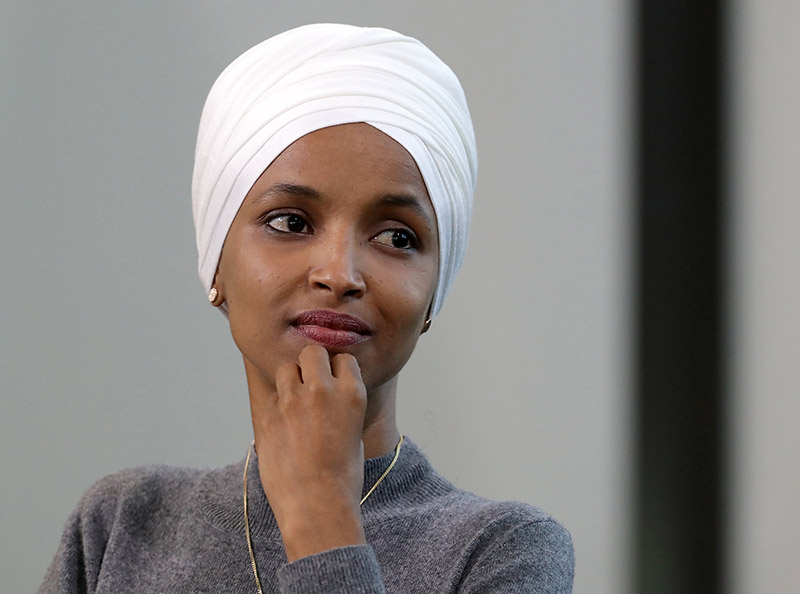 Ilhan Omar's tangled web of deceit is catching up to her. A Washington D.C. doctor filed for divorce claiming the freshman Congresswoman had a romantic affair with her husband. Dr. Beth Mynett claims her husband, Tim Mynett, admitted he was having an affair with Omar, who is a married mother-of-3.
Beth, 55, and her 38-year-old husband, Tim Mynett, share a 13-year-old son.
Tim Mynett allegedly told his wife in April that he was having an affair with Omar and even made a "shocking declaration of love" for her before dumping his wife, according to the divorce document filed in DC Superior Court on August 27.
Omar, 37, abruptly left her husband, Ahmed Hirsi, and moved into a luxury 1-bedroom condominium in one of Minneapolis's trendiest neighborhoods in July.
It isn't clear who is raising Omar's three minor children, including son Adnan, left, and daughter Isra. She reportedly lives alone.
A conservative watchdog group is planning to file a complaint against Omar for allegedly paying her lover out of campaign contributions.
According to the NY Post, Omar is accused of funneling $230,000 in campaign cash to Mynett and his E. Street Group consulting firm.
More than $70,000 of that money was transferred in 14 payments to Mynett's E. Street Group LLC between April 22 and June 11, according to tax records obtained by the NY Post.
The money was listed on tax records as "fundraising consulting, digital communications, internet advertising and travel expenses."
Omar listed $13,000 in "travel expenses" for Mynett, but Beth Mynett claims her cheating husband only traveled with Omar on romantic trips – not for consultation purposes. If true, Omar may have committed a serious finance violation.
"Defendant's more recent travel and long work hours now appear to be more related to his affair with Rep. Omar than with his actual work commitments," the court papers state.
"This arrangement where Ilhan is paying her lover consulting fees could be illegal if he's not doing the work," said National Legal and Policy Center Chairman Peter Flaherty.
"And we'll be asking the FEC for an investigation to determine the nature and level of his work product."
Of the newly elected freshman representatives, Omar has been the most troublesome for Congress and for President Trump.
Omar became the first Muslim woman elected to the U.S. House of Representatives in November 2018. She represents the Congressional 5th District in Minneapolis, Minnesota.
Immediately after her historic election, Omar, a Somali refugee, was accused of marrying her brother and filing joint income tax returns as husband and wife before they were even married.