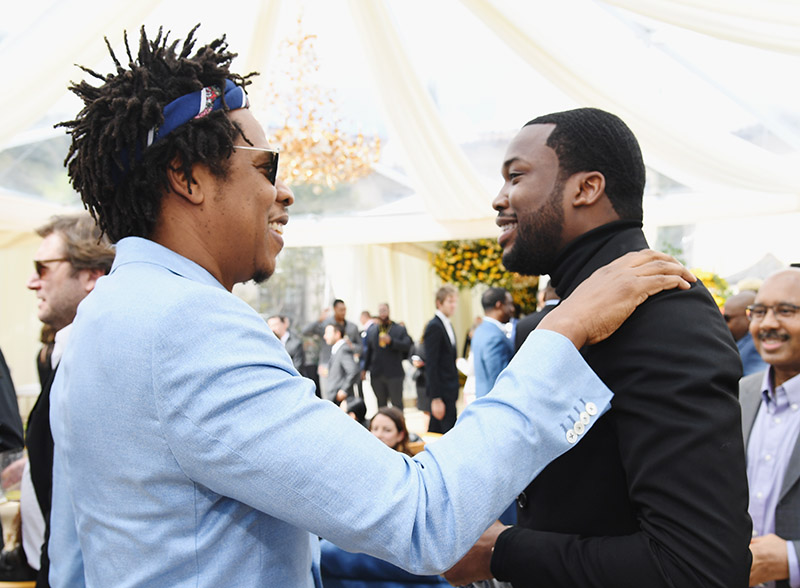 Jay-Z has booked his first artist as part of his lucrative partnership with the NFL that sparked a firestorm of controversy. Apparently the smoke has cleared.
Rapper Meek Mill has been booked to perform at the NFL Kickoff Experience next month.
In addition to Meek, the aging rap mogul also booked up-and-coming hip hop star Rapsody to perform during the concert scheduled for September 5.
Meek Mill and Rapsody will perform in Chicago's Grant Park before the season-opening game between the Chicago Bears and the visiting Green Bay Packers. The concert will also have a charity component, serving local organizations BBF Family Services and Crusher Club.
Even before the concert performers were announced, Jay-Z was accused of using his position with the NFL to book his wife, burlesque singer Beyonce, and his other pals to perform at NFL gigs.
JAY-Z signed a deal with National Football League bosses earlier this month and has been appointed the league's live music entertainment strategist as well as social media justice warrior.
As part of the deal, he will consult with the NFL on all matters of entertainment, while co-producing the Super Bowl half-time shows which will feature Beyonce and perhaps their daughter Blue Ivy. Their twins, Sir and Rumi are expected to hit the stage at the Super Bowl as soon as they are out of diapers.
Jay-Z will also contribute to the league's Inspire Change charity initiative.