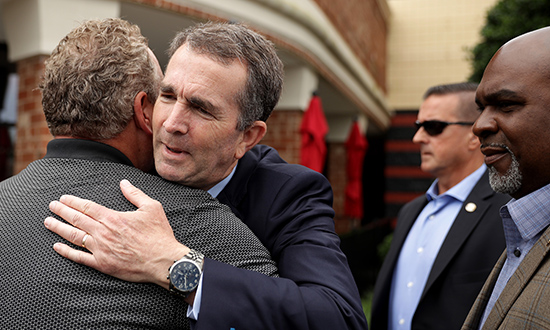 Virginia Gov. Ralph Northam was heavily criticized for not wearing a face mask or social distancing while taking photos with Black people at Virginia Beach on Saturday.
Democrat Governor blackface is not wearing a mask and not social distancing while around black people

What if he is an asymptomatic carrier? Does he not care what happens to the black people? https://t.co/cIgYXx28gf

— Aaron Manning (@AManning1717) May 24, 2020
On Tuesday, Northam announced a mandatory statewide policy requiring the use of face masks for all inside businesses.
Face masks are voluntary outside, although the state health department recommends face coverings.
"Facial protection is one of the ways that we stop the spread of this virus," Northam told reporters at a press conference on Friday. "We are working through the policy over the next couple of days and I will make an announcement Tuesday regarding that."
But on Saturday, a bare faced Northam took a trip to Virginia Beach where he mingled with Black people and stopped for photo ops.
On Friday, the governor had a message for people who planned to enjoy the Memorial Day weekend:
"Don't gather in large groups, don't crowd parks or natural areas, remember to maintain social distancing, and please wear face covering while you are out in public."
Virginia's stay-at-home order expires on June 10, although some "essential" businesses are allowed to remain open.