Rudy Giuliani denies being "inappropriate" with an actress in a controversial scene in the new Borat sequel.
Giuliani, President Trump's attorney, responded to a prank scene from the movie sequel by notorious troll Sacha Baron Cohen, aka Borat, back in July.
The plot of Cohen's satirical movie involves a fictional reporter (Cohen) traveling from Kazakhstan to the U.S. to give his fictional daughter away to a powerful politician.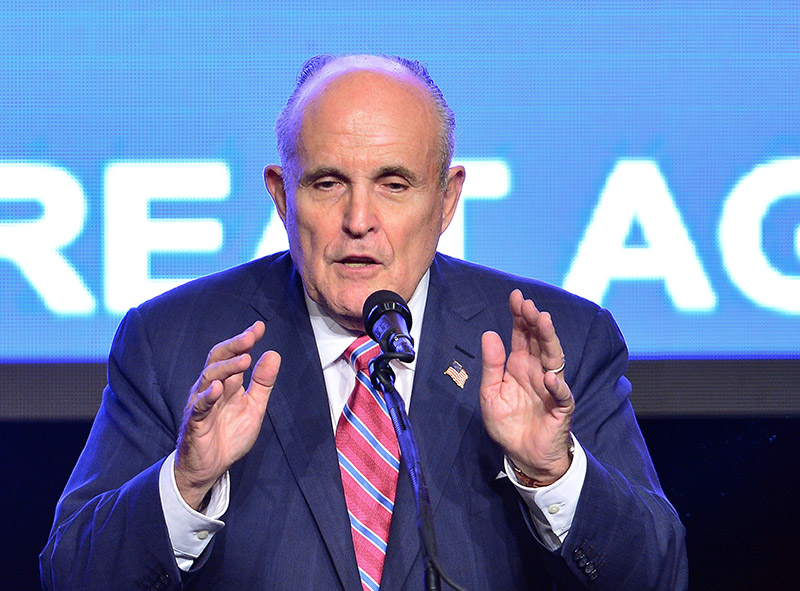 Giuliani was duped by Cohen and his "daughter" (actress Maria Bakalova) who both posed as conservative TV journalists.
Cohen is easily recognizable from previous pranks in his first movie. So he wore a disguise to meet with Giuliani.
After their meeting, Giuliani accompanied Bakalova, 24, back to her hotel room.
The story was revived on Wednesday when Cohen shared a promotional photo from his movie that showed Giuliani laying on his back on a bed while reaching into his pants.
Giuliani claims he reached into his pants to tuck in his shirt when Cohen (as Borat) burst into the hotel room wearing a pink onesie and shouted, "She's 15! She's too young for you!"
Fearing he was being set up for a blackmail scam, Giuliani called the police to report the incident.
In a statement to the NY Post in July, Giuliani said:
"This guy comes running in, wearing a crazy, what I would say was a pink transgender outfit. It was a pink bikini, with lace, underneath a translucent mesh top, it looked absurd. He had the beard, bare legs, and wasn't what I would call distractingly attractive. This person comes in yelling and screaming, and I thought this must be a scam or a shakedown, so I reported it to the police. He then ran away."
In his response to the photo on Wednesday, Giuliani said, "The Borat video is a complete fabrication. I was tucking in my shirt after taking off the recording equipment.
"At no time before, during, or after the interview was I ever inappropriate. If Sacha Baron Cohen implies otherwise he is a stone-cold liar."
Giuliani said the incident won't distract him from exposing Joe Biden as a former vice president who used his office to enrich himself and his family.
Giuliani promised more bombshell leaks from Hunter Biden's laptop — the same laptop that has been in the FBI's possession for over a year.
"We are preparing much bigger dumps off of the hard drive from hell – of which Joe Biden will be unable to defend or hide from. I have the receipts," Giuliani said.
The FBI confirmed this week that the contents of the hard drive are "authentic" and the emails and texts are not part of a Russian disinformation campaign.
The laptop is reportedly linked to an FBI probe into "criminal" money laundering activity, possibly involving the Bidens.
Republican lawmakers are inquiring if the FBI sat on the laptop while President Trump was being impeached for asking questions about Hunter Biden's involvement in the Ukrainian energy company Burisma.