Rapper DaBaby celebrated the release of his platinum-selling Billboard 200 No. 1 album, Blame It on Baby, after he was presented with a plethora of RIAA certified platinum plaques on Saturday.
During his headlining set for his DaBaby and Friends concert at the Orlando Amphitheater, South Coast Music Group's CEO, Arnold Taylor, presented the rapper with platinum plaques for his previous albums Baby on Baby, KIRK and Blame It on Baby. on April 17, 2021 in Orlando, Florida.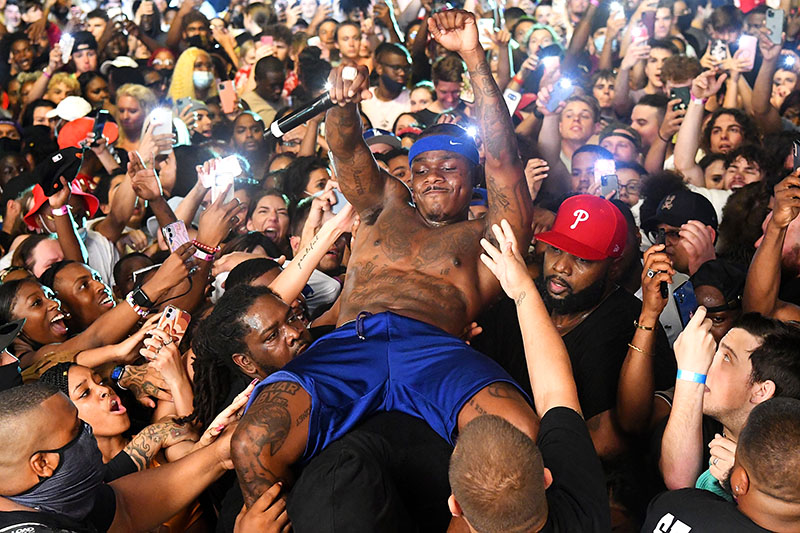 DaBaby stripped off his shirt and crowd surfed in a sea of maskless fans during his DaBaby + Friends Concert at Orlando Amphitheater on April 17 in Orlando, Florida.
The 6X GRAMMY-nominated superstar rapper also received 14 new gold plaques for his singles "Find My Way," "Walking Texas Ranger, "NASTY," and "BLIND."
DaBaby and Friends concert was an action-packed event, which featured artists from his Billion Dollar Baby Entertainment roster along with his family label South Coast Music Group. In attendance was platinum-selling producer DJ K.I.D., burgeoning Charlotte artist Rich Dunk and fast-rising stars KayyKilo and Toosii.