Madonna and her 26-year-old boyfriend Ahlamalik Williams walked hand-in-hand at her son David Banda's soccer game in Los Angeles.
The 62-year-old pop singer played soccer mom as she and Ahlamalik cheered on 15-year-old David from the sidelines. David is pictured at right, wearing a backpack and Adidas flip flops.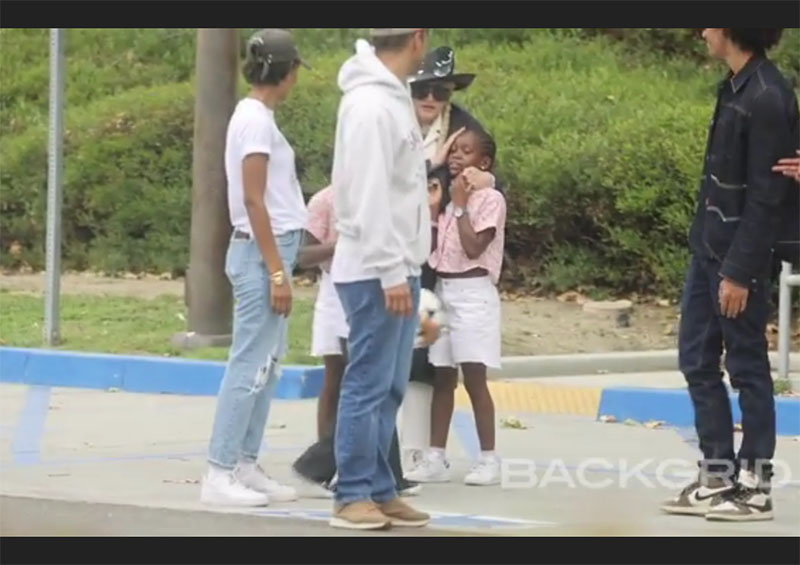 Also in attendance were Madonna's 8-year-old twin girls Stelle and Estere, and 15-year-old daughter Mercy James.
Madonna is a hands on mom who adores her children. She was seen hugging each child after the soccer game, as they walked to their chauffeured car.
Madonna wore cream pants, a cream vest, a paint-splattered hat and shades. While Williams kept things casual in matching denim jeans and an oversized denim jacket.
The "Material Girl" celebrated Ahlamalik's birthday last week with a touching post on social media. "Happy Birthday My Love… Thank you for opening my eyes. How can I explain how I feel? Let's get Unconscious," she wrote.
Ahlamalik and Madonna recently moved into rapper The Weeknd's Hidden Hills mansion that she purchased for $19.3 million last month.
The 12,500 sq. ft. contemporary farmhouse with nine bedrooms and eleven baths sits on three acres, and boasts a fitness studio, spa room, a home theater and a basketball court for the children.
Watch video of Madonna's family outing below.