Fashion legend and former Vogue editor-at-large André Leon Talley died at a hospital in White Plains, New York on January 18, TMZ reports.
Talley, 73, was the news director at Vogue from 1983 to 1987 before becoming the magazine's creative director from 1988 to 1995.
Talley was a larger than life personality who broke fashion barriers as a young gay man with impeccable style and taste.
He was born in Washington, D.C. and raised by his maternal grandmother, Binnie Francis Davis, in Durham, North Carolina during the Jim Crow era.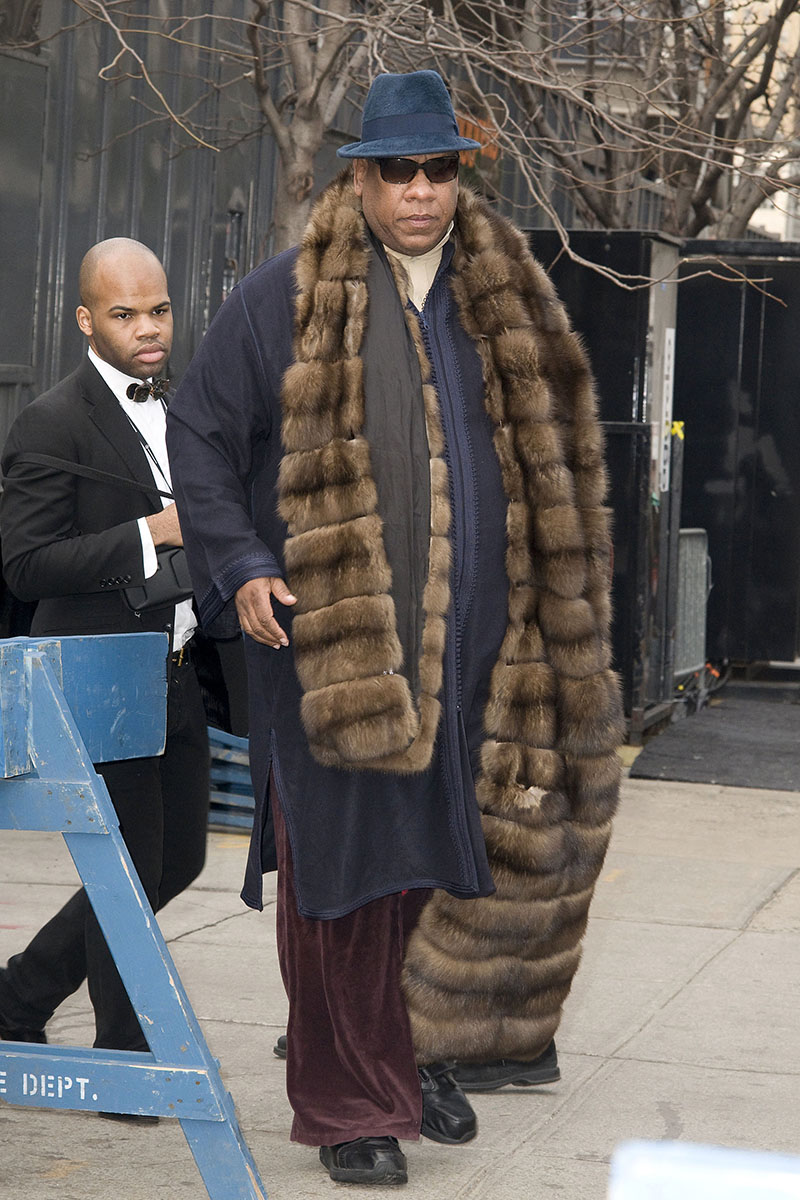 "For a long time my grandmother would not allow white people to come into our house," Talley said. "That was her rule. The only white man who ever came into the house was the coroner."
Talley said Miss Binnie inspired him and gave him an "understanding of luxury" that fueled his love for fashion.
His interest in fashion was piqued when he discovered an issue of Vogue magazine in the local library at the age of nine or 10. He is pictured with Vogue editor-for-life Anna Wintour at the Donna Karan New York Fall 2011 fashion show.
After graduating from Brown University with a Master of Arts degree in French Literature in 1972, Talley worked as an unpaid apprentice for Diana Vreeland at the Metropolitan Museum of Art in 1974.
Vreeland, then Vogue editor-at-large, was so impressed with Talley that she hooked him up with a job at Andy Warhol's Factory and Interview magazine for $50 a week.
He went on to work for The New York Times and other publications before finally landing at Vogue.
In 2007, Talley was ranked 45th in Out magazine's 50 Most Powerful Gay Men and Women in America.
He was virtually homeless after being evicted from his New York mansion in February 2021.
Talley never married and had no children.

André Leon Talley sacrificed it all for US!

— Sonique? (@SoniqueSaturdy) January 19, 2022
Andre Leon Talley got his whole life in 2015 when Rihanna showed up at the Met Gala.

The way he screamed out when Rih said it was Chinese Couture. What a legend! pic.twitter.com/vtQY8F83Yg

— Chatterbox Keirn (@ChatterboxKeirn) January 19, 2022
2022 is already acting up ? what a tremendous loss. #RIP #AndreLeonTalley #Vogue https://t.co/sOWOThvAVL

— JASMIN BRAND (@JasminBrand) January 19, 2022
Andre Leon Talley lived in my town for several years & was a regular at the local deli and the supermarket. He was such a sweet, lovely man and so friendly. I'm so sad that he was taken far, far too soon. RIP Sweet Andre.

— Bonnie Fuller (@BonnieFuller) January 19, 2022
Andre Leon Talley was the living spirit of fashion. He oozed styled from his every pore, and his every gesture was Vogue.

— la cuntissima (@LaDiovanna) January 19, 2022
"Luxury or nothing" – Andre Leon Talley. Rest In Peace ??

— bombasticl0ve (@bombasticl0ve) January 19, 2022
Not Andre Leon Talley ?

— A MEHMEH ? (@mkazele) January 19, 2022