Nicki Minaj expressed outrage over the Recording Academy moving her hit song "Super Freaky Girl" from the Grammy Awards rap category to pop — where she has no chance of winning against newcomer Latto.
"Super Freaky Girl" peaked at No. 1 on the Billboard's Hot Rap Songs chart and sits atop the chart for the eighth straight week.
The 40-year-old rapper lashed out at the Recording Academy for "moving the goal posts."
Nicki's team submitted the song to the rap categories, but the Grammy's rap committee moved it to the pop category, a source told The Hollywood Reporter.
"'Super Freaky Girl,' where I only rapped on the song, was removed out of the rap categories at the Grammys, right, and put it in pop," Nicki said in a 17-minute rant on social media.
The rapper said the Recording Academy told her that "Freaky Girl" is a pop song since it samples Rick James' classic hit "Super Freak."
Nicki noted that rapper MC Hammer also sampled "Super Freak" for "U Can't Touch This," which won the best rap solo performance Grammy back in 1991.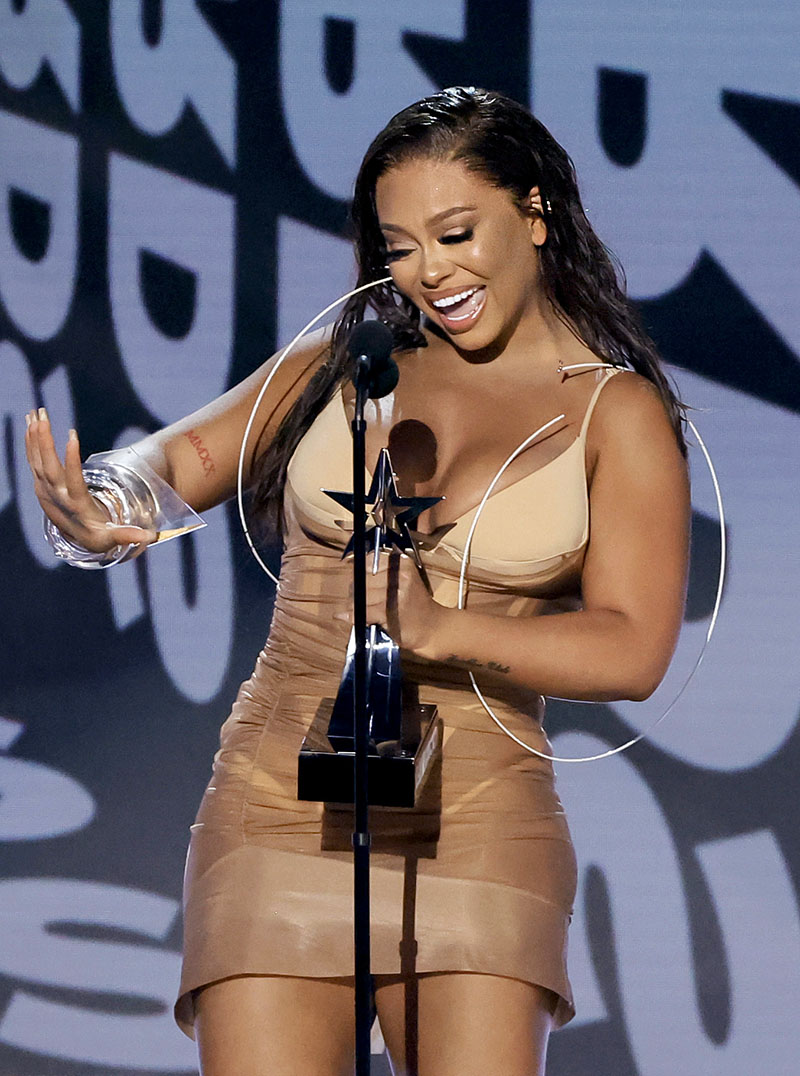 Now Nicki wants the same rules applied to newcomer Latto's hit song "Big Energy" since it samples Mariah Carey's pop hit, "Fantasy," which originally sampled "Genius of Love" by Tom Tom Club.
"If you move 'Super Freaky Girl' out of rap and put it in pop, do the same for 'Big Energy'," Nicki said. "Same producers on both songs, by the way. So let's keep shit fair."
Nicki, who received 10 Grammy nominations from 2011 to 2016, has yet to win a Grammy Award.
Latto, 23, responded by tweeting a secretly recorded phone call between herself and Nicki. She also referred to her elder as a "40 year old bully", "super freaky grandma", and a "B-TCH."
"Recognize, we weren't given the platform that we're being given right now," Latto told Nicki. "It was you running sh-t for a long time. I never said that you're no longer running sh-t."
Listen to the audio below.
BEEN subbing… super freaky grandma is married AND related to fucking rapists. You ain't gone bully me BITCH! My idol turned rival now u hating! https://t.co/SGc78CZqDc pic.twitter.com/WOIxu4bu1n

— BIG LATTO ? (@Latto) October 14, 2022
I'll die on this hill by myself! Everybody ain't lying on you! We see the pattern! BFFR!

— BIG LATTO ? (@Latto) October 14, 2022
Lemme specify I'm sorry. Im delusional for saying "we're" (newer female rappers) are flourishing & u said no one cares about my little song LYRICS my bad. FYI I only recorded cause I KNOW who tf I'm playing wit #40yroldbully https://t.co/ocBAA3uVeF pic.twitter.com/RHqEu8XFYD

— BIG LATTO ? (@Latto) October 14, 2022