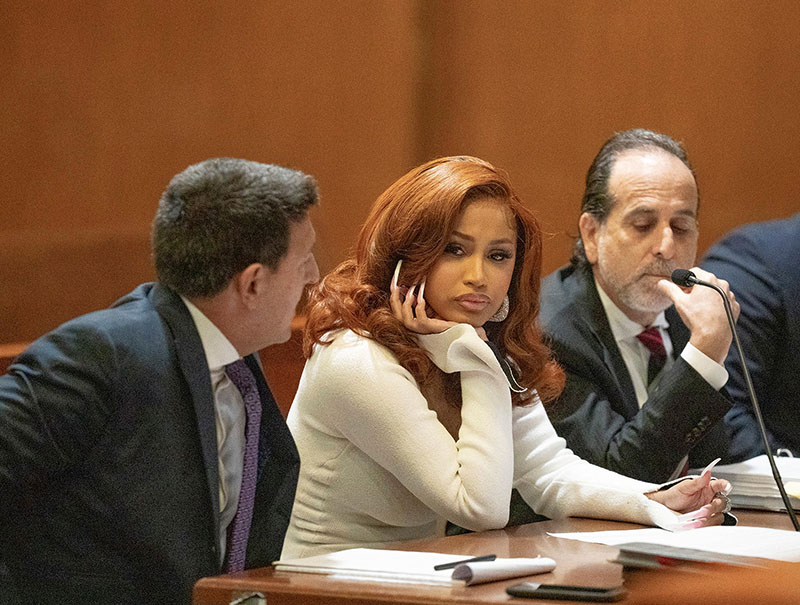 Cardi B took to social media to defend her emotional husband, Offset, who is still mourning the loss of his cousin, Takeoff.
The 28-year-old Migos rapper was shot and killed after attending a private party in Houston, Texas on Nov. 1.
Cardi B, 30, was upset over the reaction to a video she posted that showed Offset rapping to the song lyrics "Catch a body broad day/Shoot 'em in the hallway."
Comedienne Nicole Arbour was shocked by Offset's mention of gunplay when his own flesh and blood was gunned down senselessly.
Nicole tweeted: "Man… few weeks after his cousin was murdered over a dice game… Offset's making new music about shooting people and shooting places up."
She concluded: "Not a single thing was learned."
Others warned Nicole that Offet's wife is crazy and may hurt her for dissing her man.
Minutes later, Cardi B responded by telling Nicole that the snippet was old, and that Offset has not been inside a studio since Takeoff died.
Nicole responded by telling Cardi that even if the video was old, she should not be posting any sort of violent lyrics on social media.
An irate Cardi snapped back by portraying all white people as mass shooters who sleep with their cousins.
Nicole gently reminded Cardi that decent moral people don't post lyrics about gun violence after a relative or friend has just died from gunplay.
Cardi responded with a warning to Nicole: "Your mother is going to die."
Nicole shared a screenshot of Cardi's threat and asked her followers if Cardi just threatened her mother.
Nicole mentioned Cardi's recent assault case that ended with no prison time, thanks to her fame.
Cardi B then shared screenshots alleging Nicole made racist remarks in the past. But Nicole said the screenshots were fake.
Nicole tweeted about Cardi's history of drugging and robbing her clients at a strip club.
"Yo @iamcardib you gonna send some guys to beat me up in a strip club now cause the truth is inconvenient to you?? Or just drug me and steal my money?

Show some damn respect and stop promoting the murder of black men."
Cardi next posted a meme with the caption: "My eye is twitching for violence… I must control myself."
Question: Whose side are you on?
Listen to the audio below.
The fact you trying to use the death of some1 I love to get clout is crazy …..I'm not going to do none of that ….I'm just going to pray for you. https://t.co/CccbXhEdjp

— Cardi B (@iamcardib) November 28, 2022
My eye is twitching for violence…I must contain myself pic.twitter.com/UZXKzcbNUC

— Cardi B (@iamcardib) November 27, 2022