San Francisco police released graphic footage that shows Nancy Pelosi's husband, Paul, being attacked by a homeless man in his townhouse last year.
Police responded to a 911 call from Mr. Pelosi who told a dispatcher that a "friend" was in the house.
When the two officers arrived, bodycam video shows one officer knock on the front door of the multi-million dollar townhouse. The footage shows the door opening and Mr. Pelosi and the intruder are standing there holding a hammer between them.
"Drop the Hammer. What is going on here?" said the officer, as the two men began to struggle over the hammer.
Police weren't sure if the men were lovers in the midst of a lover's quarrel.
When the intruder grabbed the hammer from Pelosi and hit him with it, the officers tackled both of them to the floor.
The footage shows both men lying motionless on the floor as the officers called for medics.
Mr. Pelosi, 82, suffered blunt force trauma to his head and body during the early morning attack in October. He has since recovered from his injuries.
42-year-old David Depape is being held without bond while awaiting trial. Police say he smashed sliding glass doors at the back of the house to gain entry.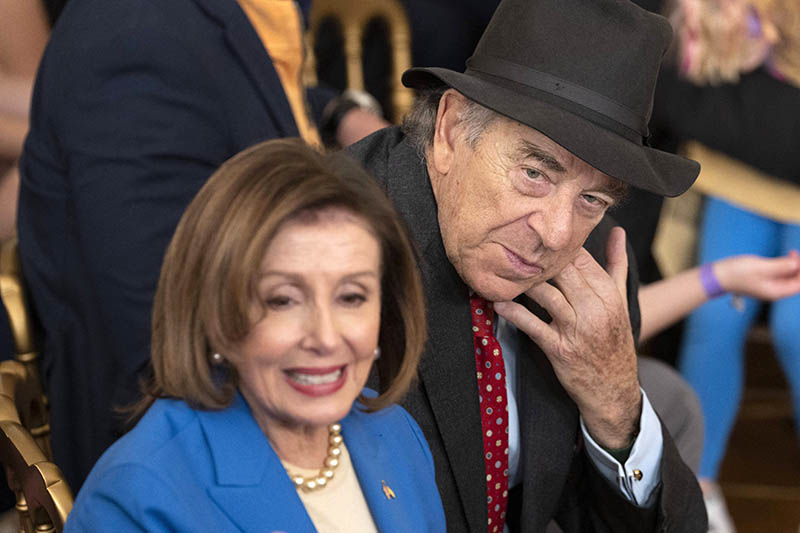 Pelosi's daughter said Nancy Pelosi hired priests to perform an exorcism to purify the house last week.
Depape reportedly told police he intended to kidnap and harm Nancy because she was second in line to the presidency. Nancy Pelosi was at her home in Washington, D.C. at the time of the attack.
Watch the video below.
?BREAKING: The Paul Pelosi bodycam video has been released.

Here is the full video. pic.twitter.com/Z254Q8NGIM

— Greg Price (@greg_price11) January 27, 2023