Pop superstar Rihanna shocked Super Bowl fans when she revealed her baby bump during the stunning halftime show in Arizona on Sunday. But many fans say she gave an underwhelming performance.
I stand by what I said. Rihanna, pregnant or not, gave an underwhelming performance. #SuperBowl

— Megan (@Megabytess27) February 13, 2023
In a statement to TMZ Sunday night, Rihanna's rep confirmed she is expecting her second child with rapper A$AP Rocky. The couple welcomed their first child, a boy, nine months ago.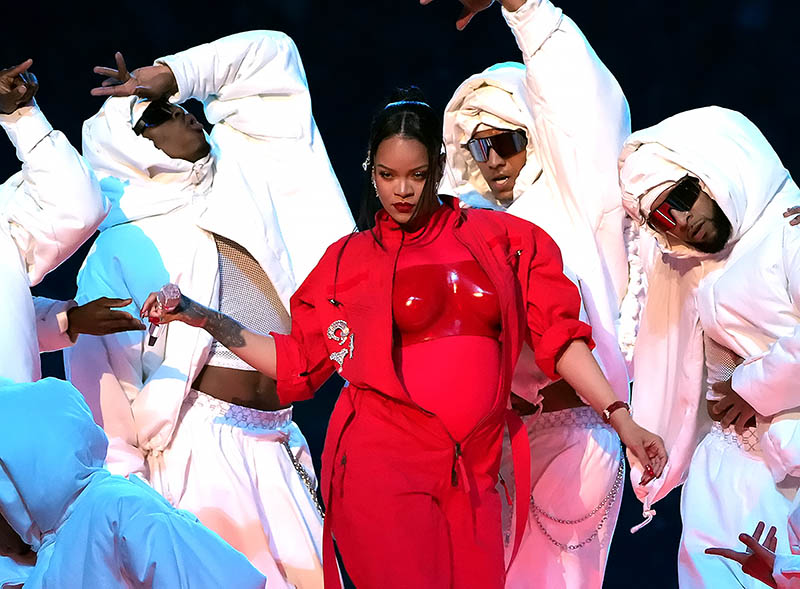 Fans who expected Rihanna to bring out Jay Z, Eminem or Kanye West to perform "Umbrella", "Monster" and "All of the Lights" were disappointed when she took the stage solo and lip-synced most of her songs.
Seriously? The worst I've seen hands down. Rihanna sang but didn't really perform. No guest appearance. All people in white doing a ridiculous dance. The vocals weren't even anything special. It was boring

— Kyle Caudle (@kylecaudle1) February 13, 2023
According to Vogue magazine, Rihanna wore a red Loewe jumpsuit with a molded breast bustier, as well as a red custom made leather maxi bubble coat by Alaïa.
Rihanna, who turns 35 next Monday, Feb. 20, performed precariously on an elevated stage, which some fans believe added an unnecessary element of danger to the 13-minute halftime show.
Super Bowl fans complained that Rihanna should've turned down the chance to perform since she knew she was pregnant when she accepted the gig. An insider said Rihanna waited until the day of rehearsals to inform Super Bowl halftime organizers that she was pregnant.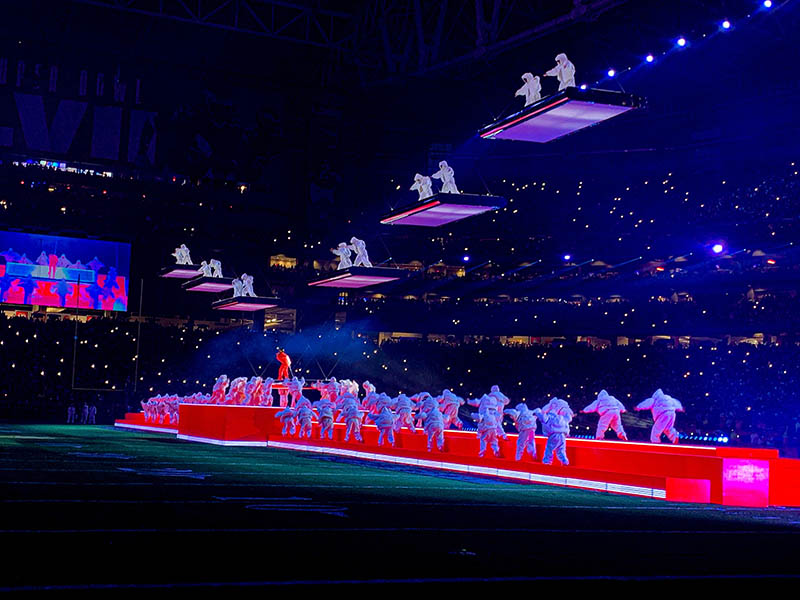 In a pre-game interview, Rihanna said she was three months pregnant when she agreed to perform. The singer was confirmed as the Super Bowl halftime performer in September, which means she's 8 months pregnant.
Former President Donald Trump continued his attack on the Barbadian songstress. In a post on his Truth Social app, Trump called Rihanna's halftime show the "worst" in Super Bowl history.
ASAP Rocky is everyone watching @Rihanna ? #AppleMusicHalftime pic.twitter.com/pG6DWRL7ch

— NFL (@NFL) February 13, 2023
Prior to the game, country music star Chris Stapleton sang the national anthem. Singer/songwriter Babyface performed "America the Beautiful", and actress Sheryl Lee Ralph sang the Black national anthem, "Lift Every Voice and Sing."
Ms. Sheryl Lee Ralph sings Lift Evry Voice and Sing, ladies and gentlemen.

WOW. pic.twitter.com/duFxaqzcEg

— BrooklynDad_Defiant!?? (@mmpadellan) February 12, 2023
As for the big game, the Kansas City Chiefs kicked a tie-breaking field goal to beat the Philadelphia Eagles 38-35 after a controversial hold call late in the 4th quarter.
Best performance ever #Rihanna #superbowl #SuperBowl2023 #SuperBowlHalftimeShow pic.twitter.com/OIP9lg3Xcz

— Goku_ (@ssb_Goku_) February 13, 2023
I loved watching Rihanna perform pregnant. Normalizing pregnant women doing extraordinary things is overdue (pun).

— Sally Cox (@RealSallyCox) February 13, 2023
I don't think you guys understand how we have to appreciate Rihanna's half time show because that will probably be the very last time she will ever perform for us ?

— Jessica (@diablaxvii) February 13, 2023
I stan Rihanna but her Superbowl Halftime show was boring. Even my own family who like Rihanna said her Halftime show was boring they were disappointed cause they expected waaaay more from RiRi.
I don't know but I'm disappointed.

— SaintGreta (@_____QueenX) February 13, 2023
I hope Rihanna have a girl this time around .

— THE PRETTIEST. (@niy_ballaa) February 13, 2023