Singer Rihanna, rapper A$AP Rocky and their son cover the March 2023 issue of British Vogue magazine.
The issue was published just days after Rihanna's triumphant Super Bowl 57 halftime performance. The pop singer stunned Super Bowl fans by revealing she is pregnant with her second child.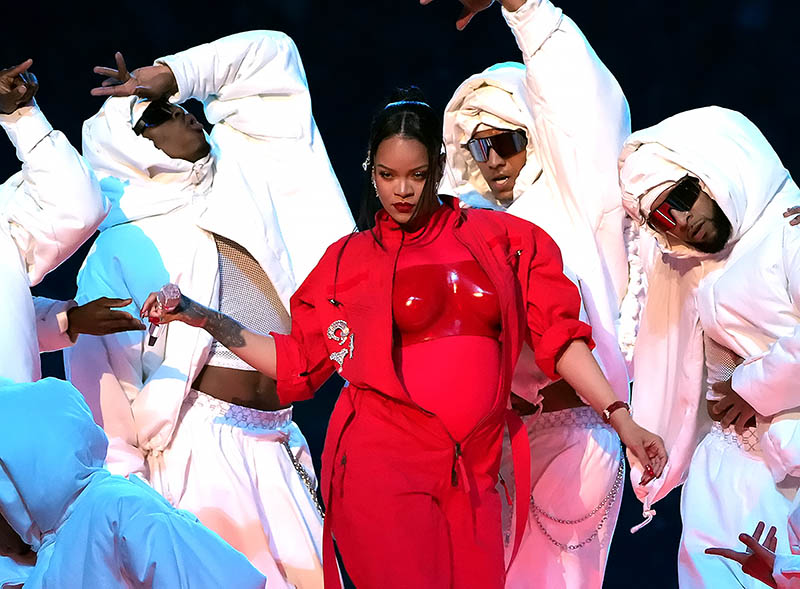 Rihanna doesn't appear pregnant on the cover because it was shot months ago. Her pregnancy was a very well kept secret. Even the Super Bowl halftime committee didn't know she was pregnant.
Word is that the Super Bowl committee won't ever invite Rihanna back to perform, but she's probably fine with that.
Super Bowl performers aren't paid because the worldwide exposure they receive is priceless.
Rihanna's Fenty Beauty makeup line saw a whopping 800% increase in sales after the Super Bowl. Her hit single "Umbrella" ft. Jay Z is back on the charts.
Many have commented on Rihanna's change in attitude since she settled down with A$AP Rocky and started making babies.
"We're best friends with a baby," Rihanna told British Vogue.
"We have to be on the same page, but we've always kind of had that in our relationship. Everything changes when you have a baby but I wouldn't say it's done anything but made us closer."
"I'm just sitting on the sidelines when they're together," she said of Rocky's relationship with his firstborn son. "I'm literally the girl trying to get into the boys club, waiting for my turn. He is obsessed with his father. And I'm like: 'Didn't I give birth to you? What is going on?'
"Their connection is undeniable. The second Rocky makes eye contact with him he is on fire. The whole thing they say about sons and moms, it's a myth. Sons and fathers is crazy. I realized that the validation that you really need as a boy is from your father."