Jamie Foxx broke his silence on social media – three weeks after he was hospitalized in Atlanta.
In a social media post on Wednesday, Foxx wrote: "Appreciate all the love!!! Feeling blessed."
He also thanked Nick Cannon for filling in for him as temporary host of popular game show "Beat Shazam."
"Appreciate ya my boy @nickcannon. See you all soon," Foxx wrote.
The news comes as blogger theJasmineBrand reported exclusively on Wednesday that a "top-ranked neurologist is flying into Atlanta to assess Jamie and help him along his recovery journey."
According to TMZ, Cannon will fill in for Foxx temporarily.
TMZ reports Kelly Osbourne will fill in for Foxx's daughter, Corinne, as the show's DJ while she keeps vigil at her dad's beside in Atlanta.
TMZ has confirmed Nick will take over the hosting duties of the popular FOX game show where contestants attempt to guess songs with lyrics from hits of all genres. We're told Kelly Osbourne will work as the show's DJ — a position held by Jamie's daughter, Corinne, as she takes leave to help with her dad's recovery.
Last month, Cannon said he was working on "something special" for Foxx.
"Man, I'm praying," Cannon said in an interview with Entertainment Tonight. "You see, I posted on Instagram. I literally have been saying prayers out loud. Words of affirmation for my big brother. I know he's doing so much better because I'm actually about to do something special for him, and doing him a favor. I can't really say what it is, but it'll be out there soon."
In addition to hosting the game show since 2017, Foxx is also an executive producer. Corinne has been DJing the show since 2018.
Foxx, 55, was rushed to a top acute care hospital in Atlanta after falling ill on April 11. The next day, Corinne announced her father had suffered a "medical complication."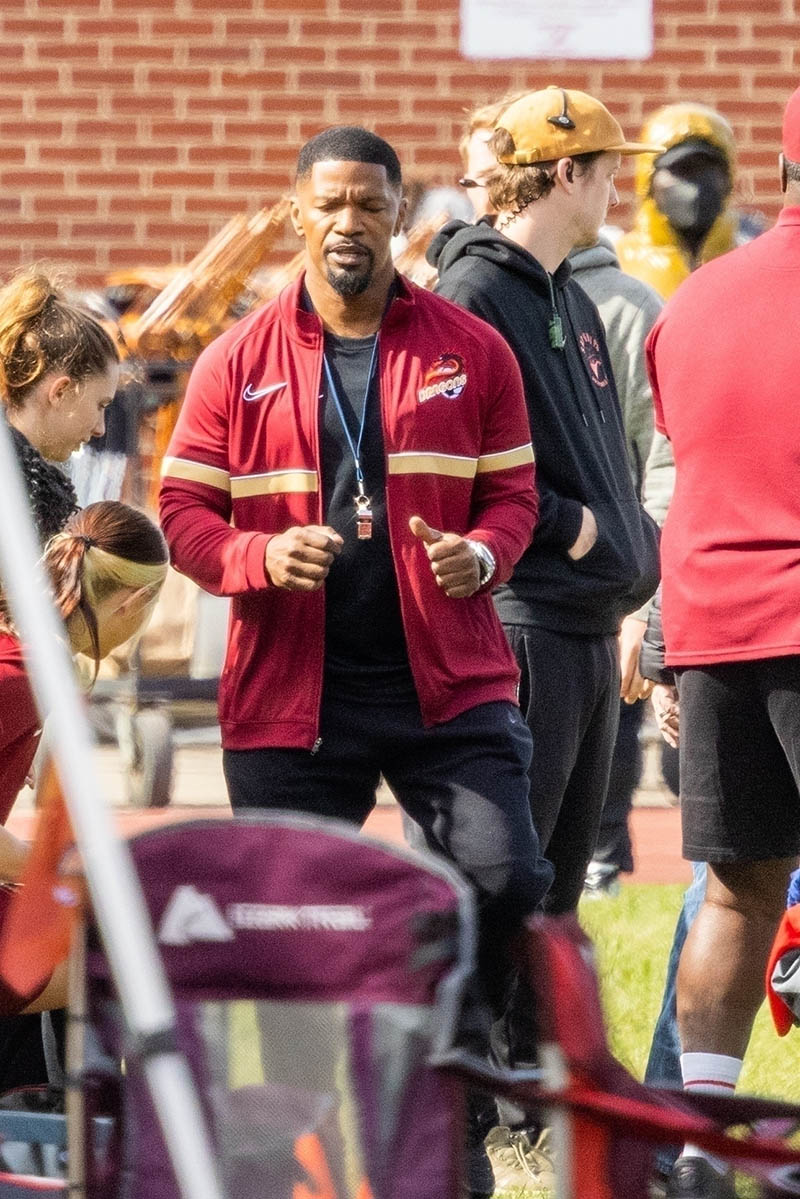 Foxx was in Atlanta working on the film "Back in Action." A stunt double and body double completed the final 8 days of Foxx's filming schedule.
Sources say Foxx's condition is "concerning" since he was hospitalized with slurred speech and weakness on one side.
TMZ has spoken with family and friends close to Foxx who urge his fans to "Pray for Jamie."
Industry executive Charlie Mack (left) took to Instagram this week to ask for prayers for his close friend.
Mack, a.k.a. "Mr. Philadelphia," is well-known for helping to shape the careers of celebrities, including Will Smith, DJ Jazzy Jeff and Bryshere Y. Gray.
"I need you all to constantly keep our beloved brotha @iamjamiefoxx up whom we all love & care for dearly in our Hearts, Minds & Prayers," he wrote in an Instagram post on Monday, May 1.
"We need you back Bro @iamjamiefoxx you're fighter, strong & resilient so I know your fortitude. Your not going out like that. As I always state a true champion isn't the one that wins, it's the one that meets & overcomes adversity!! You're test becomes your testimony!! We all can't wait to receive you back home to celebrate, laugh with and applaud you!!"
Despite the urgency of Mack's post, Foxx's closest friends say he's doing better. However, none of his celebrity friends say they spoke with Foxx in person or on the phone.
Foxx's ex-girlfriend, actress Katie Holmes, said she is "deeply concerned" about him.
The on-again, off-again couple broke up for good in 2019 after dating for six years.
Actor, comedian Martin Lawrence is also praying for Foxx's recovery.
"My prayers go out for him every night and just wishing the best for him, one of the best that we got in Hollywood. Not only one of the best entertainers, but a good person," Lawrence said.