A credible source says actor Jamie Foxx is still hospitalized after suffering a stroke in Atlanta last month.
Confusion reigned on Friday when Foxx's eldest daughter, Corinne, slammed "the media" for spreading rumors that he was on his death bed.
In an Instagram post on Friday, she wrote:
"Update from the family: Sad to see how the media runs wild. My Dad has been out of the hospital for weeks, recuperating. In fact, he was playing pickleball yesterday! Thanks for everyone's prayers and support!"
She added: "We have an exciting work announcement coming next week too!"
Corinne didn't post any proof of life video or photos of Foxx playing Pickleball, which means the rumors will continue, at least for another week.
According to industry insiders, Corinne is wrong for not providing updates and allowing the rumors to run wild for weeks.
EURweb.com writes:
Message to Miss Corrine and to her father. Seeing these reports pop up online is YOUR fault. If the media had been kept informed of Jamie's condition, the chances of false reporting would have been nil.

Think about it. Jamie, nor his family or doctors have never released any official information on the entertainer's medical situation. Naturally, in a vacuum, speculation, and misinformation is going to run rampant.

Keep in mind that it's been over a month since Jamie Foxx was hospitalized in Atlanta for a "medical complication." We still don't have a clue what the specifics were/are. On top of that, Jamie still hasn't been seen in public since the incident was announced.
Sandrarose.com reader Dissscuss wrote:
Her whole response is so flippant. His fans have been worrying about him being in the hospital, and he's been home "for weeks"? He can play pickle ball, but can't speak to anyone to provide an update for himself, instead of his daughter giving nonchalant, flippant info? Something in the milk ain't clean. Were's hoping he really is at home playing pickle ball. Jamie if you see this, please send us a smoke signal or something.
A Reddit.com user wrote:
"Everything I read that gave the impression he was in a bad way and seemed like he was in the hospital came from the family and his friends?? And it seemed pretty respectful and concerned? I'm sure there were sites and magazines running wild, but friends asking for prayers one week and then saying everything's cool, "the media" is overreacting, is not exactly painting a consistent picture."
According to comedian Kevin "KevOnStage" Fredericks, the rumors were started by a foreign blog called RapTV who claimed sources close to Foxx said the family was "preparing for the worst."
I'm glad Jamie Foxx is doing better. But who even is @Rap ? A Kevonstage investigative report. pic.twitter.com/wssdskN2ll

— Kevín (@KevOnStage) May 12, 2023
Meanwhile, Backgrid.com obtained exclusive aerial footage showing increased activity at Foxx's 18,000 sq ft mega-mansion that sits on 40 acres in Agoura Hills, California.
Multiple vehicles were spotted arriving and departing from the 10-bedroom, 12 bath mansion which is surrounded by horse farms in Los Angeles County.
According to Backgrid.com, construction workers are renovating Jamie's property. A pile of lumber is stacked outside near a crane and workmen are seen moving about on the second level.
The increased activity at Jamie's palatial mansion may be a sign that he is being discharged from the hospital or the home is going on the market.
Sources speculate that equipment is being installed for Foxx's return home sometime this month.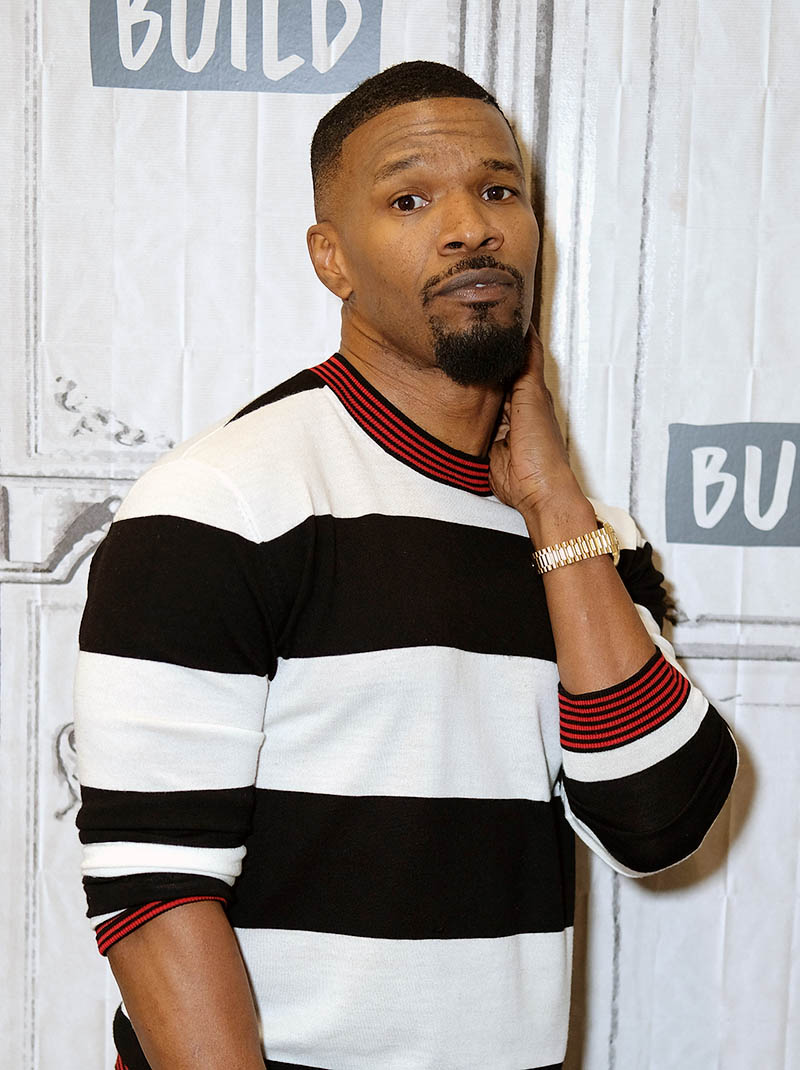 The actor purchased the mansion in 2006 for $10 million. Access to the property is via a guard-gated entrance up a long winding driveway that opens up to a courtyard with a fountain.
The lavish home boasts a 20-car garage, a landscaped pool with cabana, sauna/spa, and a guest house. It also has a viewing deck, enclosures for the guard dogs, a horse stable with corral. Power is generated by massive solar panels on a hill to the left of the main house.
According to Backgrid, Jamie is such a diehard fan of Pickleball that he installed three Pickleball courts and a grandstand with seating for 100 people behind his mansion.
Watch the video below.