Today the Hip Hop world remembers our fallen Angel, Aaliyah Dana Haughton, who died 10 years ago today in a fiery plane crash on August 25, 2001 in the Bahamas after filming the music video for her single "Rock the Boat".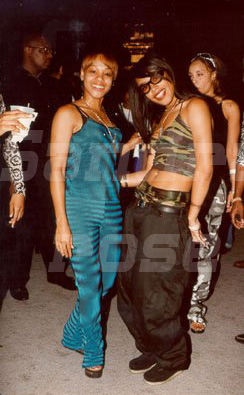 The music video was directed by Hype Williams, who, at the time was accused of overloaded Aaliyah's chartered aircraft with excess film equipment which caused the plane to crash on takeoff. It was later revealed that the pilot had traces of cocaine and alcohol in his system. Still, Williams' once thriving video directing career never fully recovered from the industry blackballing.
By the way, the iconic photo above of Aaliyah and Left Eye was taken by your auntie. I made the mistake of uploading this photo (and others) to the Internet back in the late 90s when I didn't know much about watermarking and copyrighting my work.
As you can see, this is the original photo without the dark shadowing like the photo you see all over the Internet. I have this photo blown up to poster size and hanging on my wall. It is one of the few rare images of Aaliyah and Left Eye together before they died.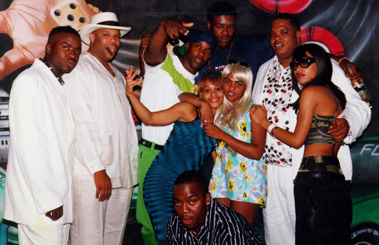 The photo was taken at Lance "Un" Rivera's birthday party at the Atrium nightclub on Memorial Drive in Stone Mountain, Georgia. Left Eye was supposedly dating Lance at the time. Lil Kim was there that night too.
No one could have imagined that these two young ladies, who were so full of life, would die tragically within a year of each other.
R.I.P. Aaliyah!