Magic Johnson publicly chastised man-child Dwight Howard for getting ejected from game 4 of the elimination game between his Lakers and the San Antonio Spurs in the 1st round of the NBA playoffs. The Spurs swept the Lakers to advance to round 2 against the Warriors or Denver. Howard, who received 2 technicals in the game, was tossed after arguing with a referee midway through the 3rd quarter of Sunday's game. Johnson, 53, took to his Twitter account to tongue lash Howard for selfishly putting himself over the needs of the team.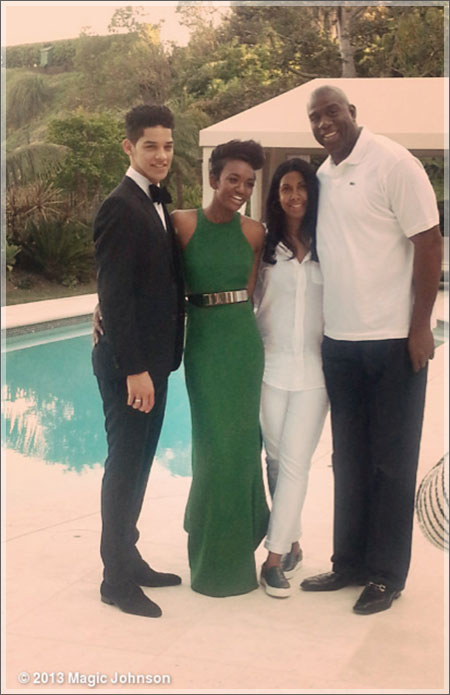 "Dwight, with an already depleted team you couldn't afford to foul out or get kicked out. Having you on the floor was the only chance for the @Lakers," The Lakers franchise player Kobe Bryant is out of the post-season with a torn Achilles tendon.
Without addressing Johnson's tweets, Howard tweeted around 3:30 a.m. Sunday: "Im still upset about tonights game and the way this season ended. Im mad I lost my cool. Im sorry for letting my team and our fans down when they needed me the most. If there's one thing I've learned this year its that I need to be more responsible for my actions and learn to 'breathe'!"
Meanwhile, Magic tweeted photos of his daughter Elisa, 17, who attended her high school prom on Saturday with her date, DJ.
Rapper Jay-Z and Chris Martin of Coldplay attend the Barclays Premier League football (soccer) match between Arsenal and Manchester United at Emirates Stadium on Sunday (April 28) in London, England. Jay Z was making faces like he totally doesn't get European football.
Photos: Shaun Botterill/Getty Images Europe
More from Sandrarose.com: