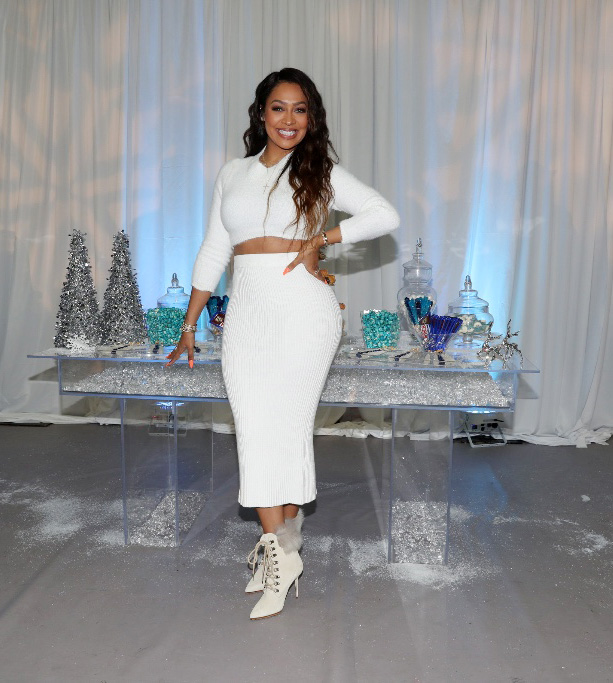 Actress, fashion mogul and philanthropist La La Anthony hosted a "Winter Wonderland" Christmas charity event for 250 young girls enrolled in the non-profit Girls Inc of NYC, on Thursday, December 21st, at The Gauchos Gym in The Bronx.
La La partnered with Brand Jordan and Apple who donated sneakers, sports gear and electronic devices to the girls.
"I'm blessed to be in a position to use my time and resources to make a difference in young people's lives," she said. "Not everyone can call their friends at Brand Jordan and Apple and ask for product to donate." She continues "It always feels good to give during the holiday season, but I think it's even more important to GIVE BACK to those who are not only less fortunate but who are working hard and deserve it, than the young women of Girls Inc of NYC."
La La's celebrity guests including her Starz Power co-stars Joseph Sikora & Michael Rainey Jr.; hip-hop stars A-Boogie, Lil Yachty, 6ix9ine, Dave East, Young M.A, Maino, and Jim Jones surprised a packed house with special performances.
DJ Clue provided music, while Eat Clean Bro, DJ Envy's top pop soda & BCakeNY donated food and refreshments. There were a few other surprise guests who joined her including new Def Jam girl group Riplay and Atlantic recording artist Rico Nasty.
Representatives from Mayor Bill de Blasio and Bronx Borough President Ruben Diaz Jr's office presented La La with certificates of recognition, while NY Senator Gustavo Rivera who represents the Bronx attended the exclusive event.
"Don't let anybody tell you what you can't do; you can do anything. I love you guys! Happy New Year!" La La said in a video uploaded to her Instagram.com account.
Photos by Sharief Ziyadat