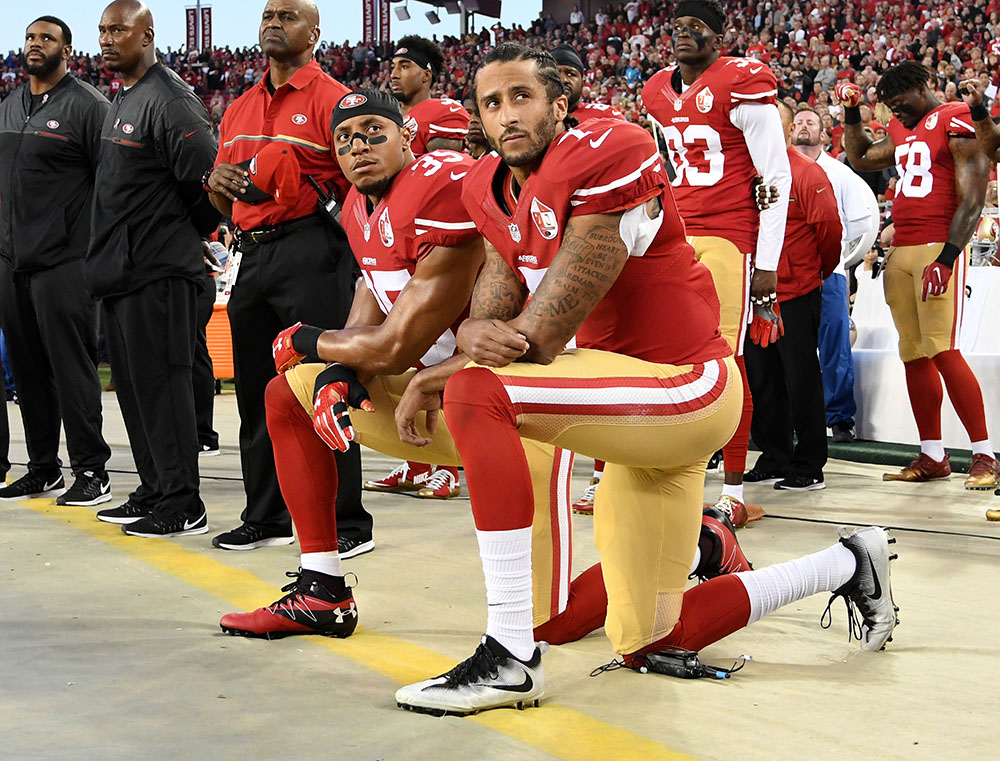 Adidas has expressed interest in signing unemployed NFL quarterback Colin Kaepernick to an endorsement deal. But there's a catch: a NFL team has to sign him first.
Kaepernick ran afoul of NFL owners with his ongoing national anthem protests.
"If he signs on a team, we would definitely want to sign him," Adidas North American President Mark King told the Arizona Republic.
Kaepernick found himself unemployed after he left his former team, the San Francisco 49ers.
A planned meeting with the Seattle Seahawks fell through when Kaepernick's rep told the team he would not stop protesting.
The Seahawks quickly announced they had signed another quarterback with lesser skills than Kaepernick.
Adidas said protests are not a problem — as long as the protesting athlete is gainfully employed by a NFL team.
"We love athletes that have a platform to make the world a better place," King told the Republic. "We're not in the business of activism, we're in the business of sport," King added. "But allowing our athletes to tell their story, it's really important to us."
Meanwhile, ESPN's Stephen A. Smith criticized Kaepernick for comparing himself to baseball icon Jackie Robinson.
Kaepernick tweeted a quote from Robinson, who broke the color barrier in Major League Baseball.
"I cannot stand and sing the anthem. I cannot salute the flag; I know that I am a black man in a white world," the Hall of Fame Dodger states in the book," Kaepernick tweeted.
Smith did not hold back his rage at Kaepernick: "We're going to put a stop to all of this stuff for those out there that try to martyr [Kaepernick] to the point where you think for one second that he needs to be mentioned in the same sentence as Jackie Robinson," Smith said during Monday's episode of ESPN's First Take. "You better pump them damn brakes. I'm not going to tolerate it."
Photo by Thearon W. Henderson/Getty Images