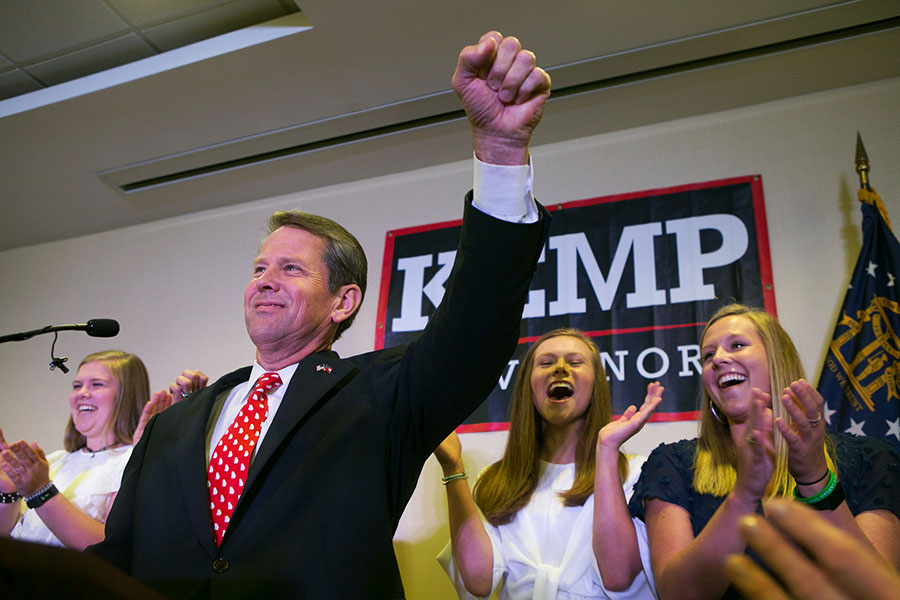 The "Trump Effect" helped Brian Kemp secure the GOP nomination in a landslide over Lt. Governor Casey Cagle in Tuesday's hotly contested runoff race for Governor of Georgia.
Kemp, left, will face Stacey Abrams, right, in the race for Georgia governor in November. Abrams is the first Black, openly lesbian Democratic nominee for governor of Georgia.
Kemp, who serves as Georgia's secretary of state, sparked outrage with a pair of controversial campaign ads. In one ad, he threatened his teenage daughter's beau with a shotgun.
And in another ad that triggered Democrats and liberals, he threatened to "round up criminal illegals" and drive them back over the border himself.
"I got a big truck, just in case I need to round up criminal illegals and take 'em home myself. Yep, I just said that."
President Trump surprised Kemp by endorsing him in a tweet on July 18.
Brian Kemp is running for Governor of the great state of Georgia. The Primary is on Tuesday. Brian is tough on crime, strong on the border and illegal immigration. He loves our Military and our Vets and protects our Second Amendment. I give him my full and total endorsement.

— Donald J. Trump (@realDonaldTrump) July 18, 2018
"I'm ecstatic about having his endorsement," Kemp told Channel 2's Aaron Diamant a week before the runoff election. He added that Trump's endorsement came without warning.
"I'm a lot like the president," Kemp said. "I'm a business guy. I ran on cutting government regulation, streamlining government, not being the status quo, running against the establishment in a lot of ways."
Cagle, who was the news media's early favorite to win, graciously accepted his defeat during an emotional concession speech at his campaign headquarters.
"I am the most blessed man around and you need to know that. It didn't turn out the way we wanted it but, in the end of the day, I can promise you, my life is so rich," he told his supporters.
Earlier in the day, Cagle spoke with Channel 2's Carl Willis about Kemp's dirty tricks -- including leaking a tape of him discussing bills he supported for political gain.
Still, he said he will throw his full support behind Kemp for governor.
"I congratulated him on a wonderful race and, obviously, a great victory and I committed to him my full, undivided support to see that he will be our next governor of the state of Georgia and I want each of you to do the same thing," said Cagle, pictured above with recording artist Ludacris at Usher's New Look Awards luncheon on July 23, 2015.
Cagle was flabbergasted that President Trump endorsed his opponent over an incumbent governor and lieutenant governor within his own party.
"President Trump is a very powerful man, the most powerful man in the world, and he brought us down, so … but I still support him. I believe in him and I believe that he is the one person who can clean Washington up," Cagle said. "It's unfortunate that I'm the casualty, but I'm going to be fine."
Photos by Jessica McGowan/Getty Images, Moses Robinson/Getty Images