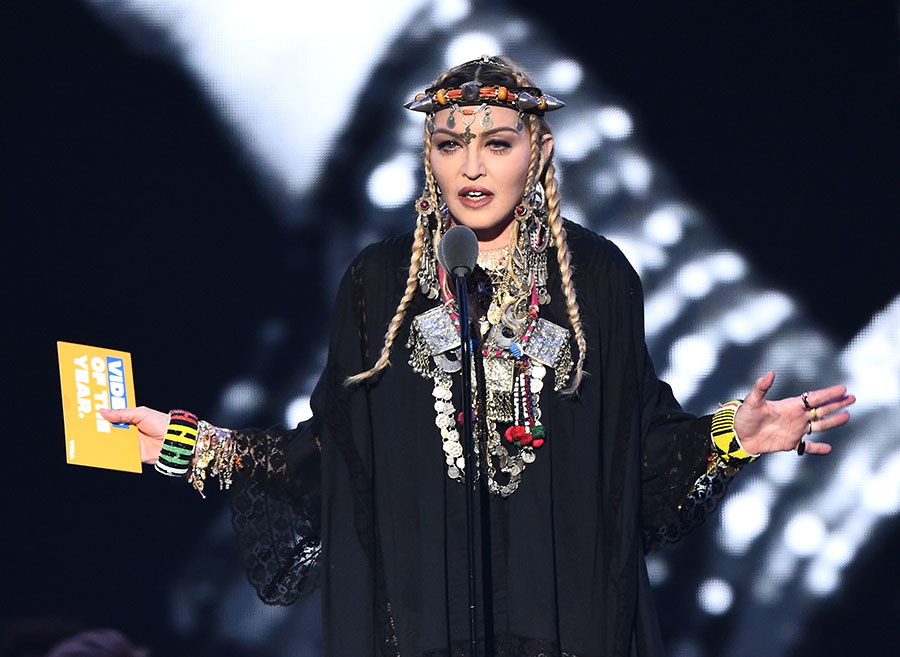 Madonna enraged Black Twitter when she took too long to pay tribute to the queen of soul Aretha Franklin, who died Thursday of pancreatic cancer at age 76. Before presenting the award to Camila Cabello for Best Video of the Year at the 2018 MTV VMAs on Monday night, Madonna explained how Aretha inspired her early in her career.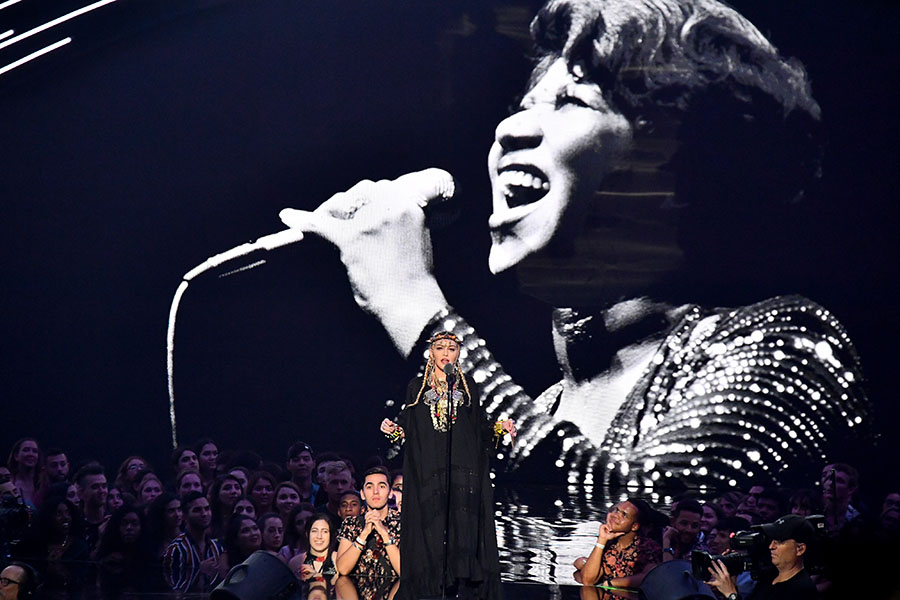 "Aretha Louise Franklin changed the course of my life," Madonna said onstage. "I left Detroit when I was 18 — 35 dollars in my pocket. My dream was to make it as a professional dancer. After years of struggling and being broke, I decided to go to auditions for musical theater."
With a giant image of Aretha on the screen behind her, Madonna told a long, rambling story about how she struggled during her early hand-to-mouth days.
"I had no training or dreams of ever becoming a singer but I went for it," she said.
"I got cut and rejected from every audition — not tall enough, not blend-in enough, not 12-octave range enough, not pretty enough. Not enough. And then one day a French disco sensation was looking for backup singers and dancers for his world tour. I thought, 'Why not? The worst that can happen is I can go back to getting robbed, held at gunpoint and being mistaken for a prostitute in my third floor walkup that was also a crackhouse.' That's right, I'm a Rebel Heart."
She added:
"So I showed up for the audition and two very large French record producers sat in the empty theater, daring me to be amazing. The dance audition went well. Then they asked me if I had sheet music and a song prepared. I panicked. I had overlooked this important part of the audition process. I had to think fast, my next meal was on the line. Fortunately one of my favorite albums was Lady Soul by Aretha Franklin. I blurted out 'You Make Me Feel'… silence. 'You Make Me Feel Like a Natural Woman.' Two French guys nodded at me. I said, 'You know, by Aretha Franklin.'"
She continued:
"They looked over at the pianist, he shook his head. 'I don't need sheet music,' I said, 'I know every word. I know the song by heart, I will sing it a cappella.' I could see that they did not take me seriously — and why should they? Some skinny ass white girl is going to come up here and belt out a song by one of the greatest soul singers that ever lived? And a cappella? I said, 'Bitch, I'm Madonna.' No, I didn't, I didn't say that. 'Cause I wasn't Madonna yet. I don't know who I was. I don't know what I said, I don't know what came over me."
By this time the MTV audience begins to stir. Madonna was taking way too long to get to the Aretha tribute part.
Is this a tribute to Aretha Franklin or Madonna's story #VMAs pic.twitter.com/SF8j7Ycu8w

— Jasmin (@JasminRice17) August 21, 2018
Finally Madonna concluded:
"So you're probably all wondering why I'm telling you this story? There's a connection, because none of this would've happened — could've happened — without our lady of soul. She led me to where I am today and I know she influenced so many people in this house tonight, in this room tonight, and I want to thank you, Aretha, for empowering all of us. R-E-S-P-E-C-T. Long live the queen."
Madonna finally presented the award to Cabello — who turned around and dedicated the moon man to her idol, Madonna.
But Black Twitter was not having the disrespect Madonna showed to Aretha. The angry tweets came fast and furiously:
Madonna made Aretha Franklin's death about herself and her own musical journey, and honestly, this is some of the whitest shit I have ever seen. #VMAs

— Evette Dionne ????? (@freeblackgirl) August 21, 2018
What a touching tribute to Aretha Franklin where Madonna talked about her goddam self for like 30 mins

— KFC (@KFCBarstool) August 21, 2018
They ended the show on the most disrespectful note by having Madonna spend 10 minutes talking about herself while "honoring" Aretha and then giving the award to a racist lmao

— ?born again lesbian? (@Jauredramatic) August 21, 2018
MTV: Can you say a few words about Aretha Franklin ?

Madonna: no problem lemme just talk bout myself for a while tho first

— IGZ (@igzrap) August 21, 2018
Prince is up there telling Aretha she effed my tribute up too!! #Aretha or Madonna pic.twitter.com/AUdiDpOMBN

— Michele DeMino (@CheleDeMino) August 21, 2018
Aretha is up in heaven listening to Madonna talk, like…#VMAs pic.twitter.com/PIKaubSl2B

— Britni Danielle (@BritniDWrites) August 21, 2018
Madonna gave herself a tribute featuring Aretha.

— LoveYourself (@ScottieBeam) August 21, 2018
Madonna, is this about you or Aretha or the person you're giving the award to? #VMAs pic.twitter.com/4L663EcSIs

— Bossip (@Bossip) August 21, 2018
Madonna really gentrified an entire tribute to Aretha with more anecdotes than a Presidential candidate. You gotta be kidding me… #VMAs

— Jeff J. (@JeffJSays) August 21, 2018
Say what you want about BET… they would've done a way better Aretha Franklin tribute. This Madonna speech is reprehensible.

— Kylan (@AwwHELLToTheNaw) August 21, 2018
Who keeps letting Madonna do tributes? I am still mad at her for the Prince one. Aretha or Madonna? Definately Aretha…Madonna needs to sit down somewhere…foreva RIP Queen of Soul

— Mitaja S. P. Polite (@mitajap) August 21, 2018
Travis Scott gave a better Aretha Franklin Tribute than Madonna and All he said was RIP Aretha Franklin. #VMAs

— Trey Lawrence (@_TreyLawrence) August 21, 2018
Aretha Franklin in heaven, listening to Madonna's speech #VMAs pic.twitter.com/D0qEB3juSa

— (INSERT NAME HERE) (@rollersonmj) August 21, 2018
Camila Cabello got on her knees and praised Madonna and dedicated her undeserved Video of the Year award to her……after Madonna just gave a self-indulgent "tribute" to Aretha Franklin.

And that describes how #VMAs treated Black artists the entire night…

— Ernest Owens (@MrErnestOwens) August 21, 2018
Aretha Franklin's Tribute at the #VMAs:
1. Madonna talks about herself, at length, with Aretha as a footnote.
2. "Respect" is played at the very end.
3. A photo of Aretha with "1942-2018."

Bro, what? Disrespectful.

— Nia Langley? (@theNiaLangley) August 21, 2018
Aretha dying on Madonna's 60th birthday was her final stunt.

— LOST & TURNED OUT (@FeFeGirlWonder) August 16, 2018
https://www.youtube.com/watch?v=cPD8qgLfC8k
Photos by Michael Loccisano/Getty Images