Cardi B and Offset's short marriage has ended. Cardi announced their breakup early Wednesday morning in a video on social media.
Cardi said things haven't been working out between her and Offset. She said they remain "really good friends" and "it's nobody's fault," but "I guess we grew out of love."
She said the divorce proceedings will take some time, and she will always have love for Offset because he is her daughter Kulture's father.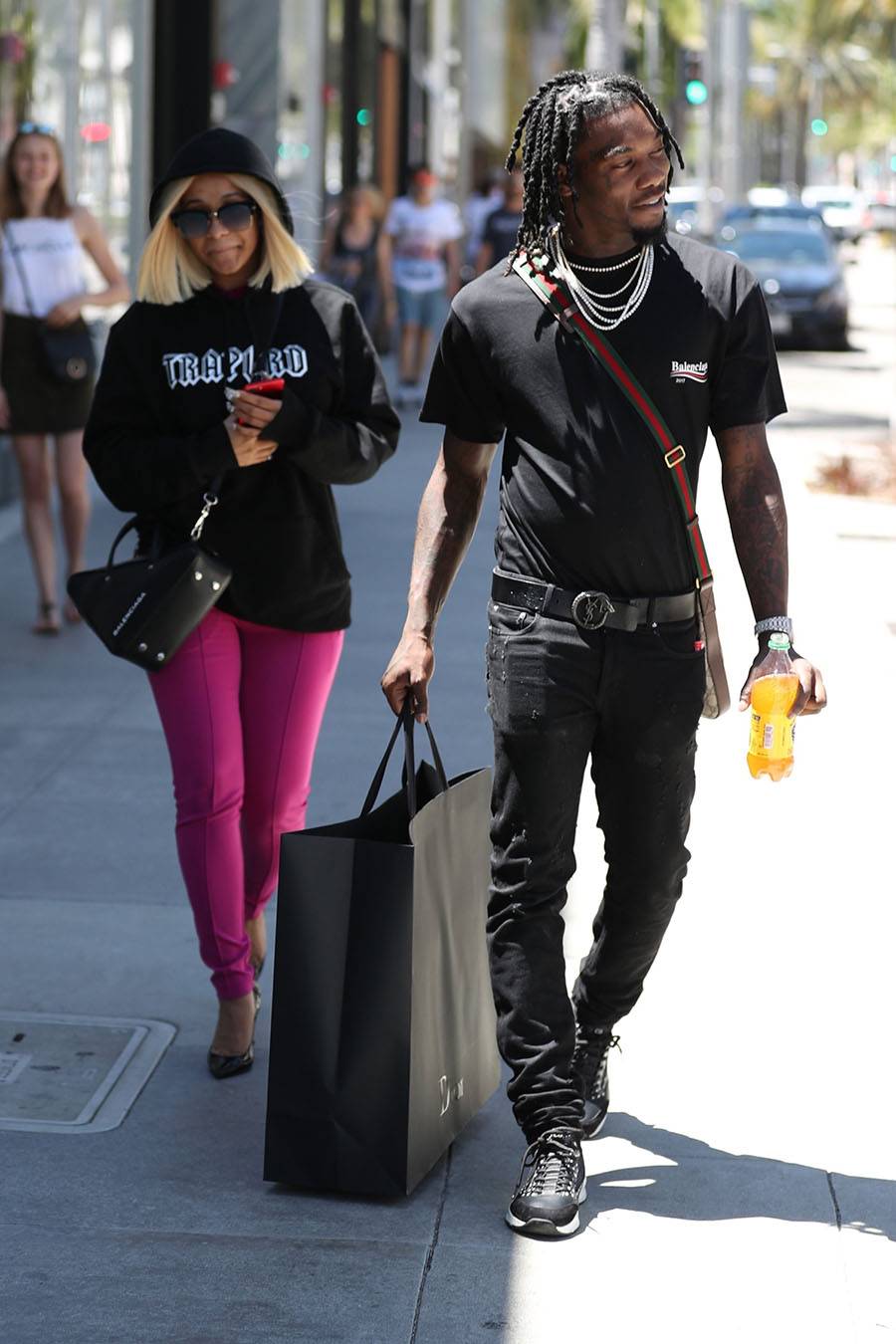 Cardi B and Offset, both 26, confirmed their relationship in the summer of 2017 after dating a few months.
They first met when Cardi and Offset collaborated on the track "Like" in 2016. Cardi didn't take him seriously at first. Offset was a father of 3 children by multiple women.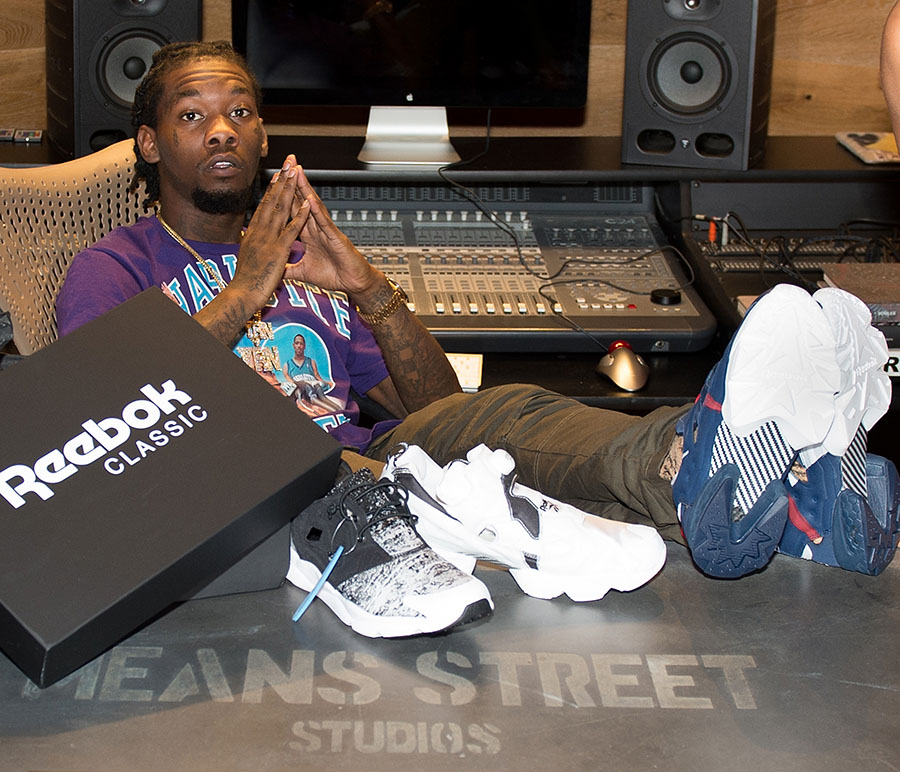 The handsome rapper had a reputation for being a ladies man. "You know, this rapper trying to f*ck everything," Cardi said in 2016.
But Offset was a sex fiend who didn't take no for an answer.
In a since-deleted video posted on Twitter.com in 2016, Cardi said she was impressed by the rapper's persistence when she met him in the studio. "He was very consistent," she said — mistaking the word "consistent" for "persistent".
"He really wanted to talk to me," she added.
Their first real date was at the 2017 Super Bowl in Texas. Cardi documented their date in an Instagram Story. Cardi and Offset made their relationship official on Valentine's Day 2017 on Instagram.com.
"Oooh, hey baby," she said in a since-deleted video. Offset tweeted how "nasty" and "hood" Cardi was.
The couple cooled off in March. Then in April, she confirmed that she and Offset were an item once, saying, "Yes. I mean, I see the boy. We're real gangsters."
Rumors began to swirl that Offset kept a voluptuous stripper in a secured luxury apartment in North Atlanta.
More rumors swirled that Cardi and Offset were living separate lives. A source told Hollywoodlife.com, "They're still talking to each other, but it's complicated."
The power couple surfaced on June 29, 2017 in Beverly Hills, where Offset took Cardi on a $50,000 shopping spree.
In July, Offset gifted Cardi with a $60,000 diamond pendant to solidify their love.
In August, Cardi shut down rumors that she was engaged to the promiscuous rapper. She told Charlamagne da god, "Does you see a ring on my ring finger?" She added: "I'm a woman. Every woman, I think, wants to get married and wants to have children. It's never too early to get married now. You know, if you want to propose to me, you can."
On Oct. 11, 2017, Offset posted a sweet message to Cardi for her 25th birthday. But weeks later, Cardi hinted that she was currently single in a since-deleted post on Instagram. She posted an Instagram Story with one word "Single" written across her bosom.
On Oct. 22, 2017, she wrote an Instagram Story with a photo of Offset, saying:
"So listen babes, I exaggerated a lil bit earlier cause I was really upset and the Bronx girl in me always have to go to the extreme, I came to my sense now. I'm sorry … Waffle House on me?"
She followed up on Twitter, writing: "Naaa but on a serious note I really loveeeee my man.. he was gifted to me from Jesus [heart emoji]."
Offset took to Instagram and posted a series of heart emojis and middle finger emojis with the text: "SHEMINESITSYOURDAY."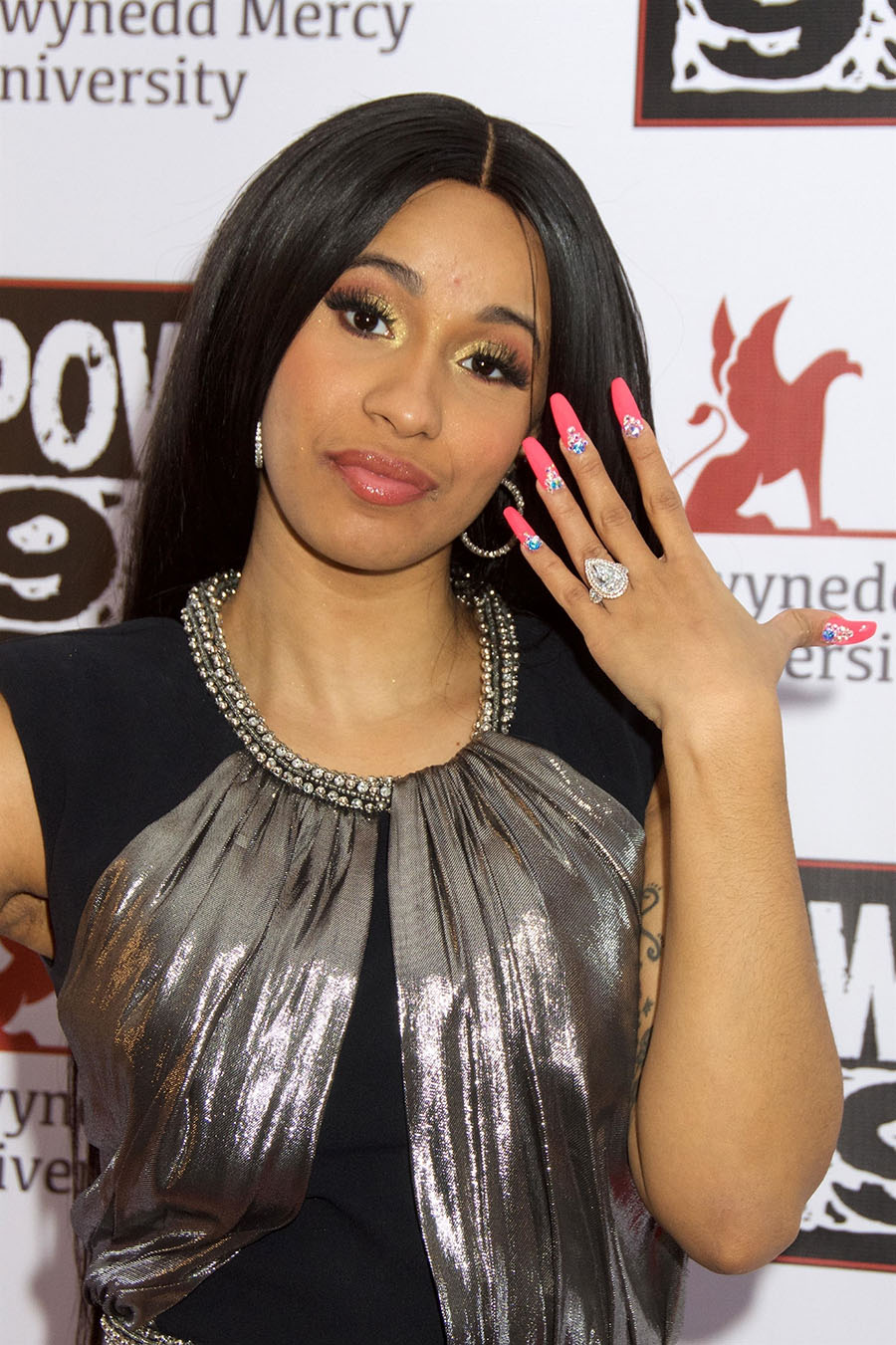 On Oct. 29, Offset publicly proposed to Cardi during her performance at Power 99's Powerhouse concert in front of 19,000 ecstatic fans. The rapper slipped a 20-carat diamond ring on Cardi's finger, as the audience screamed their heads off.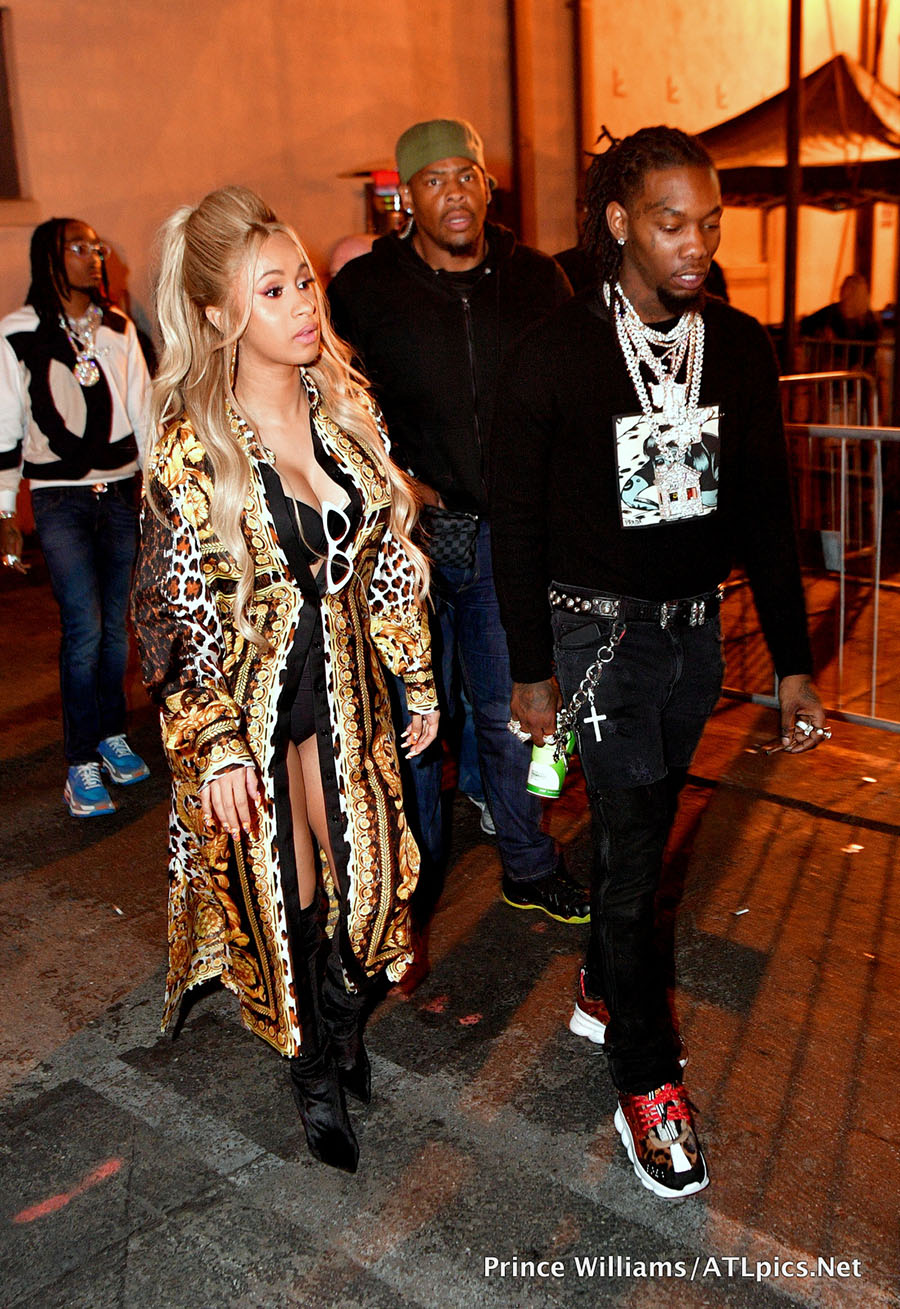 But the first real sign of Offset's infidelity came on Christmas Eve 2017: a leaked video stolen from Offset's iCloud showed him having intimate relations with an unknown woman.
If Cardi was upset she didn't show it publicly. "I still put the pu$$y on offset .. Bartier Cardi," she tweeted.
But on Dec. 29, 2017, Cardi recorded an Instagram live video, telling her followers: "You live and you learn."
She then released a single that included the lyrics, "I let a nigga know though … you pull that sh-t again, you gonna lose your wife."
The song fueled speculation that Cardi and Offset were already married.
In February 2018, Cardi confirmed rampant rumors that she had a gut full of Offset's seed. In April, she confirmed the baby's due date was July.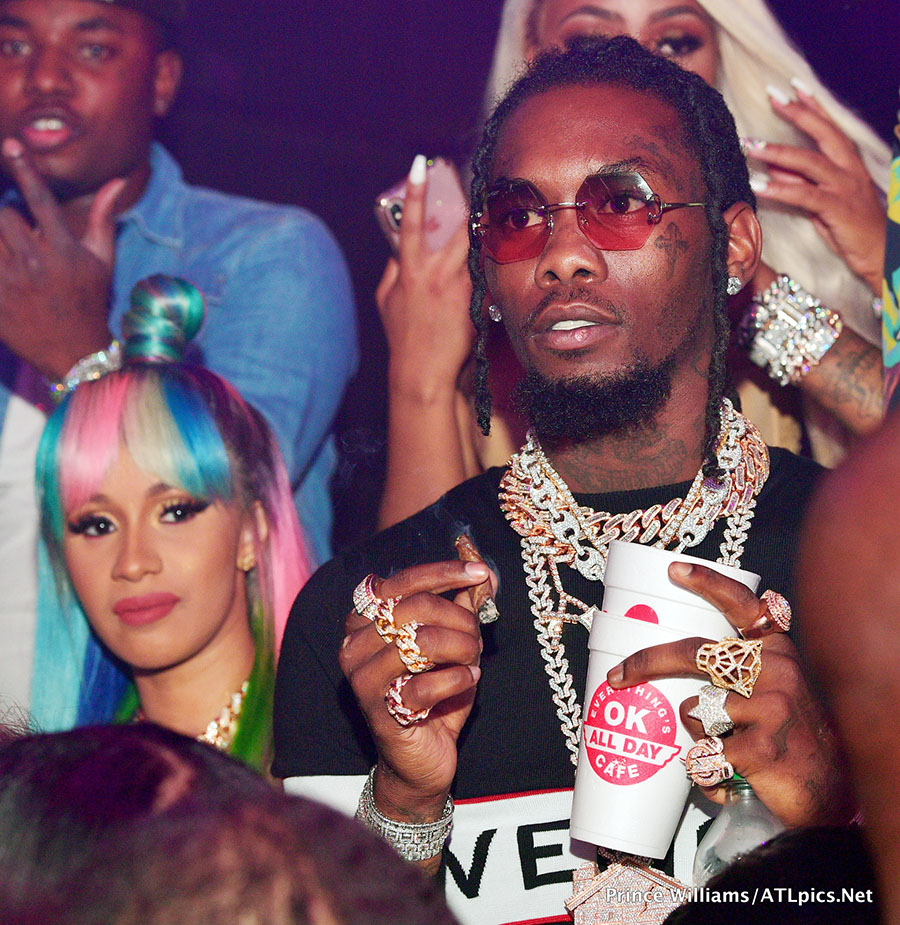 The first signs of a crack in Cardi's armor came one night in June at the Compound nightclub in Atlanta. Cardi and Offset were partying in the smoke-filled club. Photographer Prince Williams of ATLPics.net snapped a photo of Cardi giving her baby daddy the side eye for smoking a large blunt near her.
Pregnant women should not be exposed to cigarette smoke, much less marijuana smoke. Cardi's fans had a field day taunting her for being with such an insensitive man who didn't think twice about smoking in her presence.
In the July 2018 issue of Rolling Stone magazine, Cardi confirmed she and Offset secretly tied the knot in their bedroom back in September 2017.
On June 25 Cardi tweeted a lengthy post, defending the couple's marriage. She said they decided to get married after waking up one morning following an argument the night before. She said they looked at each other and decided to make it official right there and then.
Their daughter, Kulture Kiari, was born on July 10 in Atlanta. Kulture was Cardi's firstborn child and Offset's 4th child. His other three children are sons Jordan and Kody and daughter Kalea.
In her exclusive interview with Rolling Stone Cardi said she was tired of haters mocking her for being Offset's 4th baby mama.
"People want to make fun of me, saying I'm the fourth baby mom, [but] I know I'm not having a baby with a sh-tty ass man," said the "Bodak Yellow" rapper.
"We really love each other," added Offset. "She's real. I wanted real. I also wanted successful."
Cardi told Rolling Stone she wanted to be a stay-at-home mom to provide a stable home life for her firstborn child. She wanted Kulture to have a better childhood than she did — with a father who loves her.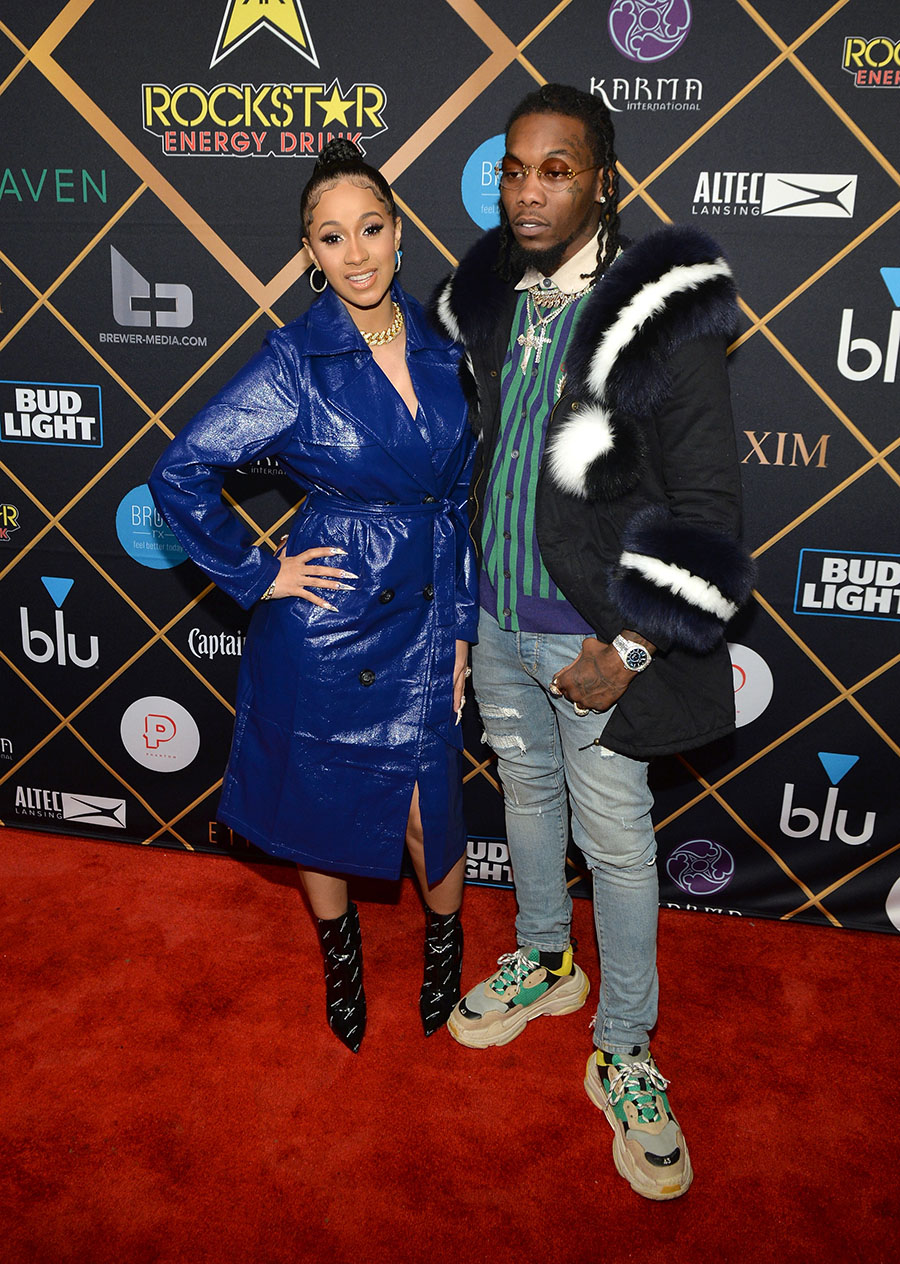 "What I envision is my tour bus has my own personal room, and I just want to be with my baby," she told Rolling Stone. "Only time I don't have my baby with me is when I'm getting my hair done, makeup done, performing. I don't want to miss one second. I don't want to miss no smiles, I don't want to miss no new movement, I don't want the baby to confuse me and the babysitter."
Less than a month later, Cardi broke her promise. She was spotted in California chasing behind Offset, who was on tour. Fans mocked the new mom, asking where her baby was.
In August, Cardi hit a bartender in the face with a bottle at a Queens, NY strip club. The bartender, Jade, told police Cardi assaulted her because the rapper thought she was cheating with Offset. Jade denied sleeping with Offset.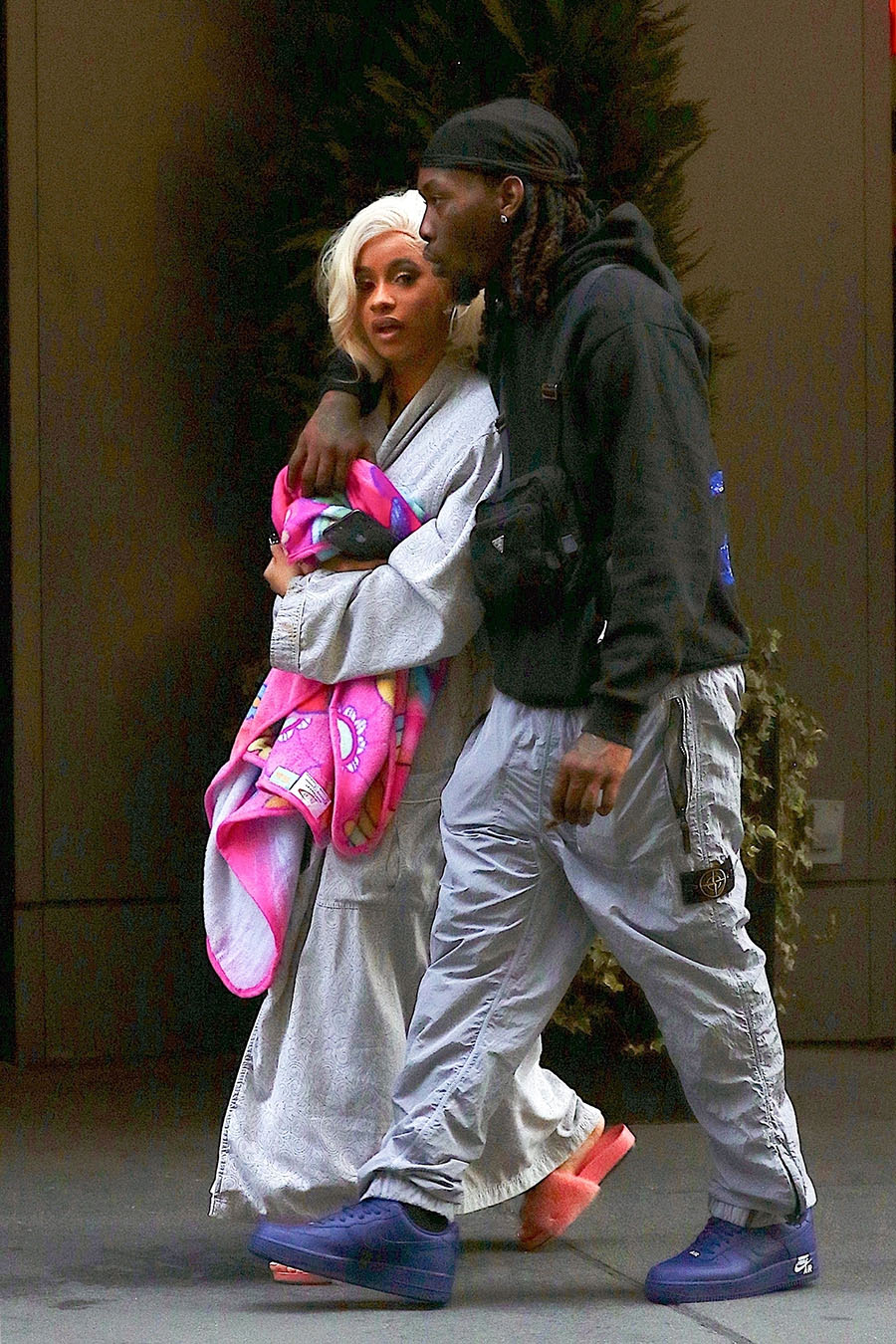 On Monday, Oct. 8, Cardi turned herself in to police. On Oct. 10, Offset was spotted consoling Cardi as they walked along a Manhattan street near their hotel.
Cardi was due in a Manhattan courtroom on Monday, Dec. 3, to face assault charges, but she never showed up. The judge ordered her to show up in court on Friday, Dec. 7, or an arrest warrant would be issued.
Cardi faces up to 10 years in prison if she convicted on all charges.
Cardi and Offset's last public appearance together was during her performance at 102.7 KIIS FM's Jingle Ball concert at The Forum on November 30, 2018 in Inglewood, California.
Offset's official date for Variety magazine's 2nd Annual Hitmakers Brunch on Dec. 1 in Los Angeles was his mother, Latabia Woodward.
Cardi's fans have been sending their condolences in the comments on her social media pages. One fan wrote, "Can I get the Lambo truck he gave you?"
Photos by Getty Images, BACKGRID, Prince Williams/ATLPics.net