A total of 10 suspects were rushed into a Dominican Republic court for hearings into the shooting of beloved former Boston Red Sox star David "Big Papi" Ortiz.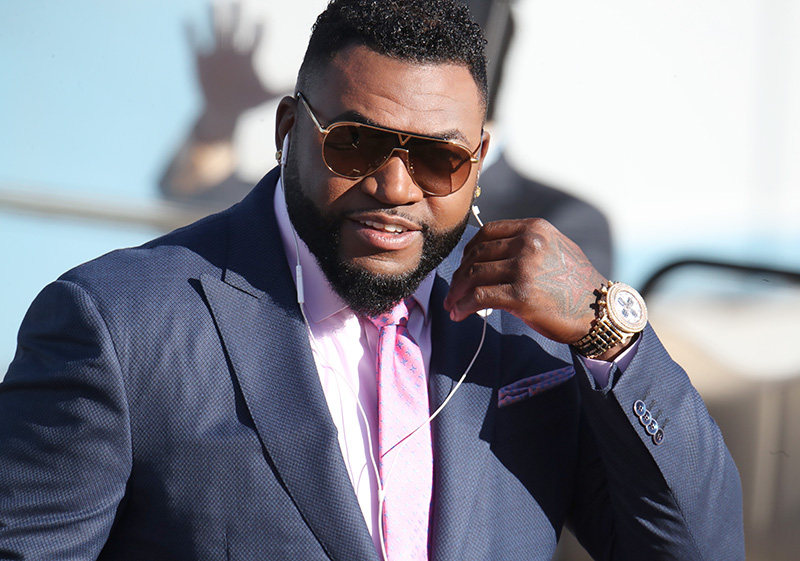 Ortiz, 43, was shot in the back at point blank range by a motorcyclist while dining with a friend at a sports bar in his native Santo Domingo on Sunday.
He is listed in stable condition at a Massachusetts hospital where he underwent a second surgery on Monday.
Video uploaded to Instagram by ABC World News Tonight shows armed law enforcement officers rushing 10 suspects, including what appears to be a woman, into a courthouse in Santo Domingo.
Police are looking for another suspect Luis Rivas-Clase – nicknamed "The Surgeon" – who is also wanted in the United States for attempted murder.
According to ABC News, the father of one of the suspects said his son belongs to a Dominican gang of hitmen.
The gang was reportedly paid $8,000 for the hit on Ortiz. He was shot once in the back and underwent surgery to remove part of his intestines and gallbladder in Santo Domingo. Ortiz took his first steps on Tuesday in the intensive care unit at Massachusetts General hospital in Boston.
Ortiz's wife, Tiffany Ortiz, thanked surgeons and a friend of her husband's for saving his life.
"David remains in guarded condition in the surgical intensive care unit following his second surgery," Tiffany Ortiz said in a statement, released by the Boston Red Sox. "He continues to heal and make progress."
She also thanked a wealthy friend, Eliezer Salvador, who loaded Ortiz into his black Rolls Royce after the shooting and rushed him to the Abel Gonzalez Clinic in Santo Domingo.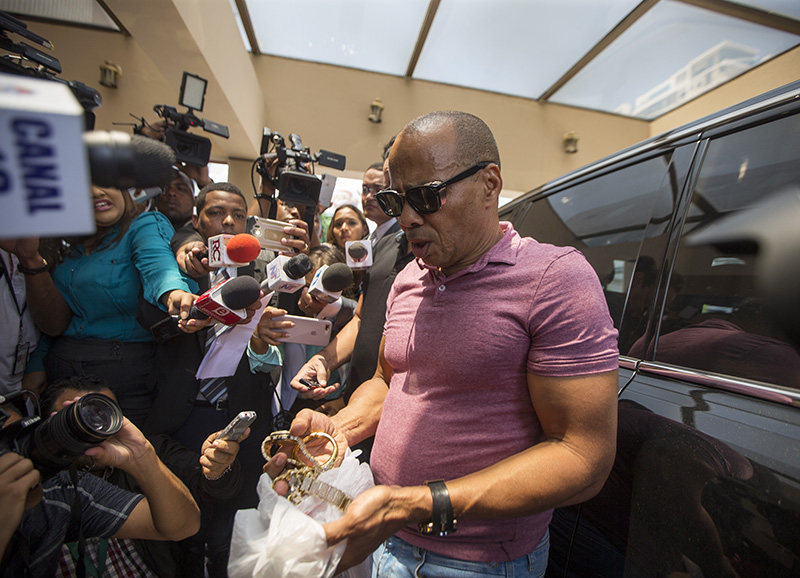 "I want to take this opportunity to offer our heartfelt thanks and gratitude to Eliezer Salvador, owner of Presidente Sports, for your quick thinking and swift action on Sunday night," she said. "Your heroism and selflessness were the first steps to ensuring David could get the urgent care he required. For that, we are eternally grateful."
Salvador is pictured above displaying the jewels and bloodstained clothing Ortiz was wearing when he was shot. His Rolls Royce is pictured below at the entrance to the clinic.
There were reports that Ortiz was targeted by a drug lord who believed the slugger had an affair with his wife.
In videos uploaded to the Internet, a woman named Yaribel was seen fighting with another woman in the clinic where Ortiz was undergoing surgery. Yaribel is alleged to be Ortiz's mistress.

Photos by ERIKA SANTELICES/AFP/Getty Images