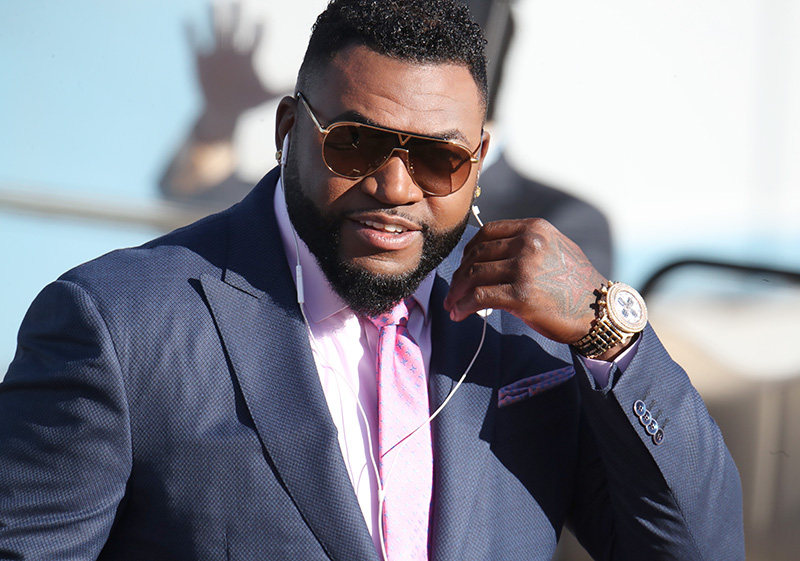 David Ortiz let his guard down in his hometown of Santo Domingo, Dominican Republic, where he was shot in the back by a hired hitman at a popular restaurant and lounge on Sunday.
Ortiz, 43, was shot in the lower back. He is recovering from a second surgery at a Boston hospital where he is listed in stable condition.
Ortiz's fame and wealth gave him a false sense of security and made him feel invincible, friends say.
The former Boston Red Sox superstar walked the dangerous streets of Santo Domingo without bodyguards because he thought his fans would protect him.
"He felt protected by the people," a friend said. "He is one of the most loved people in the Dominican Republic. He felt no fear despite the fact that there's street crime here. Even the guys in the dangerous neighborhoods respected him."
Ortiz traveled from Boston to Santo Domingo on May 5 to enroll his 14-year-old son, D'Angelo, in one of the island's grueling baseball camps. Ortiz visited Santo Domingo about six times a year to see his father and sister.
Ortíz has a six-bedroom, $6 million home in the wealthy Boston suburb of Weston, Massachusetts, that he shared with his wife and three children, but the house was put up for sale, according to Yahoo News. He splits his time between another mansion in Miami and his father's apartment in Santo Domingo.
Ortiz loved the Santo Domingo nightlife and he often dined with friends at the Dial restaurant and lounge. The restaurant began as a waiting lounge for customers getting their luxury vehicles detailed at the shop across the street. The Dial quickly became a hotspot for celebrities and VIPs. It is surrounded by an affluent neighborhood on the island.
On Sunday, Ortiz dined at the Dial with friends including sports announcer Jhoel Lopez, left, and a Reggaeton singer. He was sitting with his back turned to the sidewalk, when 2 men arrived on a motorbike. The passenger got off of the motorcycle, approached Ortiz, and shot him once in the lower back before fleeing on foot (watch video).
The bullet traveled through Ortiz's body and exited through his abdomen. Police believe the same projectile struck Ortiz's dinner companion, Lopez, in the leg. Lopez was treated and released.
Angry witnesses chased down the motorcycle driver, Eddy Féliz Garcia, 25, and beat him savagely. Garcia was rescued from the mob by police and charged with being an accomplice to attempted murder late Tuesday.
A police car carrying Féliz Garcia drove up to a shipping container that served as a makeshift courtroom on Tuesday evening, where he was formally charged.
Earlier in the day, a second suspect (pictured below) was arrested, according to the Dominican police. It is not clear if he is the gunman who shot Ortiz.
Police say robbery was not a motive. Ortiz was dressed impeccably in expensive designer clothing and gold and diamond jewelry including a diamond encrusted Audemars Piguet Royal Oak Offshore watch worth over $100,000.
The clinic's staff turned over Ortiz's jewels to a friend for safekeeping while the baseball slugger underwent a six-hour operation to remove part of his small intestines and gallbladder. The friend displayed the custom jewelry to photographers gathered outside the clinic.
The Red Sox sent a private jet for Ortiz and he was flown to Boston's Massachusetts General Hospital on Monday, where he underwent a second exploratory surgery.
His wife of 16 years, Tiffany Ortiz, released a statement on Tuesday, saying he was "stable, awake and resting comfortably" and was expected to remain in ICU for several days before being moved to a private room at the hospital.
CNN reports Ortiz took his first tentative steps in the ICU on Tuesday.
Police are trying to determine whether a "brief relationship" Ortiz formed with a woman may have contributed to the shooting. There are reports that a drug lord hired the two gunmen to shoot Ortiz over a rumored affair Ortiz allegedly had with his wife.
A woman named Yaribel, pictured right, was seen fighting with another woman, left, at the clinic while Ortiz was in surgery. Yaribel is rumored to be Ortiz's mistress.
Ortiz helped lead the Red Sox to three World Series championships, was a 10-time All-Star and hit 541 home runs during his career. He was hailed as a hero in Boston for rallying the city after the Boston Marathon bombing. He retired after his 2016 season.
The Dominican Republic is one of the world's most dangerous vacation destinations, according to the U.S. State Department.
Dominican officials moved to contain the negative publicity surrounding the recent deaths of four Americans. On Tuesday, officials declared the Caribbean nation "relatively safe."
They point to the declining murder rate as proof of the island's safety. The murder rate stands at 12.5 killings per 100,000 people. In 2018, 1,353 people were killed in the Dominican Republic. That's a 13% drop from 1,561 killed the previous year and 1,616 in 2016, according to the U.S. State Department.
Last year, 2,145 people were wounded by gunfire, a slight decrease from 2017, according to the Dominican Republic's Citizen Security Observatory.
Most of the violence is linked to the island's biggest trades – drug trafficking and money laundering.
The nation's lack of a stable government and poorly funded law enforcement agencies contribute to the problems.
According to an OSAC report: "This situation is worse due to a lack of law enforcement resources, poorly paid and trained police officers and rampant corruption."
This year, the government increased the maximum penalty to 40 years for anyone found guilty of kidnapping a local or tourist at gunpoint.

Photos by ERIKA SANTELICES/AFP/Getty Images