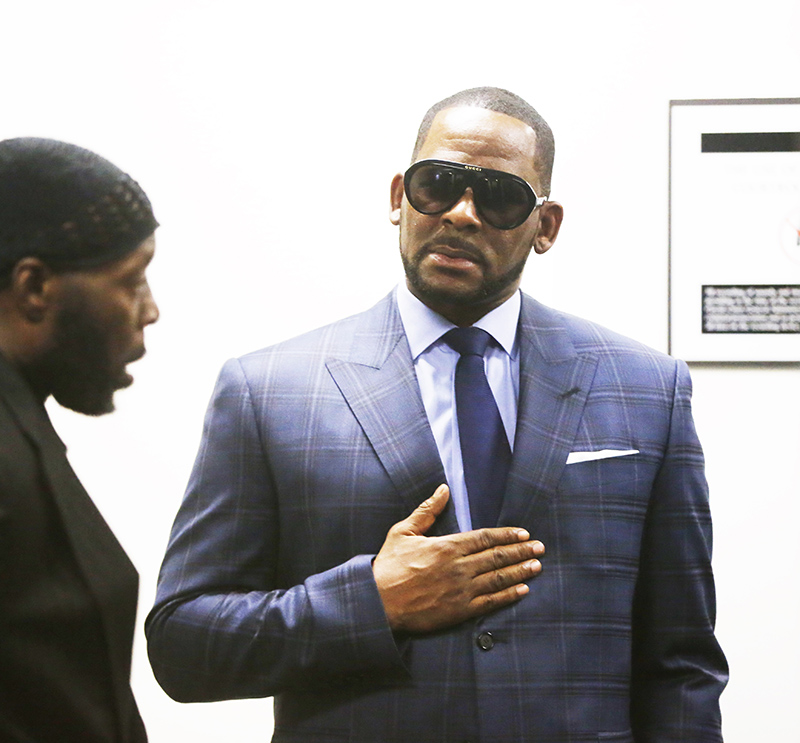 R. Kelly is reportedly on suicide watch on solitary confinement in a Chicago jail where he awaits a transfer to New York City to face federal sex charges.
Kelly's former crisis manager Darrell Johnson stepped down this week after telling CBS News anchorwoman Gayle King he would not leave his daughter alone with someone who was accused of being a pedophile.
Johnson said Kelly is alone in a cell with no TV and nothing to help him pass the time.
"Nobody wants to be locked down 24 hours, no TV," he said. "He can't read and write, so he can't read a book. It's almost as if he's already been, that a jury has convicted him."
Johnson quit as Kelly's crisis manager a day after his interview with King aired on CBS This Morning. He insisted his departure had nothing to do with his comment that he would not leave his 20-year-old daughter alone with an accused pedophile.
He later told CNN he quit for "personal reasons."
Johnson is among the singer's inner circle who may face felony charges for aiding Kelly by concealing a collection of videos that show the singer engaging in inappropriate behavior with underage girls.
The videos were turned over to authorities by someone in Kelly's inner circle. Former Kelly employee, Milton "June" Brown, pleaded not guilty on Friday in Chicago to a federal charge of conspiracy to receive child pornography.
Kelly vigorously denied the allegations that he filmed himself having sex with underage girls over the past 2 decades. He was acquitted on child porn charges in a 2008 case involving a 14-year-old girl seen with him in a viral video.
Troubled lawyer Michael Avenatti turned over a videotape to Chicago authorities which he claimed showed the 52-year-old singer engaging in sexual contact with a 14-year-old girl. But Kelly's people insisted the underage girl in the 2nd video is the same girl in the case for which he was acquitted in 2008.
"When you beat your case, you beat your case. They can't double jeopardy me like that," Kelly told King in an explosive interview earlier this year.
Kelly was arrested twice this year. He was out on $1 million bond when he was arrested again on July 11.
He was taken into custody as he walked his 2 dogs outside his $2 million Trump Tower apartment in Chicago, where he lived with two girlfriends, Joycelyn Savage and Azriel Clary. The two women continue living in the luxury apartment where the rent is paid up until the end of the year.
Photo by Nuccio DiNuzzo/Getty Images