Last year's telecast of ABC's American Music Awards hit a record all-time low in the Nielsen television ratings. If the ratings improve for tonight's AMAs telecast, ABC can thank Lizzo and her tiny Valentino purse. The purse is barely big enough to hold one Trojan condom and maybe a throat lozenge.
The morbidly obese "Truth Hurts" singer turned heads when she meandered down the red carpet wearing an orange, one-shouldered mini dress and a lacefront wig with side swept bangs. According to People magazine, she accessorized her frock with strappy white Stuart Weitzman sandals and the world's most expensive condom holder – a tiny silver Valentino purse.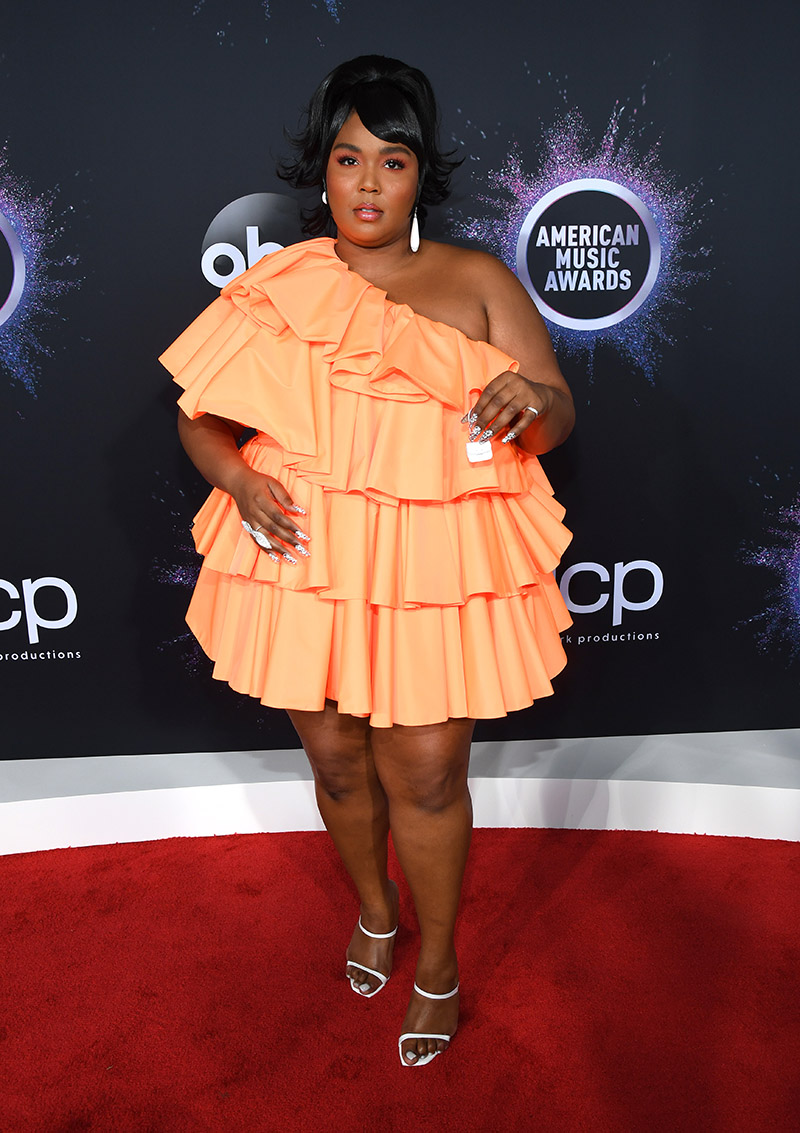 "There's only three in the world," Lizzo said, as photographers zoomed in on the mini bag. When asked what she managed to pack inside the mini clutch, Lizzo responded, "I got tampons in here, a flask of tequila, condoms…"
Photos of the tiny fashion accessory went viral across all social media platforms. Social media users couldn't get enough of Lizzo's personal style.
The American Music Awards got underway at 8 p.m. Sunday. Lizzo, 31, is up for 3 awards, including best new artist, soul/R&B song of the year and soul/R&B female artist of the year. Last week, she scored 8 Grammy nominations, including record of the year and song of the year for "Truth Hurts," album of the year for Cuz I Love You and best new artist.
Lizzo performs "Jerome" for the first time at an awards show #AMAs pic.twitter.com/dncMfY2dhL

— MTV NEWS (@MTVNEWS) November 25, 2019
Lizzo is holding Halsey's eyebrows hostage in that purse. #AMAs pic.twitter.com/7rJRdtRmu6

— The Book Shrine (Ally) ??? (@thebookshrine) November 25, 2019
Lizzo walking into the amas with my entire paycheck in her purse… pic.twitter.com/SFl8r4eNx0

— vee? ? (@420__eyes) November 25, 2019
lizzo's tiny purse is used to carry around xiaojun pic.twitter.com/OPi1FJy7ze

— ?? ? (@nayutasmiles) November 25, 2019
news update: 30 year old women everywhere are going batshit over lizzo's stupid tiny purse ?

— stel ! (@yrfriendstella) November 25, 2019
lizzo's purse deserves artist of the year #amas pic.twitter.com/Ja8RKVMm04

— BitchBeWithYou (@BitchBeWithYou) November 25, 2019
You could fit all of the money in my bank accounts in Lizzo's purse pic.twitter.com/FUA52ddxFH

— Emmitt Wheatley (@EmmittWheatley) November 25, 2019
this is what lizzo has in her purse pic.twitter.com/pF11nv15TO

— ? (@bumprincessx) November 25, 2019
.@lizzo has room for 1 fucking @tictac in her purse. #AMAs2019 #AMAs

— Mareski (@Mski21) November 25, 2019